China launched its first cargo spacecraft on April 20 on a mission to test resupply technology for a planned manned space station that will enter service in about five years.
Tianzhou 1, the country's largest and heaviest spacecraft, was lifted into space atop a Long March 7 carrier rocket at 7:41 pm from the Wenchang Space Launch Center in Hainan province.
According to the China Manned Space Agency, after entering orbit about 380 kilometers above Earth, the unmanned Tianzhou 1 is set for three dockings with the Tiangong II space laboratory, in orbit since September. The cargo craft will supply fuel to Tiangong II at each docking.
There are currently no astronauts aboard Tiangong II — the dockings will be controlled by computers.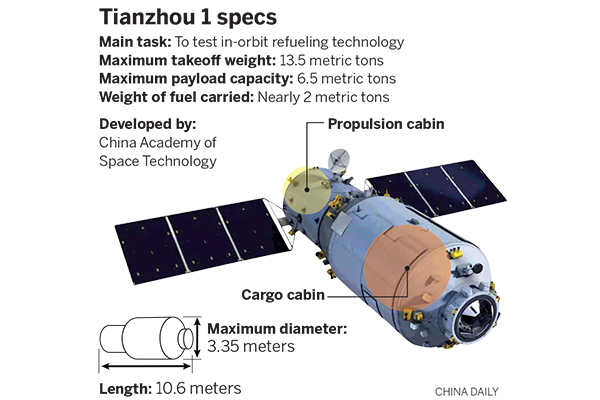 Through the refueling process, scientists will test in-orbit resupply technology, which is essential to running a manned space station because without it, the station would run out of power and basic necessities and would fall back to the Earth much earlier than intended.
Huang Weifen, deputy research director of the Astronaut Center of China, said scientists will also use the Tianzhou 1 mission to test sanitation measures and microbe controls for supplies.
The cargo craft will perform four major groups of experiments, including embryonic stem cell research, according to Li Xuzhi, a senior scientist at the Chinese Academy of Sciences who helped design scientific applications for the spacecraft.
Tianzhou 1 will stay in space for about five months — two months docked with Tiangong II and three months orbiting separately, according to the agency.
If the mission is successful, it will make China the third nation to use its own technology to conduct in-orbit refueling, joining Russia and the United States.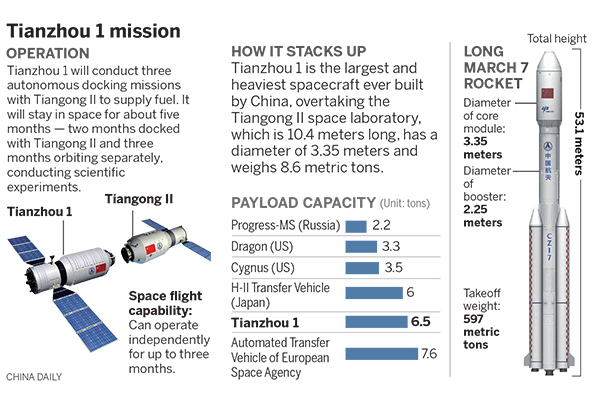 Yang Yuguang, a member of the International Astronautical Federation's Space Transportation Committee, said in-orbit resupply is a sophisticated process because it is likely to involve a number of variables. He said Tianzhou 1 will test fast, autonomous docking systems because it is important for a cargo spacecraft to be able to dock quickly with a space station.
"This is because in the future, a cargo ship will transport time-sensitive payloads to the station such as biological samples for scientific experiments," he explained.
After completing its mission, Tianzhou 1 will be directed to return to Earth, but the craft is not meant to be reusable, the agency said.
In the future, the Tianzhou series will be tasked with transporting supplies of fuel and other necessities to China's manned space station, on which construction is to start next year and which is expected to enter service by about 2022, according to the space agency.
The station will consist of three parts — a core module attached to two space labs, each weighing about 20 metric tons — and will operate for at least 10 years, the agency said.
Wang Ya, an engineer at the Wenchang center, said China will need to send a cargo spacecraft to bring supplies to its space station every six months to sustain the station.