BEIJING — A west-to-east ultra-high voltage direct current (UHV DC) power transmission project is running smoothly in China, having transmitted over 100 billion kilowatt-hours of clean electricity.
The clean power has been carried from Xiluodu Hydropower Station in Southwest China to East China's Zhejiang province, the State Grid Corporation of China (SGCC) said on June 23.
The 1,680-kilometer line started operations in 2014. During the peak summer season, it contributed up to 17 percent of Zhejiang's power, saving more than 30 million tons of coal and helping reduce about 85 million tons of carbon dioxide emissions.
China has worked hard to develop UHV DC power transmission and other clean energy technologies.
There are about 30,000 kilometers of UHV DC power transmission lines under construction and in operation, the SGCC said.
UHV is defined as voltage of 1,000 kilovolts or above in alternating current and 800 kilovolts or above in direct current. It can deliver large quantities of power over long distances with less power loss than the more commonly used 500-kilovolt lines.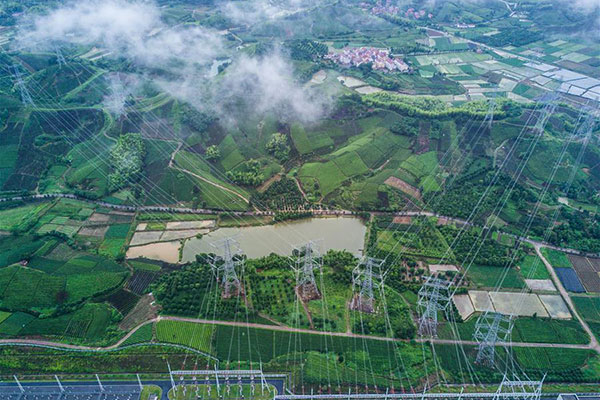 Photo taken on June 23, 2017 shows clean hydropower from West China connected to the grid of East China's Zhejiang province after the voltage reduced through convertor station in Jinhua of Zhejiang. The Sichuan Xiluodu-Zhejiang Jinhua 800 KV ultra-high voltage (UHV) direct current (DC) power transmission project, one of the world's largest DC power transmission projects in terms of capacity, has transmitted over 100 billion kwh clean hydropower into Zhejiang by now. [Photo/Xinhua]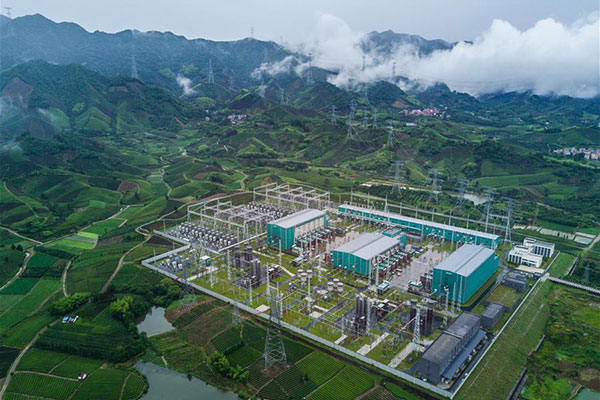 Photo taken on June 23, 2017 shows the convertor station in Jinhua of East China's Zhejiang province. The Sichuan Xiluodu-Zhejiang Jinhua 800 KV ultra-high voltage (UHV) direct current (DC) power transmission project, one of the world's largest DC power transmission projects in terms of capacity, has transmitted over 100 billion kwh clean hydropower into Zhejiang by now. [Photo/Xinhua]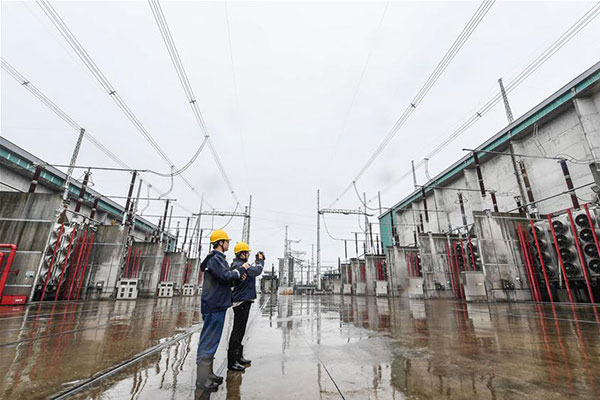 Staff members inspect the convertor station in Jinhua, East China's Zhejiang province, June 23, 2017. The Sichuan Xiluodu-Zhejiang Jinhua 800 KV ultra-high voltage (UHV) direct current (DC) power transmission project, one of the world's largest DC power transmission projects in terms of capacity, has transmitted over 100 billion kwh clean hydropower into Zhejiang by now. [Photo/Xinhua]