China has shown potential and attractiveness as the world's largest emerging market in light of its economic performance in the first half of this year, said Jia Kang, chief economist from China Academy of New Supply-side Economics.
He made the remarks at a symposium on China's economy chaired by Premier Li Keqiang on July 6. Five experts and entrepreneurs from different fields also participated.
China's economy in H1 remains positive
Jia Kang mentioned the "excavator index", which uses 200 million big data sources per day to indicate the country's performance in infrastructure construction.
China of Sany Heavy Industry, China's leading machinery manufacturer, created the index on excavators operation rate, and Jia said data in 2016 proves the sales in the gloomy construction machinery industry has been picking up.
The index in February predicted a growth rate of 200-250 percent in construction machinery sales this year.
"A series of growing leading indicators present a stable and raising economic growth in the first half year," Jia said.
He also said China has made great progress in employment, based on the fact that nearly 5.99 million urban jobs were created from January to May.
An increase of 13 million new jobs each year is an incredible task for most countries, well-known financial economist Shen Liantao said.
Shen said China's economic performance can be credited to the government's campaigns of promoting innovation and entrepreneurship, the Internet Plus strategy and "Made in China 2025".
China's transformation in new technologies is faster than other countries, Shen cited from a European report.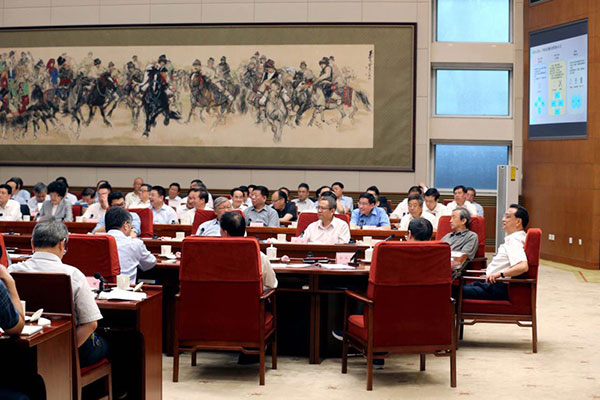 Innovation and entrepreneurship counts for economic growth
"To keep a stable economic operation and development, China must go through with the 'mass entrepreneurship and innovation' movement to forge new engines," said Chen Xian, a professor at Shanghai Jiao Tong University.
"'Mass entrepreneurship and innovation' is a fundamental strategy, not a temporary expedient," Chen said. "The essence of innovation is trial and error, and extensive trials bring about greater success."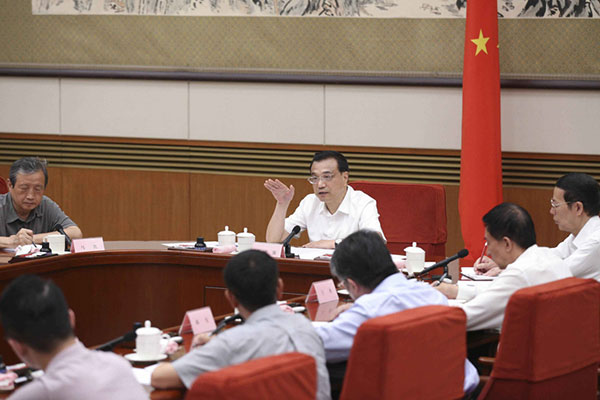 Chen cited a viewpoint in the book The Rainforest: The Secret to Building the Next Silicon Valley, saying that government undertakes a more important role than people think in innovation.
Chen just visited Shenzhen, Guangdong province, and he mentioned that the entrepreneurial ecosystem there is diversified, suggesting that the government should attach more importance to building the "mass innovation and entrepreneurship" ecosystem, in areas including administrative reform and public service supply.
"I will be grateful if you could offer systematic comparative analysis report on entrepreneurship ecosystems across China," Premier Li said.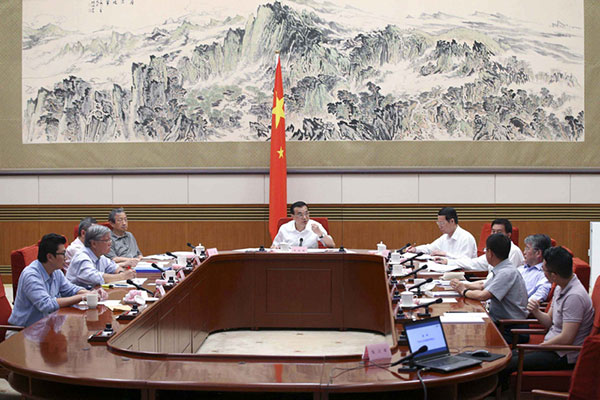 Enterprises report solid performance
Liu Mingzhong, chairman of Sany Heavy Industry, told Premier Li that his enterprise had 165 percent growth in revenue in the first half year, ending three year's deficit. Wang Wei, chairman of SF Express, a major delivery company in China, said their business volume in the first five months increased by 21 percent, higher than the same period last year.
"Thanks to government policies in promoting real economy, our capacity in science and technology was greatly enhanced by encouraging innovation," said Liu. "That's why we could stop loss and begin sound development."
Wang attributed their success to government efforts in streamlining administration, delegating powers and improving services. "Cutting approval items brought great benefit to enterprises, thus stimulating market vigor and creating more job opportunities," he said, adding that they have a total of 420,000 employees right now.
"We encourage everyone to innovate, while the company will support good ideas and make investments." The self pick-up locker is an example, which was first introduced by employees from SF Express and has been rapidly popularized nationwide.
"It seems that your company is an incubator for innovators," said Premier Li.
Wang agreed, adding that he was surprised by the Premier's thoughts. "He thought a lot about technological innovation, Internet Plus and the prospects of industries, which impressed me so much."
Yin Qi, founder and CEO of Face++, a frontrunner in AI, was the last to present at the forum. Although with a history of only six years, his company has been included in the 50 Smartest Companies, a report by the MIT Technology Review, which is used for forecasting the future of leading companies in different industries.
His opinion on AI was praised by Premier Li, who expressed his excitement in seeing the success of the young generation.
"I never expected a meeting at the State Council could be so lively," said Yin. "The Premier's questions impressed me. He knows the field very well."