The Xinjiang Uygur autonomous region in far northwestern China has just become a bit closer to the capital, as three sections of a new expressway along risky terrain opened to traffic on July 15.
The new sections have a combined length of more than 1,200 kilometers. The 930-km Linhe-Baigeda section is in the Inner Mongolia autonomous region; the 134-km Baigeda-Mingshui section is in Gansu province; and the 178-km Mingshui-Hami section is in Xinjiang.
The sections run through the Gobi Desert, which is characterized by drought and other poor natural conditions. The more than 500 km running through desolate and uninhabited areas of Inner Mongolia, which posed a challenge to construction workers.
The Beijing-Xinjiang Expressway, or G7, is one of seven expressways connecting Beijing with other major cities under a national expressway plan.
"The expressway is a new passage ... and the most convenient road to link Beijing with the northwestern region of Inner Mongolia, northern Gansu and Xinjiang, which will enhance communication between northern China's eastern, central and western areas," said Ren Jinxiong, an inspector in the Ministry of Transport's planning division.
The link will also better serve the Belt and Road Initiative and Western Development Plan, improving regional economic and social development along the route, according to a statement from the ministry.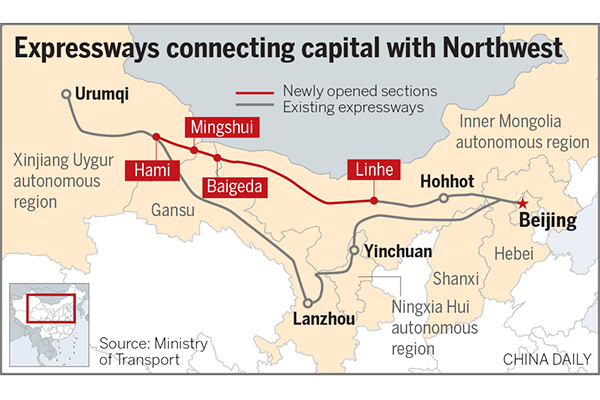 The 2,768-km G7 has been built across Beijing and five other provincial-level regions — Hebei, Shanxi, Inner Mongolia, Gansu and Xinjiang. It passes Zhangjiakou, Ulanqab, Hohhot, Baotou, Linhe, Ejin Banner, Hami, Turpan and Urumqi.
Some sections are still under construction, with drivers taking detours in some parts of Beijing, Hebei, Shanxi and Xinjiang, sharing routes with the Beijing-Tibet Expressway and Lianyungang-Khorgos Expressway.
Once the Beijing-Xinjiang Expressway is fully operational, it will cut more than 1,300 km off the journey from Beijing to Urumqi, the capital of Xinjiang.
"By 2016, the total length of expressways in China had reached 131,000 km, the most in the world," Ren said.
About 41,000 km of expressways have been open to traffic since 2012, and 98 percent of towns and cities with a population of more than 200,000 have access, he added.
The national expressway network is expected to be completed by the end of the 13th Five-Year Plan period (2016-20). The ministry will also carry out capacity expansion along some busy national expressway routes, Ren said.