BUDAPEST — The Xiang Ou Express (Budapest-Changsha) return freight train carrying Central European cargo containers to Changsha, China, was launched from Budapest for the first time on Nov 27.
The train carries 41 containers of red wine, beer, cereals, milk powder and hardware accessories made in Hungary and its neighboring countries.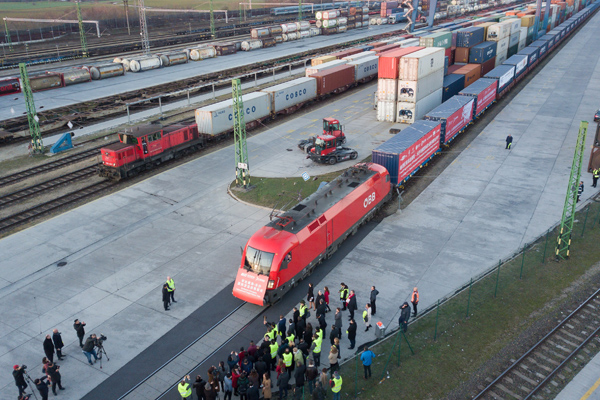 Photo taken on Nov 27, 2017, shows the Xiang Ou Express Budapest-Changsha return freight train in Budapest, Hungary. [Photo/Xinhua]
The launching ceremony was attended by Laszlo Mosoczi, deputy state secretary of the Hungarian ministry for national development, Hunan province Vice-Governor He Baoxiang, and Xu Xiangping, head of the department of commerce for the Hunan province.
Mosoczi said Hungarian export to China reached a record of $2.25 billion last year, while the export of food products increased by 1.5 times from 2015. The data of the first eight months showed that further increase — double digits in several areas — is to be expected, he added.
Xu said it is a major move to promote the smooth flow of trade, adding that "it is also an important way for the Hunan province to build a new pattern of opening to the outside world."
On June 16 this year, the first freight train from Changsha arrived in Budapest.