The country's first expressway section paved with solar panels will open to traffic this month in Jinan, Shandong province, according to the project's chief engineer.
Covering 5,870 square meters, the 1,120-meter-long photovoltaic stretch lies in the southern part of the city's belt expressway.
Once completed, the road will be able to use the sun to generate electricity, which will be transmitted into the grid. Its peak power generating capacity is 817.2 kilowatts, over a designed service life of 20 years, said Zhang Hongchao, a professor at Tongji University's College of Transportation Engineering.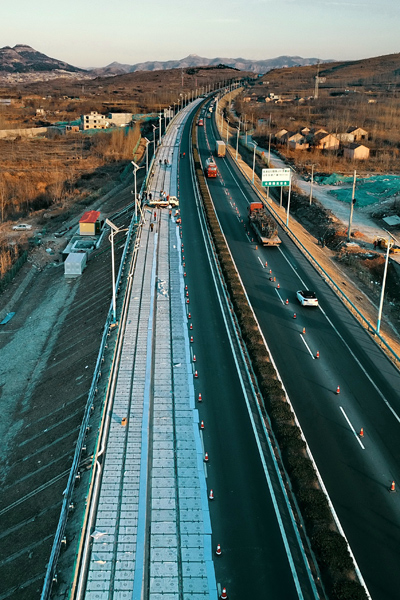 Solar panels are being installed on an expressway in Jinan, Shandong province, earlier this month. The panels will generate clean electricity for the grid.[Photo/China Daily]
The project is being funded by Qilu Transportation Development Group and built by Pavenergy, where Zhang serves as chief engineer.
In September, the company unveiled a 660-square-meter pilot photovoltaic zone in downtown Jinan, which powers several chargers for electric cars.
"Besides generating solar power, the new expressway will open doors to third-party services such as wireless charging for electric cars and autonomous car guidance," he said.
Zhang said space for the installation of wireless charging devices has been reserved on the roadway, and cooperation with US company Qualcomm aims to bring in a section for wireless charging of moving vehicles in two to three years.
Zhang has led a team for eight years in the development of cost-effective materials and structures for the photovoltaic pavement.
The current material meets national standards and can withstand all kinds of vehicles. Zhang said the pavement is just as economical as asphalt and cement.
"One square meter of photovoltaic pavement can earn at least 100 yuan ($15) a year through generating electricity," Zhang said. "More profit potential lies in its affiliated third-party services. Moreover, instead of building solar farms, building solar roads will also save land acquisition costs."
The idea of building solar roads was first brought up by the US scientist couple Scott and Julie Brusaw in 2006.
The first solar road for pedestrians and bicycles was completed in the Netherlands in 2014, and the first 1-kilometer solar road for cars was built in France in 2016.