GUANGZHOU — China's first homegrown large amphibious aircraft AG600 on December 24 took to the skies for maiden flight.
At 9:39 a.m., the amphibious aircraft AG600, code named "Kunlong," soared into the sky from the Jinwan Civil Aviation Airport in the city of Zhuhai, South China's Guangdong province.
The plane has a 39.6-meter-long fuselage and 38.8-meter wingspan, said its developer, the state-owned Aviation Industry Corporation of China (AVIC).
It is believed to be the world's largest in-development amphibious aircraft.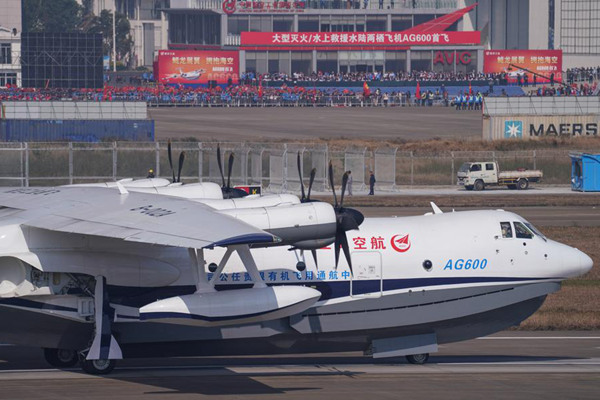 China's first homegrown large amphibious aircraft AG600 makes a smooth landing after its maiden flight in Zhuhai, South China's Guangdong province, Dec 24, 2017. AG600, code named "Kunlong", completed its maiden flight on Dec 24. Designed to be the world's largest amphibious aircraft, the AG600 will be mainly used for maritime rescue, fighting forest fires and marine monitoring. The AG600 is the third member of China's "large aircraft family" following the large freighter Y-20 and large passenger aircraft C919, which made maiden flights in 2013 and 2017.[Photo/Xinhua]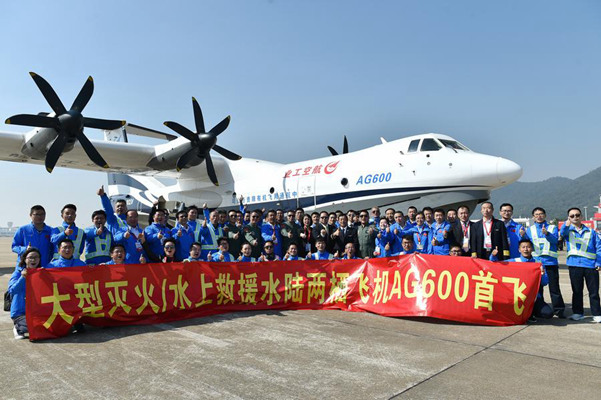 Crew members and staff members pose for a group photo in front of the AG600, China's first homegrown large amphibious aircraft, after its maiden flight in Zhuhai, South China's Guangdong province, Dec 24, 2017. AG600, code named "Kunlong", completed its maiden flight on Dec 24. Designed to be the world's largest amphibious aircraft, the AG600 will be mainly used for maritime rescue, fighting forest fires and marine monitoring. The AG600 is the third member of China's "large aircraft family" following the large freighter Y-20 and large passenger aircraft C919, which made maiden flights in 2013 and 2017. [Photo/Xinhua]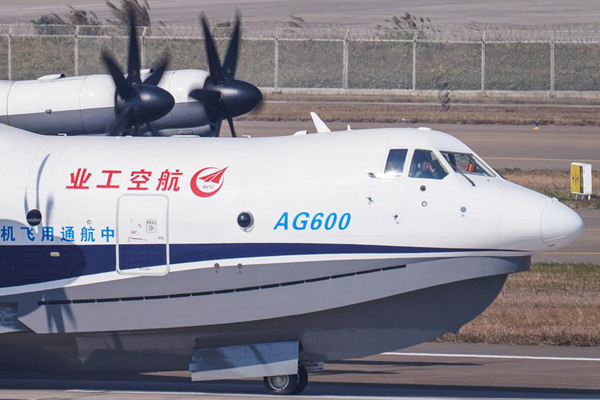 China's first homegrown large amphibious aircraft AG600 makes a smooth landing after its maiden flight in Zhuhai, South China's Guangdong province, Dec 24, 2017. AG600, code named "Kunlong", completed its maiden flight on Sunday. Designed to be the world's largest amphibious aircraft, the AG600 will be mainly used for maritime rescue, fighting forest fires and marine monitoring. The AG600 is the third member of China's "large aircraft family" following the large freighter Y-20 and large passenger aircraft C919, which made maiden flights in 2013 and 2017. [Photo/Xinhua]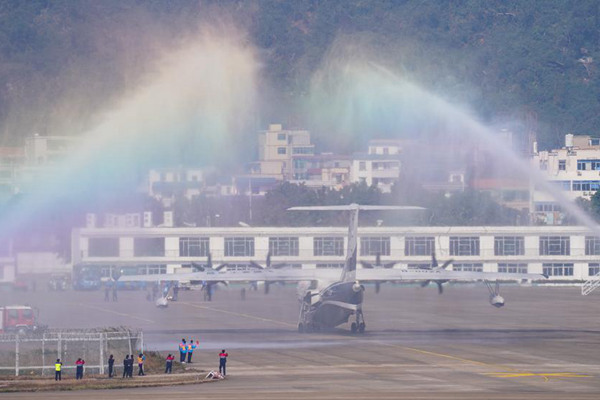 China's first homegrown large amphibious aircraft AG600 makes a smooth landing after its maiden flight in Zhuhai, South China's Guangdong province, Dec 24, 2017. AG600, code named "Kunlong", completed its maiden flight on Dec 24. Designed to be the world's largest amphibious aircraft, the AG600 will be mainly used for maritime rescue, fighting forest fires and marine monitoring. The AG600 is the third member of China's "large aircraft family" following the large freighter Y-20 and large passenger aircraft C919, which made maiden flights in 2013 and 2017. [Photo/Xinhua]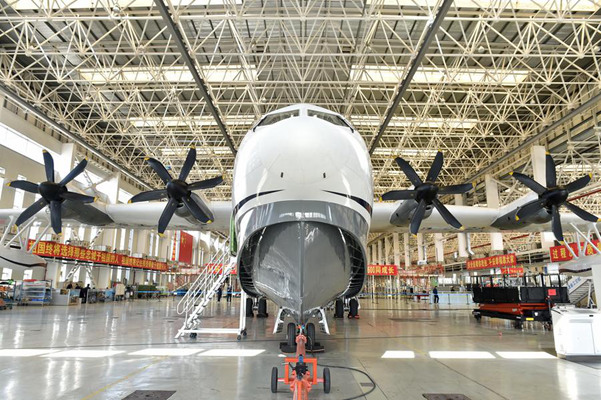 China's first homegrown large amphibious aircraft AG600 is seen on Dec 22, 2017. AG600, code named "Kunlong", completed its maiden flight on Dec 24. Designed to be the world's largest amphibious aircraft, the AG600 will be mainly used for maritime rescue, fighting forest fires and marine monitoring. The AG600 is the third member of China's "large aircraft family" following the large freighter Y-20 and large passenger aircraft C919, which made maiden flights in 2013 and 2017. [Photo/Xinhua]