BEIJING — President Xi Jinping encouraged Chinese people to work hard in the new era during his Spring Festival speech on Feb 14.
"The new era belongs to those who work hard," and happiness can only be earned by filling one's life with endeavors, said Xi, also general secretary of the Communist Party of China (CPC) Central Committee and chairman of the Central Military Commission.
"There will be difficulties in our endeavor, but battling them will also purify our souls and strengthen our faith," said Xi.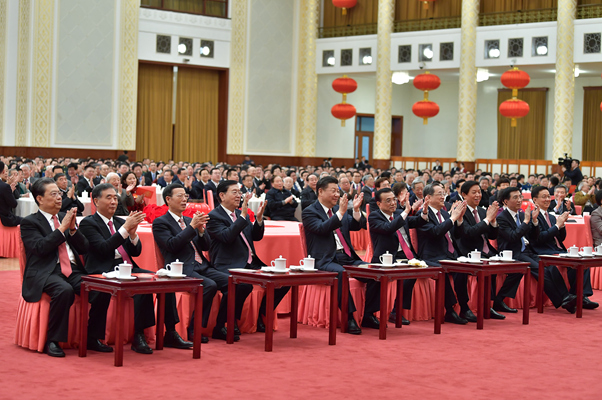 President Xi Jinping (5th L, front) and other senior leaders, including Li Keqiang (5th R, front), Zhang Dejiang (4th L, front), Yu Zhengsheng (4th R, front), Zhang Gaoli (3rd L, front), Li Zhanshu (3rd R, front), Wang Yang (2nd L, front), Wang Huning (2nd R, front), Zhao Leji (1st L, front) and Han Zheng (1st R, front) attend a festival reception at the Great Hall of the People in Beijing, capital of China, Feb 14, 2018. Xi Jinping, on behalf of the CPC Central Committee and the State Council, extended Spring Festival greetings to all Chinese people on Feb 14. [Photo/Xinhua]
Xi stressed that the great endeavor of upholding and developing socialism with Chinese characteristics will take generations, even dozens of generations, of hard work.
Those fighting in these efforts will be richest in spirit, and will have the most profound understanding of happiness, according to Xi.
Xi called on CPC members to always focus their work on the aspirations of the people to live a better life, and to always fight for the people and with the people.
There should be both competition and solidarity in the endeavor, said Xi.
At the 19th CPC National Congress last October, the Party announced that socialism with Chinese characteristics has crossed the threshold into a new era with decades of hard work.