More tourists travel around China during holiday
Updated:
Feb 19,2018 9:57 AM
Xinhua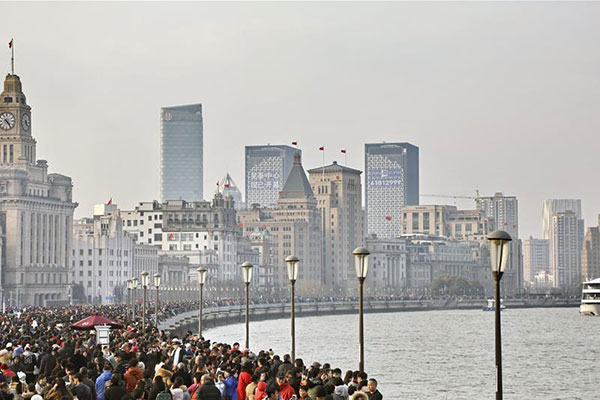 Tourists visit the Bund in East China's Shanghai, Feb 17, 2018. The Chinese people enjoy their week-long holiday for the Spring Festival, or the Chinese Lunar New Year, which fell on Feb 16 this year. [Photo/Xinhhua]
BEIJING — Some 287 million tourists travelled in China during the first four days of the week-long Chinese Lunar New Year holiday, up 11.1 percent from the same period last year, new data showed on Feb 18.
Tourism revenue rose 11.6 percent to 352.7 billion yuan ($55.61 billion) in the four days, the China National Tourism Administration (CNTA) said.
On Feb 18 alone, some 73 million tourist trips were made across the country, up 15.3 percent, while tourism revenue rose 16.6 percent to 94.4 billion yuan.
Some 385 million tourists are expected to travel around China during the holiday spanning from Feb 15 to 21, an increase of 12 percent, the CNTA forecast earlier this month.
China earned 5.4 trillion yuan from tourism in 2017, an increase of 15.1 percent.