China will further its reform and opening-up policy, which is the fundamental engine for China's development, Premier Li Keqiang said in Beijing on Sept 30.
Premier Li made the remarks when addressing a reception marking the 69th anniversary of the founding of the People's Republic of China at the Great Hall of the People.
President Xi Jinping, together with other senior leaders including Li Zhanshu, Wang Yang, Wang Huning, Zhao Leji, Han Zheng, and Wang Qishan, as well as some 1,200 people from home and abroad attended the reception.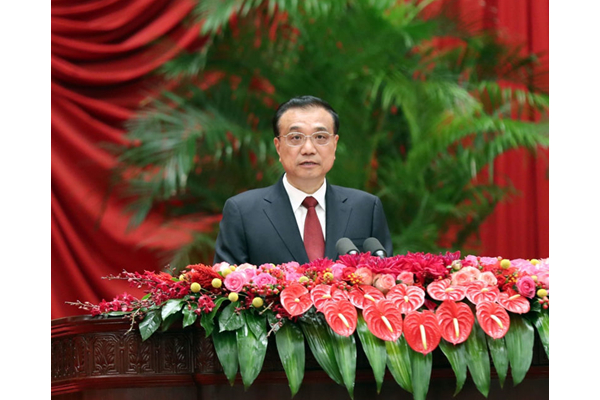 Premier Li said China's economy has been operating within a reasonable range this year, with stronger dynamics and a series of measures that effectively prevented risks. New progress has been made in deepening reform and industrial upgrading.
On the global arena, he said China opened its door wider, and achieved good results in foreign relationship and international cooperation.
The Premier said people's lives have constantly improved, along with a safe and stable society.
This year marks the 40th anniversary of China's reform and opening-up, Premier Li said, adding that reform is the fundamental engine for China's development and development is the key and basis to solve all issues in the country.
The Premier urged deepening administrative reform, further cutting taxes and fees, and strictly protecting intellectual property right with the aim to create a marketwise, legal and international business environment for all enterprises with different ownership.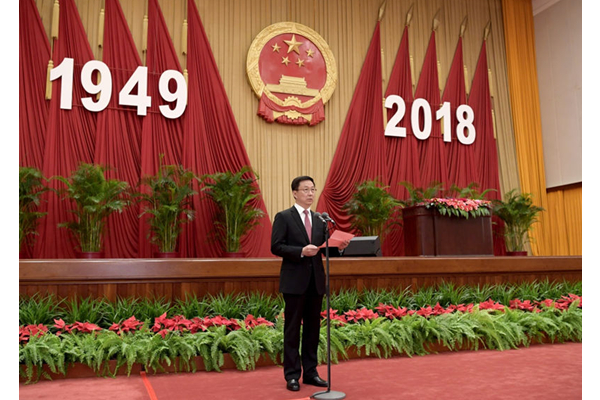 He called for implementing innovation-driven development strategy, cultivating new economic drivers and promoting economic development with high quality.
Efforts should also be made to maintain rules-based multilateralism, enhance opening-up with higher level, and share development opportunities and results with all the countries while safeguarding our own development benefits, said Premier Li.
He also stressed timely response to public concerns and more investment and optimized supply in targeted poverty, employment, education, healthcare and pension.
Premier Li said Chinese mainland will stick to the policy of "one country, two systems", follow the principles of the Hong Kong people to govern Hong Kong and the Macao people to govern Macao to achieve their high degree of autonomy.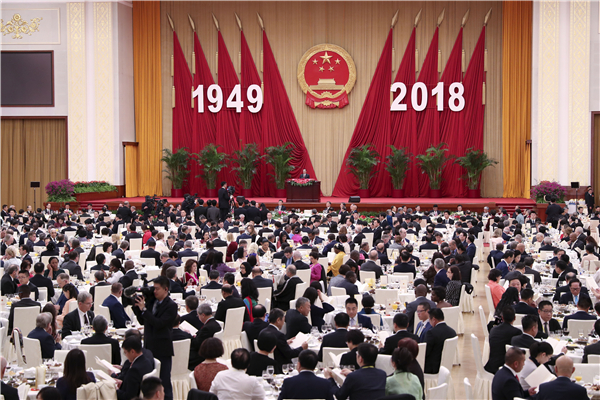 Efforts will also be given to support Hong Kong and Macao in integrating their own development into the overall development of the country, deepen their connection with Chinese mainland with construction of Guangdong-Hong Kong-Macao Greater Bay Area, and promote the common prosperous development, he said.
Regarding ties across the Taiwan Strait, Premier Li said the Chinese mainland will continue to uphold the one-China policy and the 1992 Consensus, stand firm in safeguarding China's sovereignty and territorial integration, and will never allow any separatist attempts and moves for "Taiwan independence".
Chinese mainland will provide wider market, various development opportunities for the Taiwan compatriots and enterprises, said the Premier Li.
Adhering to following the road of peaceful development, China will firmly safeguard the national core interests, expand converging interests with other countries and promote the establishment of human community of destiny with a willingness to negotiate with international community to improve the global governance system, he said.
In the end, Premier Li said the great cause needs all the Chinese people to strive together, and overcome difficulties.