After attending the 21st China-EU leaders' meeting in Brussels, Premier Li Keqiang continues his Europe tour with an official visit to Croatia – both a member state of the European Union and a participant in the cooperation mechanism between China and 16 Central and Eastern European countries (CEEC). Premier Li will also take part in the annual China-CEEC summit in Dubrovnik, a city on Croatia's Adriatic coast.
Premier Li's Europe tour comes just two weeks after President Xi Jinping's visits to Italy, Monaco and France. Both leaders chose Europe as the destination of their first overseas trips this year, highlighting the importance that China attaches to its ties with Europe.
Situated at the crossroads of Central and Southeastern Europe as well as the Mediterranean, Croatia has a major role to play in the China-proposed Belt and Road Initiative (BRI) and in connecting Europe with China more closely.
A natural bridge
Premier Li's visit is the first ever by a Chinese premier to Croatia since the establishment of diplomatic ties, "consolidating traditional friendship and advancing comprehensive cooperative partnership between the two sides" will be a major task during the visit as Vice-Foreign Minister Wang Chao said at a press briefing.
During Premier Li's visit, China and Croatia will issue a joint statement summarizing any important consensus reached by their leaders and mapping out future cooperation; the two sides will sign government cooperation documents and commercial contracts covering multiple sectors, according to Wang.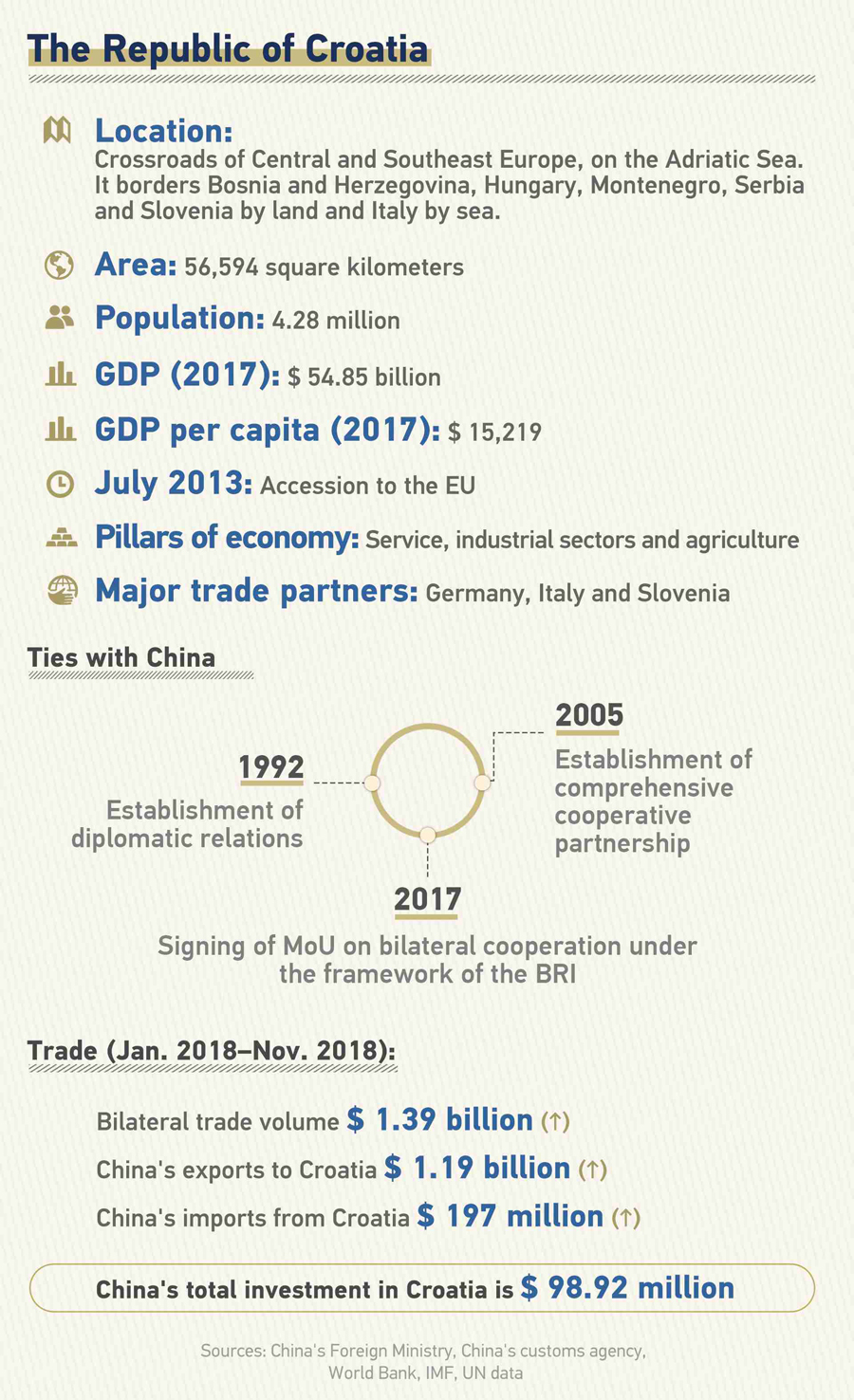 A survey released in March last year showed that some 89 percent of the respondents thought that relations between Croatia and China were friendly, 86 percent supported Chinese investments in Croatia, especially in areas of infrastructure, tourism and e-commerce, and 85 percent believed that China was a reliable cooperation partner.
Positioned at the intersection of the maritime Silk Road and continental Silk Road, Croatia's geographic position makes it a natural bridge between China and Europe and creates more possibilities for Belt and Road cooperation across the sea.
The Peljesac Bridge, one of the biggest infrastructure projects in Croatia's history, is a great example of cooperation between China and the EU under the framework of the BRI.
"This is the project of great importance for Croatia and it creates a new dimension of cooperation with China. At the same time, a fact that the project is funded from the EU budget with €357 million € ($410 million) shows how important the EU cohesion policy and the EU's help for the project are," Croatian Prime Minister Andrej Plenkovic said when visiting the construction site run by a Chinese consortium in southern Croatia in February.
As the host country for the upcoming China-CEEC summit, Croatia, an EU member, has the opportunity to facilitate more cooperation like the bridge project between China and Europe.
16+1 cooperation facilitates European integration process
Wang Chao emphasized that the eighth China-CEEC (16+1) leaders' meeting is of great significance to the promotion of the steady, long-term development of 16+1 cooperation as well as China-Europe relations.
Outcome documents charting 16+1 cooperation are expected to be released after the meeting and related parties will ink cooperation agreements on infrastructure construction, trade, finance, education, quality inspection, personnel exchanges and mutual recognition of driving licenses, Wang added.

According to the Ministry of Commerce, trade between China and CEEC grew 20.9 percent last year to $82.23 billion, while imports by China grew at an even faster pace of 24.6 percent, and during the January-February period this year, China's trade with the EU also increased 8.9 percent.
The 16+1 cooperation facilitates the European integration process in a more sound manner, Wang said.
Chinese Ambassador to Croatia Hu Zhaoming echoed in an interview to Xinhua that 16+1 cooperation mechanism is open, transparent and in line with the integration effort of the EU, adding that it has become a new highlight in China-Europe interaction.
Meanwhile, the BRI, which is developing quickly around the world, further links China and European countries. As a crucial part of Belt and Road cooperation, China-Europe freight trains help enhance connectivity across Eurasia and boost common development along the Silk Road Economic Belt.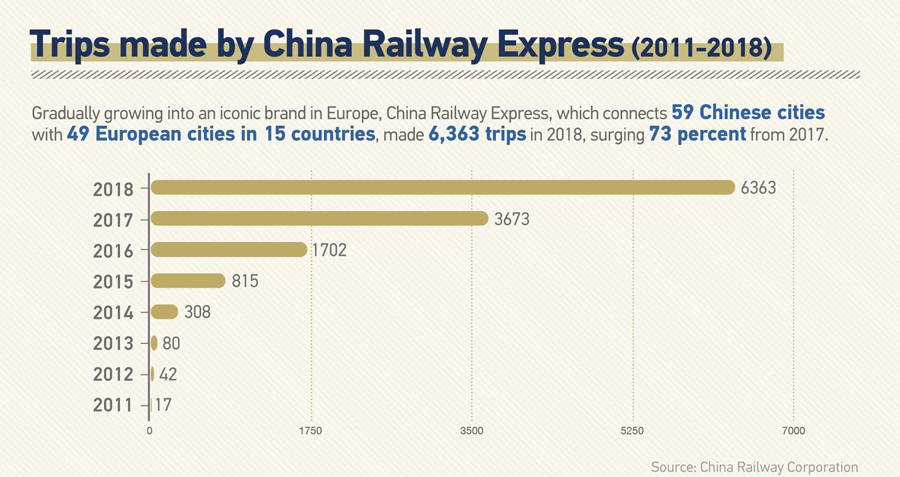 The EU has been China's largest trading partner for 14 consecutive years, and China is the EU's second largest trading partner. More and more European companies are expanding their business in China, and Europe has also become an important investment destination for Chinese enterprises.
After Italy became the first G7 nation to officially join the BRI during President Xi's visit last month, will the 16+1 summit in Croatia be remembered as another landmark event in the development of China-Europe relations?