Financial service companies expect the pilot free trade zone in Guangdong to play a key role in fostering innovation and boost business with its close proximity to Hong Kong and Macao.
The Guangdong zone, to be unveiled on April 21, is spread over an area of 116.2 square kilometers and includes Nansha New Area in Guangzhou, Qianhai New Area and Shekou in Shenzhen, and Hengqin New Area in Zhuhai.
It marks a major move for deepening reform, expanding opening-up and promoting deepened cooperation between the Chinese mainland, Hong Kong and Macao, according to the overall program for the zone released by the State Council on April 20.
Bank of China Ltd hopes to attract companies in the new free trade zone with more products made available by policies and higher sophistication in its services in Guangdong, said Wang Zhiheng, vice-president of the Guangdong branch of the bank.
"More business opportunities will also come from the zone's geographic proximity with Hong Kong, Macao and Southeast Asia," said Wang. He said the combination of policies in the pilot free trade zones, the national-level new areas in the three places, and the Closer Economic Partnership Arrangement between the mainland and Hong Kong and Macao will be a plus for business.
Lin Ziyao, vice-chairman of SAIF Heyin Asset Management Co, said: "What foreign investors are concerned about most, including regulatory transparency and streamlining, would be better addressed."
The well-established industrial sector in the Pearl River Delta serves as an important foundation for the financial service industry, he said, citing the proximity with Southeast Asia as an advantage for Guangdong. His firm has located its China headquarters for fixed-income business in Nansha.
The Guangdong PFTZ will play its part in advancing industrial upgrading in the Pan-Pearl River Delta region and inland areas through the transformation of the processing trade, said Wang Shouwen, assistant minister of commerce.
It will work to build a business environment in line with international practices and deepen cooperation between the mainland and Hong Kong and Macao, said Xu Shaohua, vice-governor of Guangdong.
It will further relax the requirements for investors from Hong Kong and Macao in qualification, capital share and business scope. "The operation of a pilot free trade zone makes a process of experimenting with new policies. Guangzhou Clearing Corp hopes to achieve breakthroughs in commodities flow through innovation, such as in warehouse receipt financing, " said Li Jie, general manager of the company.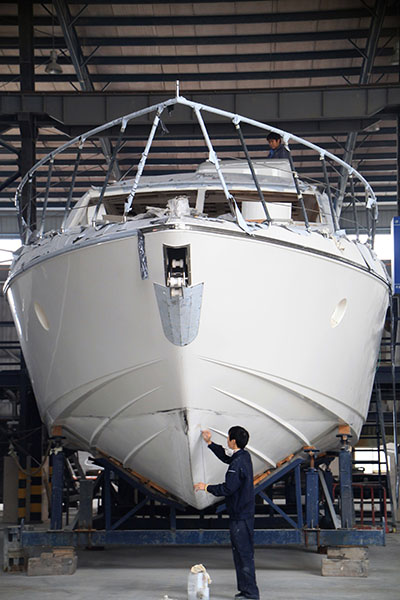 An assembly line at Sunbird Yacht Co Ltd in the Zhuhai Hengqin New Area.[Photo by ZOU ZHONGPIN/CHINA DAILY]
The Guangzhou Shipping Exchange Co will be launched in Nansha on April 21 to provide commercial services, said Chen Siyong, director of existing Guangzhou Shipping Exchange, which is a public institution and will be responsible for public-sector services.
As a first step, the new company will research the price index on shipping in the Pearl River waterway system as part of the efforts to strengthen the position of Guangzhou as an international shipping hub.
With the new PFTZ, offshore borrowing and payment with renminbi in the shipping industry may be explored with the cooperation with Hong Kong and Macao, which could reduce financing costs, he said.
According to the program, the Nansha part of the Guangdong PFTZ will focus on industries such as shipping and logistics, financial services, international trade and high-end manufacturing. The goal is to become an advanced center for modern industries led by services that also supports manufacturing, and to be a world-class hub for all-round services.
The part in Shenzhen will mainly develop financial services, logistics, information services and technology-related services. The aim is to become an experimental and demonstrative window on the opening-up in the financial services sector, and be an important service trade base and an international hub port.
The Hengqin part will be devoted to tourism and health services, business financial services, culture and education, and high-technology, with an aim to become a new platform for the economic diversification of Macao.
The launch of Guangdong PFTZ is expected to make the talent, capital and product flows into Nansha easier to facilitate innovation, said Wu Jingshen, acting dean of Guangzhou HKUST Fok Ying Tung Research Institute.
Based in Nansha, Wu's institute is engaged in the commercialization of technologies from the Hong Kong University of Science and Technology to meet the demand from industries in the Pearl River Delta.
Traveling to Nansha, which is close to Hong Kong, would become easier, with transport network to be further enhanced, Wu said. With agreeable environment, Nansha can become an attractive place for both living and entrepreneurial purposes, he said.