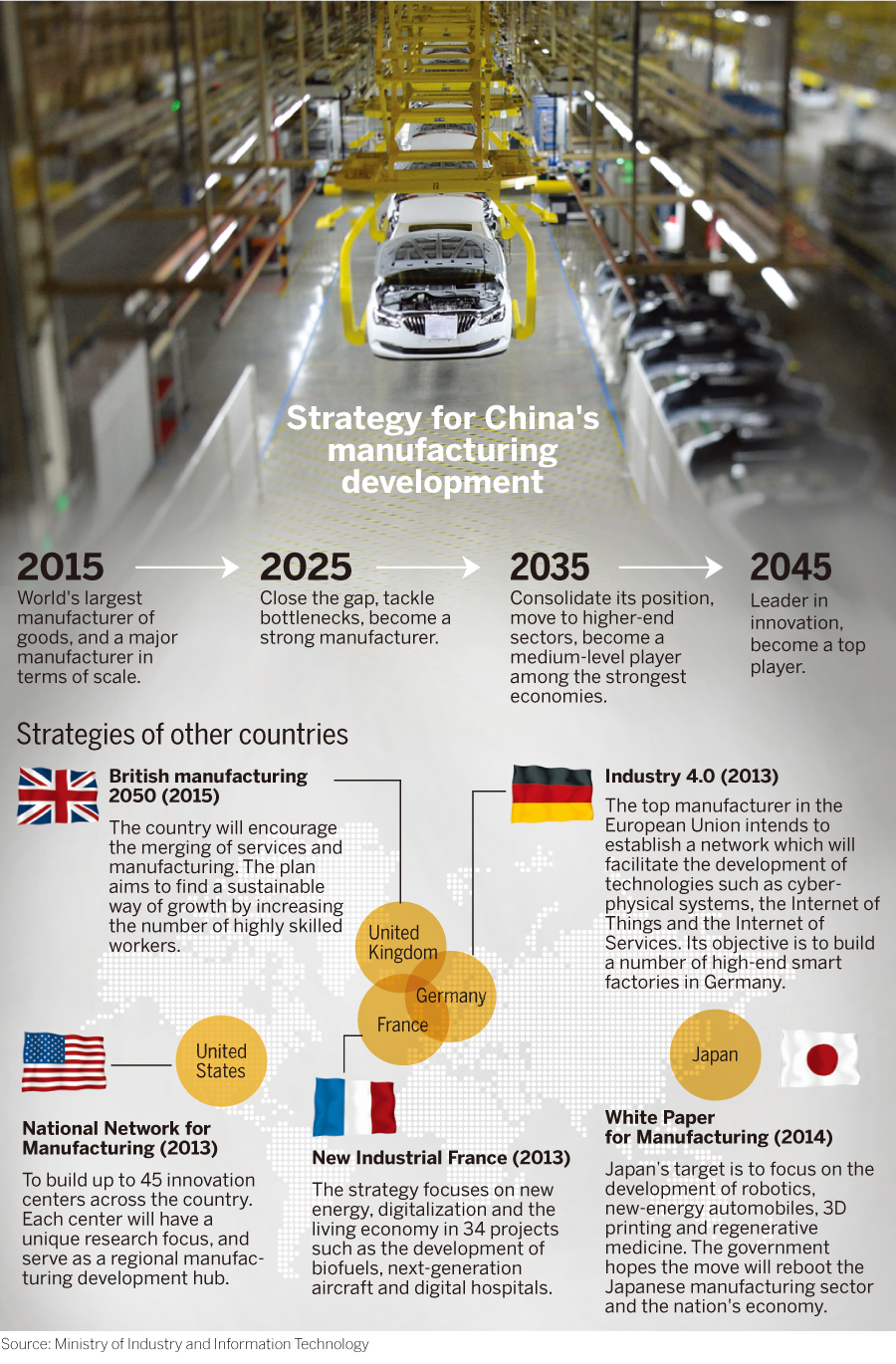 China announced an ambitious plan on May 19 to encourage innovation and boost the competitiveness of its manufacturing sector.
The plan, "Made in China 2025", will have a far-reaching influence on the nation's manufacturing strategy over the next decade by shaping the technology development path and future strengths of Chinese companies.
It is also the first phase of an ambitious 30-year goal that is under the direct supervision of Premier Li Keqiang.
Ten sectors, including machinery manufacturing, biotech and information technology, will be the first to benefit from the plan, according to the strategy drawn up by the Ministry of Industry and Information Technology and approved by the State Council. The plan includes setting up several innovation centers and IT facilities to boost manufacturing.
The investment in strategically important industries will help improve the level of China's manufacturing and competitiveness in the global market, said Miao Wei, minister of industry and information technology.
"It is a crystal clear goal for us. We are trying to push China from being the largest to being one of the strongest," Miao said, adding the "low-end" tag attached to most of the products made in the country does not bode well for long-term development.
"'Made in China 2025' is designed to make some breakthroughs in bottleneck areas so that the country can play an even more important role in the global manufacturing chain," he said.
One of the key bottlenecks the industry is facing is in the manufacture of high-end microchips.
China spent $210 billion last year on importing integrated circuits, more than was spent on buying oil around the globe, according to ministry data.
Microchips are critical components for electronic devices such as computers, smartphones and televisions.
"With overseas firms controlling most of the high-end microchip exports to China, we realized that it is important to develop our own microchips to avoid bottlenecks for the IT industry," Miao said.
The plan has been welcomed by domestic chipmakers such as Huawei Technologies and MediaTek, both of which anticipate increased business after it is implemented.
Last year, the country set up a 120 billion yuan ($19 billion) investment fund to support the development of microchips, leading to a rush of applications for funding from homegrown companies.
Other industry bottlenecks that the strategy aims to correct include gas turbines for oil tankers, engines for aircraft, joints used for robots and batteries for new-energy vehicles. "Breakthroughs in these technologies will lead to a new round of manufacturing growth," said Miao.
Zhu Sendi, a professor who advises Chinese policymakers on IT matters, said the nation is in urgent need to lift its manufacturing ability, especially as economic growth is slowing.
For decades, rural residents who have flocked to cities have provided low-cost labor, giving factories a competitive edge in the global market. But with labor costs rising, local vendors will need to rely more on employees with innovative ideas and the ability to "think outside of the box" to stay competitive.
"Having a better manufacturing industry with local innovation can help a nation better defend itself against a global economic slowdown and other international turbulences," Zhu said.
China's economic growth dropped to 7.4 percent last year, the slowest since 1999. However, market analyst firm International Data Corp estimated that spending on IT by enterprises will grow this year by a healthy 10 percent compared with 2014, thanks to continuous investments on steps to lower costs and increase efficiency.
A report by consultancy Accenture Plc shows that about 60 percent of the executives at local companies are considering collecting customer information using sensors, while the worldwide average is 40 percent. The high percentage indicates Chinese companies are more willing to try out technology upgrades to improve service quality, according to Marco Cassinadri, managing director at Accenture's information technology and services in China.
"We have seen a surge in the number of Chinese companies that are interested in investing in new technologies to reduce operating costs," he said.
"Made in China 2025" has been compared by some to Germany's Industry 4.0 strategy, a national plan to boost manufacturing. Luo Wen, director of government think tank China Center for Information Industry Development, said the differences between the two blueprints are distinctive.
"Industry 4.0 mainly focuses on adding the smart manufacturing elements to the already very advanced manufacturing process because Germany has a stronger industrial foundation than China," he said.
Policy adviser Zhu agrees, and said that some Chinese companies are still using Soviet-era manufacturing technology.
"China is trying to catch up with cutting-edge technologies. This will not be an easy task," Zhu said.
It will take Germany about a decade to accomplish its Industry 4.0 mission, yet the overall level of Chinese manufacturing in 2025 is expected to be still lower than the top manufacturer in Europe, industry sources said.
The adoption of modern technology, such as the "Internet of Things" and artificial intelligence, will help China spend less time in low-end manufacturing and embrace high-margin manufacturing sooner, Zhu said.
"I do not think China can leapfrog the leading economies by using this 10-year strategy, but it is possible to catch up with them," he said.
Manufacturing weakness
R&D investment
China will become the world's largest patent applicant, but the country is short of key technologies. Total investment in research and development lags behind leading economies such as the United States, the United Kingdom, Japan and Germany.
Product quality
The country recalls more goods worldwide due to quality problems. Local firms lose more than 200 billion yuan ($32.2 billion) annually from recalls.
Energy efficiency
China uses more energy to create each unit of GDP than most major economies. Energy consumption per unit of GDP is nearly twice the global average and 2.4 times higher than in the US, according to an estimate by BP Plc, the global energy company. High consumption of coal has also triggered serious environmental problems.
Industrial structure
Low-end manufacturing accounts for a large proportion of total output. Demand for steel, cement and flat glass is well below its peaks.
Information technology
Industrial Internet development lags behind more than 50 economies.
Global value chain
China's outbound direct investment accounts for 2.5 percent of the world's total and around 10 percent that of the US. This means the country is failing to take advantage of the global production chain.