Anti-smoking campaigners at home and abroad have hailed a new regulation on tobacco use in Beijing as a major step forward in the country's efforts to control smoking.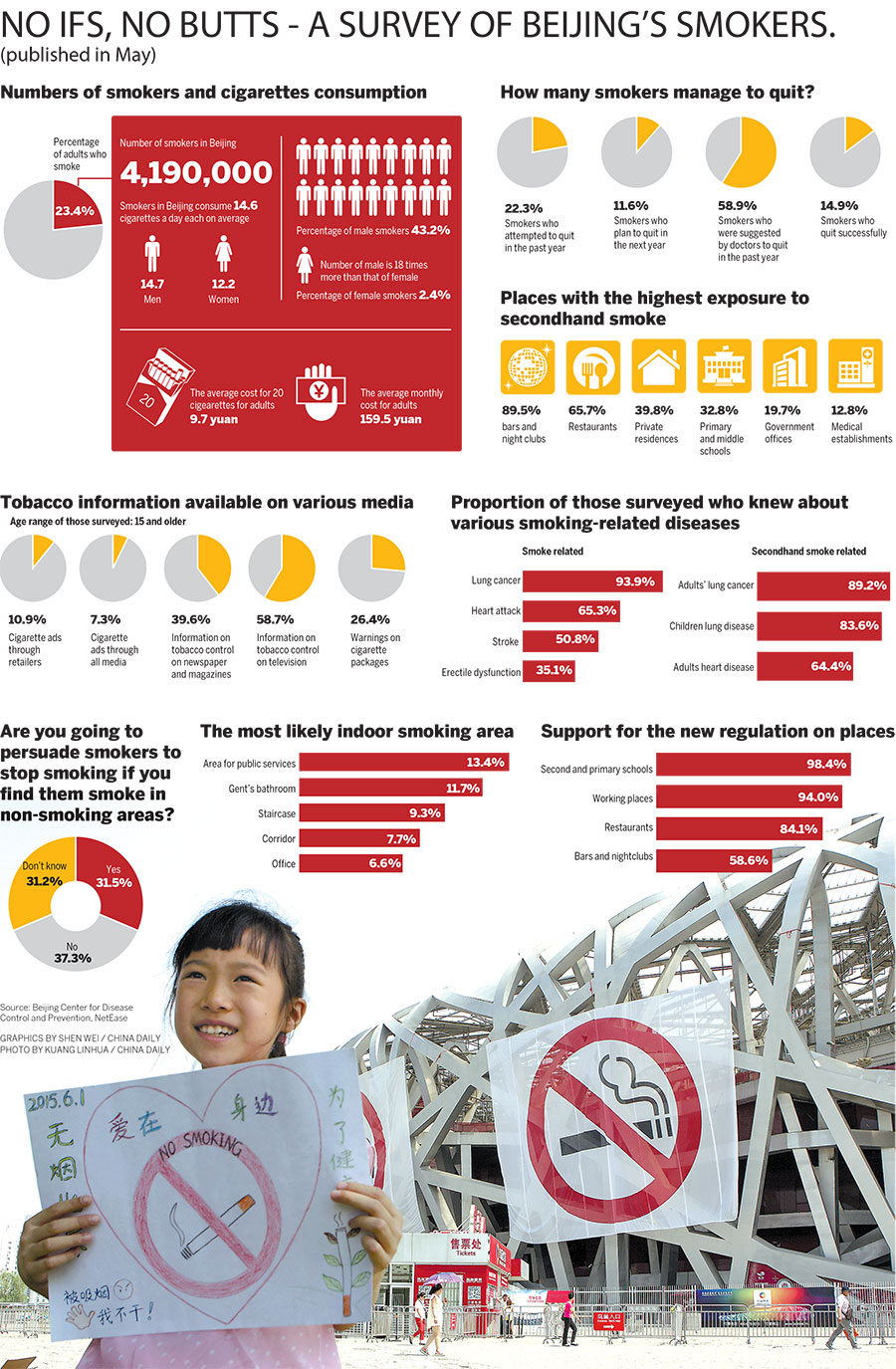 The new rules, which took effect on June 1, are the toughest ever imposed in China, and senior health officials said the capital could serve as a model to pave the way for national tobacco-control regulations and prevent an increase in smoking-related deaths and illnesses. However, they warned that the government needs to show that it is determined to stamp out smoking, and that resolve will be crucial to the successful implementation of the measures.
The regulation, adopted by Beijing's top legislative body in November, extends existing smoking bans to include all indoor public areas and workplaces, plus a number of outdoor areas, including schools, seating areas in sports stadiums and hospitals where women or children are treated.
Violators will face fines of up to 200 yuan ($32), a twentyfold increase from the previous 10-yuan penalty stipulated by the previous regulation adopted in 1996. Owners of buildings classified as public places, such as restaurants, that fail to stop smokers lighting up face fines of up to 10,000 yuan.
Members of the public can report violations to the authorities by dialing a health hotline (12320) or via social media.
The new law is fully compliant with Article 8 of the World Health Organization's Framework Convention on Tobacco Control, according to the WHO's China bureau.
"We now call on all Beijingers to get behind the city health authorities' efforts to enforce the law. All of us have a role to play," Bernhard Schwartlander, WHO representative in China, said at an event held in Beijing on May 31 to mark World No Tobacco Day.
Largest population
China is the world's largest producer of tobacco and, with more than 300 million regular smokers, has the largest smoking population. Every year, more than 1 million people die as a result of tobacco-related diseases, according to the National Health and Family Planning Commission.
The number of smokers in Beijing is estimated to be about 4.2 million, according to a survey conducted last year by the Beijing Center for Disease Control and Prevention. That figure accounts for 23.4 percent of the city's population age 15 and older, 4 percentage points lower than in 2008, according to the survey. It also found that more than 80 percent of residents support a complete ban on smoking in primary and middle schools, workplaces and restaurants.
"Years of tobacco-control efforts in Beijing have produced positive results," Zeng Xiaopeng, deputy director of the Beijing disease control center, said. "Beijing is well-prepared for the enforcement of the new regulation."
The new law is one of several recent victories for China's anti-tobacco campaigners. "In the past few months, there has been a lot of good news about tobacco control in China," Xu Guihua, deputy director of the Chinese Association for Tobacco Control, said.
In May, the excise tax on wholesale cigarette sales was raised to 11 percent from 5 percent, the first increase in six years. That may result in the number of smokers in China falling by about 4 million, according to Rose Zheng, a professor of finance and taxation studies at the University of International Business and Economics.
In April, China's top legislature adopted a revision of the Advertisement Law, which imposed a comprehensive ban on tobacco ads on mass media, plus those aimed at young people, thus eliminating loopholes that existed under the previous law.
Public opinion has been canvassed about a nationwide ban on smoking in all indoor public areas-the first of its kind in China-proposed by the National Health and Family Planning Commission last year. A number of ministries are also discussing the proposal.
"We will work with the Legal Affairs Committee of the State Council so the regulation can be adopted as soon as possible," Cui Li, vice-minister in charge of the commission, said.
Wu Yiqun, deputy director of the ThinkTank Research Center for Health Development, an anti-smoking group in Beijing, said the new regulation includes a number of clauses designed to facilitate fast, effective implementation.
"The regulation clearly states that the Beijing government will ensure funding for tobacco control. This is very important to ensure a sustained tobacco-control drive," Wu said.
For the first time, the regulation states clearly that health inspectors have the right to have access to records of video cameras installed in business places for evidences of tobacco violations. Awards will be presented to individuals and business owners who contribute to the control of tobacco use, she said.
Determination the key
Yang Gonghuan, former deputy director of the Chinese Center for Disease Control and Prevention, said the regulation could be implemented successfully if the Beijing government is determined to make it happen. Similar legislation was successfully introduced in Shenzhen, Guangdong province, in March last year.
"Like the regulation in Shenzhen, the Beijing regulation has been designed well," Yang said. "I think a sustained period of enforcement would ensure that the regulation is effective."
Beijing imposed similar strict limitations ahead of the 2008 Olympics Games, which resulted in smoking being banned in many public places, including schools, restaurants and office buildings.
Initially, the ban achieved satisfactory results, but in the aftermath of the Games, supervision and enforcement became lax, and people started smoking in public places again, she said.
"To implement the new regulation effectively, the authorities must consistently push forward supervision and law enforcement," she added.
On the morning of June 1, officers from the Beijing Health Inspection Bureau were dispatched across the city to inspect a number of restaurants and other public places.
At Beijing Chaoyang Hospital, no-smoking signs had been posted in the corridors of the hospital, and there were no indications of smoking or of cigarette butts.
Qin Lingling, a cardiothoracic physician at the hospital, said the medical fraternity first began pushing for prohibitions on smoking 20 years ago, and physicians will study the regulation to ensure it is adhered to at the hospital.
However, at a restaurant in Beijing's Chaoyang district, officers from the bureau spotted cigarette butts in the bathroom, and the only no-smoking signs to be seen had been placed on a wall far from the customers and the main entrance. Liu Pengqiang, the manager, said the restaurant's parent company contacted him a few months ago and ordered him to make full preparations for the regulation.
Liu Ying, an enforcement officer, said: "The signs should have been displayed in a prominent place, such as close to the entrance. Moreover, the signs here are too small, and they don't include the hotline number so customers or staff can report violations," she said.
When contacted by phone on May 31, the owner of the Denglu Bar in Beijing's trendy Sanlitun bar area told China Daily that smoking would be banned starting June 1, because of the threat of surprise inspections by enforcement officers.
"The regulation says you are not allowed to smoke in the bar," said the owner, who declined to be named. "But it's difficult to say; we don't know whether the regulation will be enforced strictly."
According to a survey conducted by the Beijing disease control center last year, bars, nightclubs and restaurants-the places with the highest rates of smoking-will be the most difficult places to enforce the new regulation.
The survey, which covered 8,000 people, concluded that 89.5 percent of patrons of bars and nightclubs are exposed to secondhand smoke, while about 65 percent are exposed to it in restaurants.
Wang Benjin, deputy director of the Beijing Health Inspection Bureau, said the bureau will intensify law enforcement in nightclubs and bars.
However, he added that relying on enforcement alone might not be enough, because there are only about 1,000 health inspectors in Beijing, but there are more than 4 million smokers.
Society as a whole should join the fight against illegal smoking, and voluntary adoption by smokers will be very important, he said.
National significance
Cui Li, vice-minister in charge of the National Health and Family Planning Commission, said the new regulation has national significance. "Beijing has provided a good example, and we hope the regulation will be carried out effectively," she said.
Yang, the former CDC vice-director, said all eyes are now firmly focused on the city: "As the capital of China, Beijing has a unique status. The whole country and the world are watching. The success of the regulation will have a major influence on tobacco-control efforts in other Chinese cities."
ThinkTank's Wu said other parts of China would be able to learn from Beijing's experience and its successes and failures when they enforce their own tobacco-control legislation.
"As latecomers, they will be expected to make better, more-effective laws and regulations," she said.
At present, about 20 major Chinese cities, including Shanghai and Shenzhen, have adopted tobacco-control regulations that cover 140 million people. A national regulation, proposed by the National Health and Family Planning Commission, is now under discussion among different government departments and is likely to be adopted, Yang said.
Schwartlander, the WHO representative, said: "Beijing has set the bar very high-and we now look forward to other cities around China and the rest of the world following Beijing's excellent example."