Six national nature reserves to be set up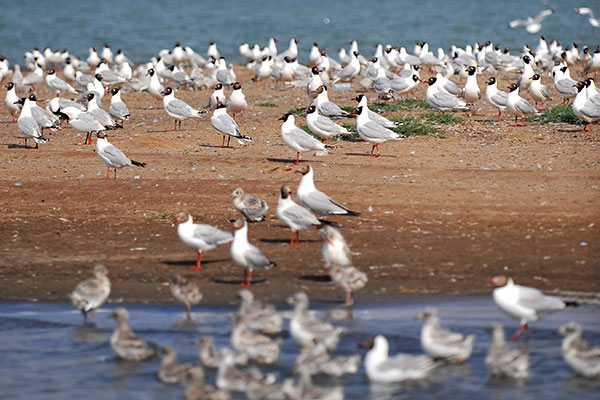 The State Council announced six newly built national nature reserves on Feb 13.
They are located in: Wuhuading in Northeast China's Liaoning province, the Yuanchi wetland in Jilin province, the Xiandong mountain sika deer reserve and Langxiang in Heilongjiang province, the Nanmoqie wetland in Southwest China's Sichuan province, and the Hongjiannao scenic area in Northwest China's Shaanxi province.
Local governments involved are required to follow regulations on nature reserves, fulfill ecological environmental protection responsibility, strengthen leadership and coordination efforts, increase fund investment and enhance supervision.
Military-civilian links to be clearly updated
Central authorities announced a campaign to clear outdated regulations on the integration of military and civilian development, according to a statement jointly issued by the general offices of the Communist Party of China Central Committee, the State Council and the CPC Central Military Commission, on Feb 22.
The statement said that the campaign will examine regulations adopted in the past 40 years. It aims to identify documents that create barriers to the two-way flow of technology, human resources, capital and information between the military and civilian sectors, as well as those that fail to give private enterprises equal treatment in market access and intellectual property protection.
Outdated regulations and requirements will be revoked or modified, the statement said. It called for long-term mechanisms and routine inspections to ensure remaining regulations are updated.
Areas will strengthen sustainable progress
The State Council has approved Shenzhen, Taiyuan and Guilin to build innovation demonstration zones to implement the 2030 Agenda for Sustainable Development.
The country aims to open around 10 national development zones to seek solutions to sustainable growth, according to a State Council plan released in December 2016. The 2030 Agenda for Sustainable Development is part of a blueprint to eradicate poverty worldwide by 2030.
By piloting innovative projects in the development zones, China hopes to replicate success nationwide and offer Chinese solutions to other countries.
Targeting problems in air and water pollution, the zones are required to make innovative solutions to create a replicable model and set an example for resource-based regions in the course of transformation and upgrading.
Efforts to make elevators even safer
China will enhance efforts to improve the quality and safety of elevators as the General Office of the State Council issued a document on the issue on Feb 9.
The document said that in recent years, though elevator-related accidents and deaths have steadily declined in China, elevator failures and accidents still remain common, the circular stated. The circular put forward a goal of establishing an elevator quality and safety system to ensure that indicators such as the number of accidents and deaths per 10,000 elevators reach the level of developed countries by 2020.
The circular urged to improve the quality of elevators, enhance hazard control and renovation, optimize elevator use and maintenance, and adjust inspection and detection methods, among others.
As supporting measures, local governments are required to strengthen supervision and management by building an elevator quality and safety coordination mechanism and incorporating elevator safety into the accountability system. Efforts will also be made to improve regulations and standards as well as increase publicity and education to raise awareness about safety.
Plan to build airport in Ezhou approved
The State Council and the Central Military Commission on Feb 23 approved the construction of a civilian airport in Ezhou, Hubei province in a jointly released statement.
According to the statement, the airport will be located in Echeng district, and will serve as an international logistics hub, and a total of 37.26 billion yuan ($5.9 billion) will be earmarked for construction. Terminals, transfer centers and other facilities will be designed to handle passenger traffic of 1 million people and cargo throughput of 2.45 million tons per year, based on 2025 projections.
Integration of military and civilian functions of the airport will be stressed, said the statement, while the airport should be energy-efficient and meet regulations on environmental protection.