Three-year action plan released on air quality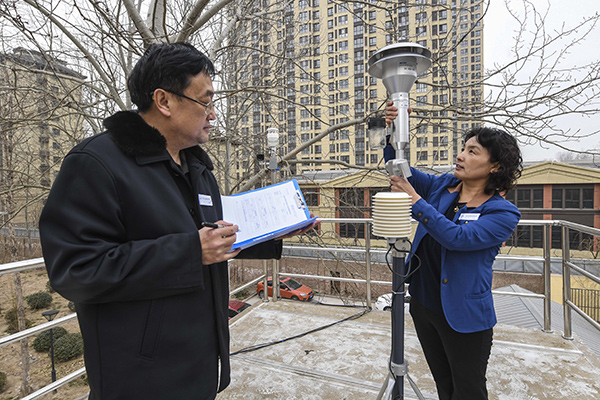 A three-year action plan was released by the State Council on July 3, targeting the improvement in air quality.
The document aims at reducing emissions of major air pollutants and greenhouse gases, achieving a substantial reduction in the density of PM 2.5 (particulate matter with a diameter less than or equal to 2.5 micrometers), as well as the number of days registering serious pollution.
By 2020, emissions of sulfur dioxide and nitrogen oxide should decrease by at least 15 percent from those in 2015, while cities with poor air quality should see their PM 2.5 density drop by at least 18 percent, according to the document.
The ratio of days with good air quality should reach an average of 80 percent annually, and the percentage of heavily polluted days should decrease by 25 percentage points or more from that in 2015 in designated cities.
To achieve these goals, the State Council urged local authorities to fine-tune their industrial structures and promote green development, restructure their energy consumption and build a clean and efficient energy system.
Local regions are also urged to adjust transport systems to move ahead with green transport and improve pollution management by optimizing land use.
The plan called for measures to carry out major action plans and activities to reduce pollutants, and coordinate pollution prevention and control to cope with heavily-polluted days.
Local governments should also build infrastructure and facilities, and strengthen law enforcement and clearly assign responsibilities to each region when mobilizing the public to help protect the environment.
Efforts will be focused on areas including the Beijing-Tianjin-Hebei cluster and surrounding areas, the Yangtze River Delta, and plains along the Fenhe and Weihe rivers, according to the plan.
Gang crime targeted in provincial crackdown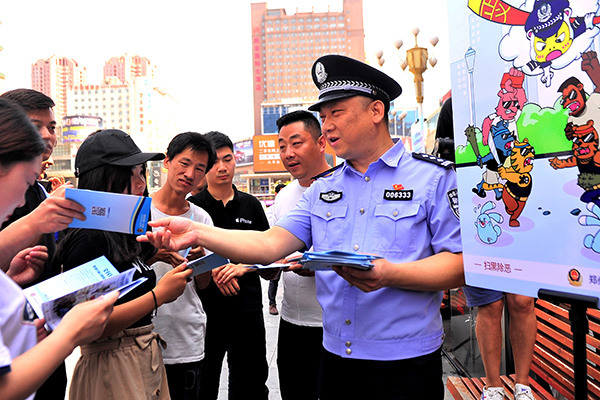 A work plan was released last week to fight against gang crime and urged provincial-level governments to take measures in this area. According to the general offices of the Communist Party of China Central Committee and the State Council, provincial-level authorities should supervise Party committees and governments at lower levels, including counties, townships and villages, to crack down on major cases.
A leading group, headed by the Commission for Political and Legal Affairs of the CPC Central Committee, will be established to lead the campaign, which will continue until the end of next year. By then, assessments will be conducted on the situation.
Supervision will focus on how decisions by central authorities are implemented, results of actions against organized crimes, Party members and officials that are involved in such crimes, gangs damaging grassroots Party organizations, and the roles of those who are in charge of the campaign.
Supervisory teams must make provincial-level plans and the results will be part of the consideration for staff promotions.
Evidence found will be submitted to the political and legal authorities or discipline inspection authorities and procuratorates.
Early this year, China started a campaign against organized crime and officials who provided shelter for crime organizations.
The fight focuses on areas that are affected by gang and organized crime, which had aroused strong public reactions.
Inspections commence on local governments
The State Council, China's Cabinet, will launch a nationwide inspection of its departments and local governments, according to a notice issued on July 6.
The inspection aims to ensure that the central government's policies are implemented properly while major goals of social and economic development for this year will be accomplished.
The inspection will cover six fields including guarding against major risks, poverty alleviation, pollution prevention and control and the revitalization of rural areas. It also targets innovation-driven development, new industries and the upgrading of traditional industries and administrative reform, which is to streamline administration, delegate powers to lower-level governments, and improve public services.
State Council departments and local governments will be checked on their performances in expanding internal demands, promoting high-quality development and opening-up, and improving people's livelihood.
These organs will be required to conduct self-checkups and submit reports to the State Council on their own problems and solutions being taken.
The State Council will start sending inspection teams to provincial-level governments in late August, and to departments under it in September.
Evaluation of scientific research streamlined
China will streamline the process of evaluating research programs and the academic performance of researchers and research institutes, a new guideline disclosed last week.
The guideline aims to reduce the number of assessments and improve efficiency of research by 2020.
By doing so, resources will be better allocated and researchers can be more motivated to enhance innovation, according to the guideline issued jointly by the general offices of the Communist Party of China Central Committee and the State Council.
Goals, criteria and methods will be carefully designed to simplify procedures and value academic progress and performance of researchers and research institutes, the document said.
Efforts should be made to show limitations of the current appraisal system and remove institutional barriers, it said.
Research programs of different disciplines, such as social sciences and military sciences, will have different assessment standards and procedures.
Reviews by other researchers, including those from overseas, will be introduced to increase transparency and openness, so the independence and impartiality of such assessments can be ensured, the guideline added.