Coastal city at the hub of two massive new initiatives
Responding to a new national strategy, authorities in the eastern coastal city of Qingdao pledge to build it into hub for land, sea and air transportation while finding new paths to economic growth, officials said in recent meetings.
In September 2013, President Xi Jinping proposed strategies to build the Silk Road Economic Belt and 21st-Century Maritime Silk Road-or the Belt and Road initiatives-to put vitality in trade and cooperation across a vast region spanning Europe, the Middle East, Southeast Asia and East Asia.
Last November, the Chinese government pledged $40 billion to establish a Silk Road Fund for infrastructure construction, resource exploration and industrial cooperation for countries along the One Belt and One Road.
As strategies are about to be implemented by the State Council, regional governments have stepped up efforts to embrace the initiatives, with nine provinces and autonomous regions in western China and five provinces in eastern China involved.
"A city famed for its open economy, port and trade businesses, Qingdao is obliged to be actively engaged in the national strategy to build the modern land and marine Silk Roads," said Li Qun, Party chief of port city in the east of Shandong province, during a work conference on economic growth held last week.
Solid foundation
He said Qingdao is placed at the forefront of the central government's strategy as the city has a solid foundation for further growth and is at the juncture of the land and sea Silk Roads.
According to local statistics, Qingdao's gross domestic product hit 869.21 billion yuan ($139 billion) in 2014, up 8 percent from the previous year.
The city's total foreign trade value reached 365.8 billion yuan by September 2014, year-on-year growth of 5.9 percent.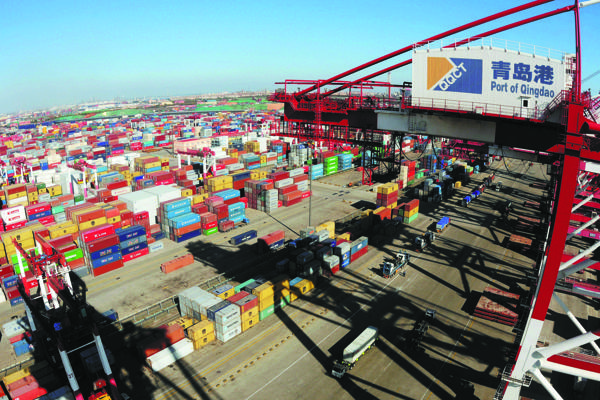 Qingdao Port handled 450 million tons of cargo in 2013, ranking third in China and seventh worldwide.[Photo by YU FANGPING/CHINA DAILY]
Zhang Xinqi, mayor of Qingdao, said the new Silk Roads strategy is about an economy of enormous supply chains, and a new path to boost economic cooperation and cultural exchanges for all parties along the modern-day Silk Roads.
"Qingdao has drafted a set of supporting strategies to respond to the nation's call to build the new Silk Roads economy," Zhang said during a recent forum participated by domestic and foreign media.
He said Qingdao will improve its trade channels and facilities to become an all-round bridgehead for land, sea and air transportation and trade. It will deepen cooperation with regional trade hubs in western China such as Urumqi and Khorgos in the Xinjiang Uygur autonomous region, and build a direct route for rail freight from Europe to Qingdao.
The city has already signed port cooperation agreements with more than 18 inland provinces and cities and serves as the gateway for those regions to reach out to the world.
A new rail line between Qingdao and Lianyungang became operational last year, linking Qingdao to the Eurasian Continental Bridge-a route spanning from Lianyungang in neighboring Jiangsu province to Germany and Belgium in Europe. The route is the most important part of the overland new Silk Road.
Smooth transition
To build a smooth transition between the land and maritime Silk Roads, local officials said Qingdao will continue to improve its airport and build a fast custom clearance system at air and sea ports to facilitate trade with Japan and South Korea as well as other coastal trade partners.
Qingdao will also enhance other infrastructure to facilitate the flow of capital and information among Pan-Pacific regions and broaden its international cooperation channels, said officials.
They said the city's export processing zone and bonded port area have already implemented policies similar to the free trade areas. Qingdao will continue to apply to the State Council to develop a free trade area to facilitate international investment and trade.
With an aim to develop comprehensive service and support for the One Belt and One Road programs, Qingdao will further develop its marine-related public service system, including an international marine information center and a big data center.
"Qingdao will also seize the opportunity of the nation's financial reforms to turn the city into a pilot zone for wealth management through increasing international cooperation," said Li Qun.
The reforms and improvement in international financial operations will also give an impetus to cross-border and re-export trade as well as modern services, Li added.