Shandong province has introduced 31 cultural innovation projects across seven regions this year to spread awareness of Qilu culture.
Qilu refers to the kingdoms of the Qi and Lu, in what is now Shandong, before the founding of the Qin Dynasty (221-207 BC). It is sometimes used as a name for Shandong province, one of the birthplaces of Chinese culture and civilization.
Qufu, a historical city in southwestern Shandong, is the hometown of Confucius.
"Qilu culture and Confucianism originate from the province. Shandong should take more responsibility in promoting traditional Chinese cultures," said Xu Xianghong, head of the Shandong provincial department of culture.
Xu said investments by the Shandong government in supporting the development of Qilu culture increased by 100 million yuan ($15.18 million) year-on-year in 2015 and will continue to strengthen its promotion of Qilu culture during the 13th Five-Year Plan (2016-20).
"Many concepts in our traditional culture can be used to support social and economic development," Xu said.
Xu stressed that it is important to create new tools to promote traditional cultures.
"The promotional style has to fit the demands and preference of younger generations. I am confident that we can achieve better results if we apply more ideas to promoting culture."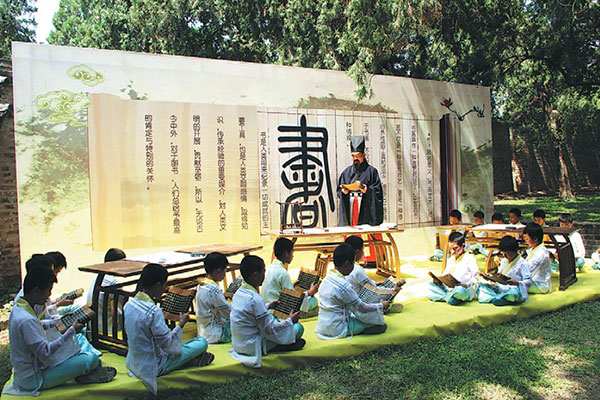 Children attend a reading activity of Confucius' works in Qufu.[Photo by Wang Qian/China Daily]
Shandong is long committed to developing different exchanges and communication programs to introduce traditional Chinese culture to a broad range of audiences. It has established various platforms including the Nishan Academy Network and Confucianism-based training classes to expand an awareness of ancient Chinese cultures.
Local authorities have encouraged public libraries to partner with the Nishan Academy, an institute founded during the Song Dynasty (960-1279) and dedicated to Confucius and his philosophies to offer younger generations opportunities to read Chinese classic texts. The Nishan Academy offers free classes to the public on weekends.
"The academy plays a significant role in promoting ancient Chinese cultural learning. We hope children can better understand Chinese culture at the academy and help pass down cultural heritages through the generations," said Yan Li, a volunteer at the Nishan Academy in Shandong Library.
Nishan Academy has developed over 130 branches in Shandong. Almost every library in the region has a Nishan Academy inside it, according to the local government. The academy has hosted over 3,200 cultural events that attracted over 400,000 participants in recent years.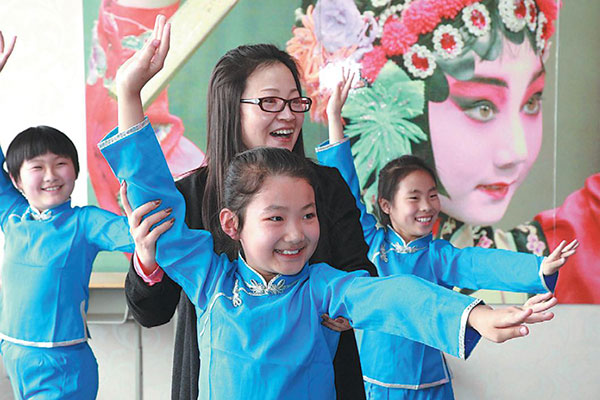 Wang Lingling, an inheritor of Shandong Lyu Opera, teaches the art to primary school students.[Photo provided to China Daily]
Shandong launched Confucianism-based training classes in 2013 to encourage communities and rural areas to learn more about Chinese culture. The province has established 8,300 physical classes and organized 33,200 lectures over the years.
Qufu will be a national demonstration zone to support the development of traditional cultures during the 13th Five-Year Plan.
Xu said the cities of Qufu, Zoucheng and Sishui, which have a combined area of 3,631 square kilometers, will form the core area of the demonstration zone. Some key projects in the zone, including the Nishan Resort, have reported progress, Xu said.
The Nishan Forum on World Civilizations and The World Confucian Conference, organized by Shandong province, strongly support cultural exchanges between China and foreign countries.
The Nishan Forum on World Civilizations was launched in 2010 at Nishan Mountain, the exact location where Confucius was born, to serve as a platform for enhancing cultural communications and to promote the building of a harmonious world. More than 100 dialogue and exchange events were organized over the last six years.
Shandong has been promoting its traditional cultures to overseas audiences. Since 2011, it arranged over 600 performances and over 300 arts exhibitions abroad. There are 15 Nishan Academies in countries like Australia, Russia and New Zealand.