China to establish national property information platform
Updated:
Aug 7,2015 8:52 AM
chinadaily.com.cn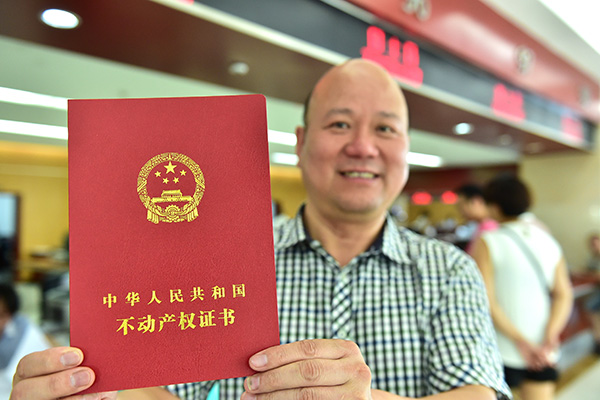 He Xianmin, a Yiwu, Zhejiang province resident with the revamped real estate right certificate. The certificate information will be included in the proposed national unified information platform, that will be established by 2017.[Photo/for China Daily]
A national property information platform is set to be established by 2017, according to a document released by the Ministry of Land and Resources on Aug 6.
The platform is a central piece in China's planned real-estate registration project, formally launched earlier this year, which is aimed at ending a patchwork system which is overseen by various departments in various cities.
The current fragmentation of the system means the government cannot track a person's entire property portfolio if it is spread across different cities.
The ministry said the platform would consolidate all real-estate information across various administrative levels, and a national database should be implemented by 2016, before a larger information platform covering the entire nation was established the following year.
The database plan comes as the top legislature recently placed its long-awaited property tax law on the legislative agenda. It is expected to be passed as early as 2017.