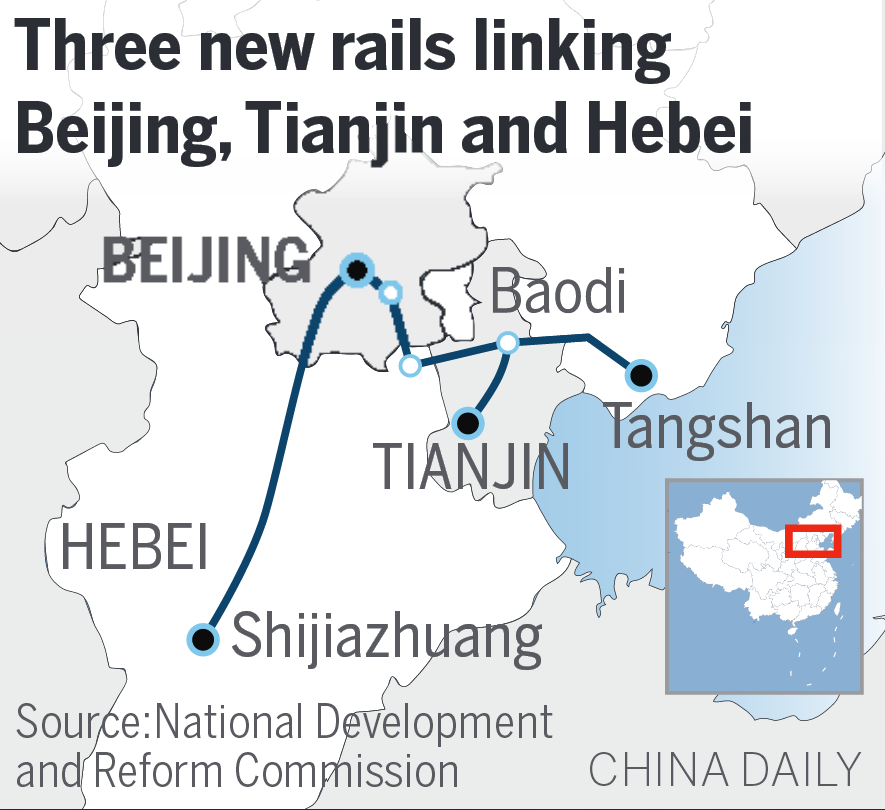 China's top economic planner has greenlighted a proposed intercity railway network linking Beijing, Tianjin and neighboring Hebei province, according to a statement published on its website on Nov 28.
The blueprint, which targets 2020 as its initial phase, consists of nine railway lines with a total length of 1,100 kilometers, according to the statement by the National Development and Reform Commission, which estimated total investment of 247 billion yuan ($36 billion).
The network is a major infrastructure project of the Beijing-Tianjin-Hebei integrated development plan.
The three major lines will connect Beijing, Tianjin and Hebei's capital Shijiazhuang. With high-speed trains moving at up to 350 km per hour, traveling time among the major cities will be cut to less than an hour.
The Outline of Collaborative Development of Beijing, Tianjin and Hebei province, which was passed last year, proposed moving some of the Beijing's noncapital functions-such as regional wholesale clothing markets-to neighboring areas, as well as improving environmental protection and transportation.
Experts said they see the approval of the network as an opportunity for development of local transport and real estate.
"The network will improve transportation systems in the area and make life more convenient for residents," said Yan Yuejin, senior analyst at E-house China Research and Development Institute. "It will also see more real estate investment move to the outskirts of the city, creating a more balanced distribution of housing resources."
The preparatory work of certain lines, such as the Beijing-Tangshan railway, has already started, according to Xinhua News Agency.
Long-term plans suggest that about a dozen more intercity lines will be built in the Beijing-Tianjin-Hebei area.
"By 2030, a skeleton network of intercity railways will be established, consisting of four vertical lines, four horizontal lines and a ring," the statement said.
Construction of hub stations will also ensure that the transfer time among different means of transportation will be cut to less than 10 minutes.