China will boost the efficiency of its State-owned enterprises with market-oriented principles in the next round of the nation's opening-up so they can better compete in overseas markets, the head of the State-owned assets regulator said on April 11.
Xiao Yaqing, chairman of the State-owned Assets Supervision and Administration Commission, said that China will continue to optimize the operation of SOEs, boost their strength, and encourage them to enhance their cooperation with foreign firms in the global marketplace.
Xiao made the remarks at a panel discussion at the annual conference at Boao Forum for Asia, responding to points raised by some participants about the size of China's State-owned enterprises and their core competitiveness.
He said that President Xi Jinping's pledge that China would pursue further reform and opening-up heralded a "new journey" for Chinese companies in their integration with the global economy.
Xiao said that, to further meet domestic demand, SOEs will continue to improve their capacity in terms of supply, as well as innovative and research capability, in sectors including telecommunications, power, transportation and aviation.
Meanwhile, China's SOEs will seek greater cooperation with foreign firms in the oil, mining and energy sectors, according to Xiao.
"Competition will create new markets and provide more services. The participation of Chinese SOEs will inject vitality into international markets and result in more opportunities for cooperation with world-class international firms," he said.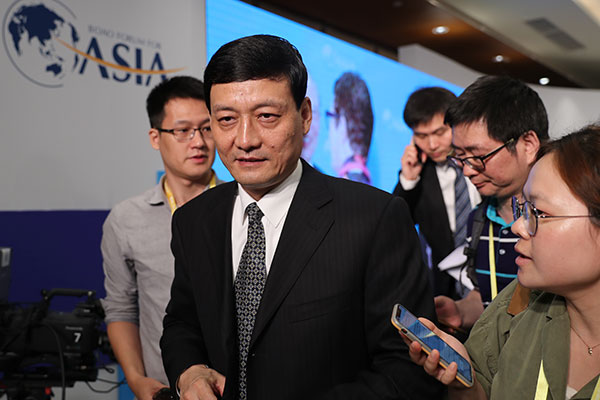 Xiao Yaqing, chairman of the State-owned Assets Supervision and Administration Commission, preparing to address the panel discussion at the Boao Forum for Asia Annual Conference 2018 in Boao, Hainan province, on April 11. [Photo/China Daily]
Zhu Min, an economist and former deputy managing director of the International Monetary Fund, said that boosting competitiveness is the key to China's SOE reform.
"It doesn't really matter whether the representation of SOEs in the Chinese economy expands or not. That should be a result of market competition. The key is whether they are getting more efficient and are globally competitive," Zhu said.
Hans-Paul Buerkner, chairman of Boston Consulting Group, said that China's continuous reform and opening-up will help create a level playing field for fair competition among companies and will also help China accelerate the process of becoming a high-income country.
"We should get away from the idea they (the SOEs) are weak and need protection. In fact they are very strong companies," Buerkner said.
"It would be a mistake to protect uncompetitive companies. The key is providing a level playing field and making sure they stay competitive and move forward with technology and innovation to ensure resources are well used and managed," he added.