Officials from China and the United States called for high level joint dialogue in dealing with cybercrime and related issues.
At the just concluded 3rd US-China High-Level Joint Dialogue on Cybercrime and Related Issues in Washington DC, officials from both sides praised the progress made since their first dialogue a year ago.
State Councilor Guo Shengkun, co-chair of the joint dialogue, said, the dialogue mechanism, established under the commitment made by President Xi Jinping and US President Barack Obama during Xi's state visit to the US in September 2015, has brought tangible results in jointly dealing with cybercrime and cyber security as well as information exchanges, making the cooperation a new highlight in bilateral relations.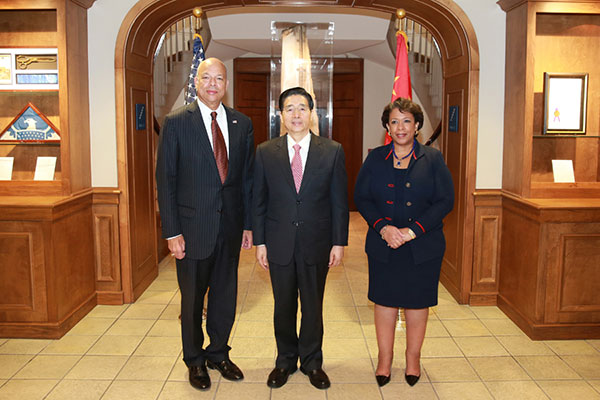 State Councilor Guo Shengkun (M) and US Department of Homeland Security Secretary Jeh Johnson (L) and Attorney General Loretta E. Lynch.[crienglish.com]
Guo said he hopes the two sides would carry on the mechanism despite the transfer of power in the United States to a new administration.
Attorney General Loretta Lynch and Secretary of Homeland Security Jeh Johnson echoed the call, acknowledging that it was in the common interest of the two countries to keep cyberspace safe. They noted that the dialogue mechanism had provided important platform for both countries to conduct candid exchanges to increase trust. They said they hope the joint dialogue mechanism would continue to accelerate further cooperation in combating cyber terrorism as well as cyber-enabled crimes such as cyber fraud. The dialogue mechanism should continue to serve as an effective channel to manage disagreements constructively, they said.
The two sides reached broad consensus during the high level joint dialogue on a wide range of issues, from combating cybercrime, cyber security cooperation, establishing hot-line mechanism, online counter-terrorism cooperation and information sharing. They suggested holding the next round of the dialogue in China next year.