ASTANA, Kazakhstan — China will make efforts to improve security cooperation among members of the Shanghai Cooperation Organization (SCO), said State Councilor Guo Shengkun in Astana on April 6.
China is ready to work jointly to increase mutual political support and cement strategic mutual trust among SCO members, said Guo, when addressing the 12th session of the SCO security council secretaries in the Kazakh capital of Astana.
China proposes to improve the legal basis for security cooperation and actively push for the signing of an SCO anti-extremism treaty, said Guo, who is also the Chinese Minister of Public Security.
Guo urged efforts to enhance the effectiveness of security cooperation, to counter the "three forces" of terrorism, separatism and extremism, and to deepen cooperation in cyber security and drug control.
In addition, he called for further establishment of regional anti-terrorist bodies so that communications and coordination among SCO members can be improved.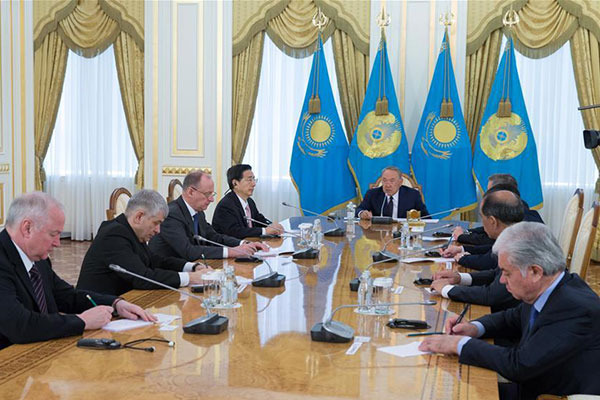 Kazakh President Nursultan Nazarbayev (C) meets with heads of delegations who arrived for the 12th session of the Shanghai Cooperation Organization (SCO) security council secretaries meeting in Astana, Kazakhstan on April 6, 2017. [Photo/Xinhua]
Before the session, Guo conveyed Chinese President Xi Jinping's cordial greetings and good wishes to Kazakh President Nursultan Nazarbayev and he spoke highly of Kazakhstan' s work after it assumed the rotating presidency of the SCO.
Established in 2001, the SCO is a regional political, economic and security organization that groups China, Kazakhstan, Kyrgyzstan, Russia, Tajikistan and Uzbekistan as full members.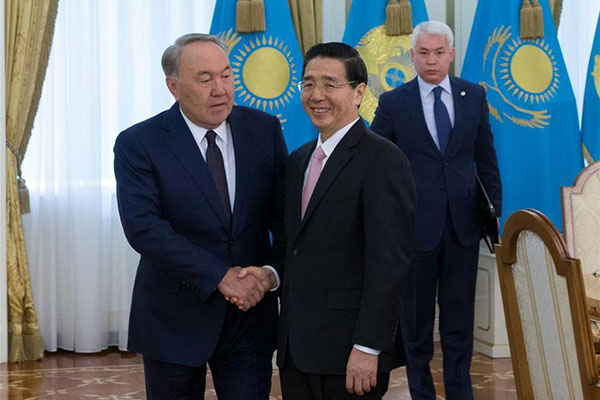 Kazakh President Nursultan Nazarbayev (L) meets with State Councilor and Minister of Public Security Guo Shengkun before the 12th session of the Shanghai Cooperation Organization (SCO) security council secretaries meeting in Astana, Kazakhstan on April 6, 2017. [Photo/Xinhua]