State councilor calls for promoting China-ROK ties
Updated:
Jan 17,2018 8:53 AM
Xinhua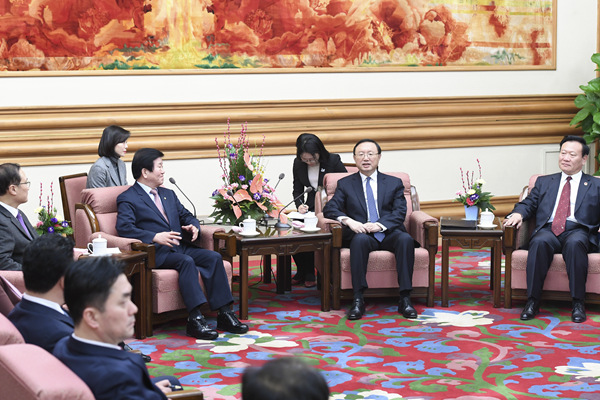 State Councilor Yang Jiechi, also a member of the Political Bureau of the Communist Party of China (CPC) Central Committee, meets with a delegation of Republic of Korea (ROK) lawmakers led by Park Byeong-seug, in Beijing, capital of China, Jan 16, 2018.[Photo/Xinhua]
BEIJING — China and the Republic of Korea (ROK) should implement the consensus reached by the two heads of state and promote the sustained development of bilateral ties, State Councilor Yang Jiechi said on Jan 16.
Yang made the remarks in Beijing during a meeting with a delegation of ROK lawmakers led by Park Byeong-seug.
President Xi Jinping and his ROK counterpart Moon Jae-in agreed to advance bilateral relations to ensure the long-term stability of their ties during Moon's state visit to China in December.
On the Korean Peninsula issue, Yang said that China hopes the Democratic People's Republic of Korea (DPRK) and the ROK will improve relations, while pledging to continue making positive efforts to solve the issue through dialogue and consultations.
Park said that the ROK National Assembly and political parties in the ROK attach high importance to ties with China, and stand ready to play a positive role in developing bilateral ties and safeguarding peace and stability of the Korean Peninsula.