The Confucius Institute, a nonprofit organization aiming to promote the Chinese language and culture, will speed up the process of integrating with local cultures, the organization's chair said on Dec 7.
Vice-Premier Liu Yandong, chair of the Council of Confucius Institute Headquarters, said that in the coming decade it will be essential to integrate into the local cultural background by following local thinking and living customs, so that Confucius Institutes may serve as a window for people of different cultures to understand each other.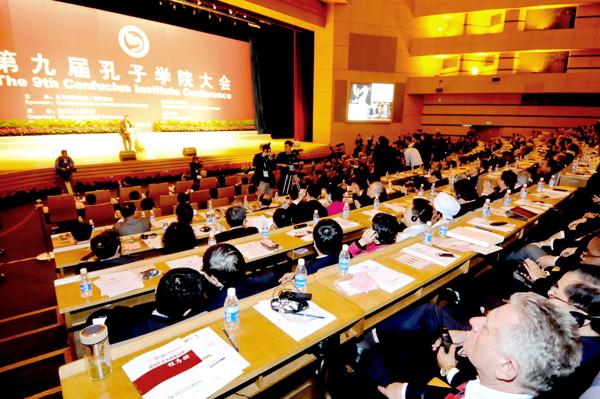 The 9th Confucius Institute Conference is held in Xiamen, southeast China's Fujian province, Dec 7. By far, The Confucius Institute have 475 institutes and another 851 Confucius Classrooms in 126 countries or regions worldwide, with 3.45 million registered students in cumulative terms.[Photo/Xinhua]
Liu made the remarks at the 9th Confucius Institute Conference, which started in Xiamen, Fujian province, on Sunday and will end on Dec 8.
Principals from 475 Confucius Institutes and 851 Confucius Classrooms, in 126 countries and regions, are attending the conference.
2014 marks the 10th anniversary of the institute-the first Confucius Institute opened in Seoul, South Korea-and the theme of the conference is Embracing the New Decade.
The past decade witnessed the evolution of Confucius Institutes into a featured education resource system, Liu said.
Confucius Institutes have more than 3.45 million registered students worldwide. Chinese-language teaching has been incorporated into the national education system in more than 80 countries.
China has trained 200,000 teachers from more than 100 countries, and enrolled 25,000 students for degree and non-degree studies in China, Liu said.
"Despite our success in the past 10 years, it is high time to respond to the development challenges we are facing in the next 10 years," said Xu Lin, chief executive of Confucius Institute Headquarters.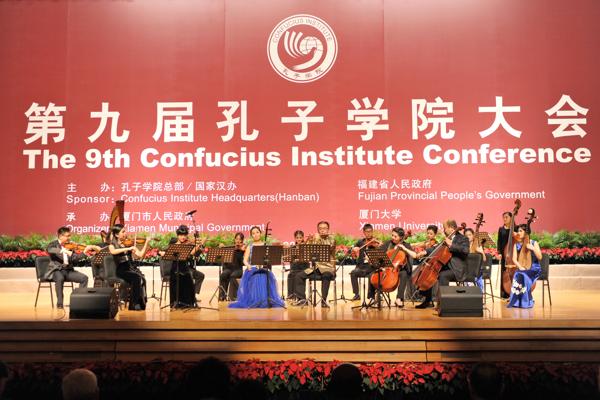 Players stage an instrument performance "Jasmine" during the opening ceremony of the 9th Confucius Institute Conference in Xiamen, southeast China's Fujian province, Dec 7.[Photo/Xinhua]
The major challenge comes from higher requirements for the localization of Confucius Institutes, according to Xu.
"In the past 10 years, most of our students were starting from ground zero in Mandarin learning, so it was cool enough for them to be practicing calligraphy or singing Chinese songs with our teachers," she said. "However, in the coming years, Confucius Institutes are facing new challenges, such as building an academic reputation in local universities and integrating into the local society."
The Confucius Institute at the University of Minnesota, for example, is facing a problem brought about by new demands for Mandarin learning. Some local private elementary schools are planning to start immersion Mandarin teaching programs-in which all lectures are given in Mandarin-but the Confucius Institute realized it has a shortage of bilingual teachers able to teach natural science.
Zhang Yongling, deputy director of the Confucius Institute at the University of Minnesota, said the issue is being tackled by the "Start Talk" program, a two-week intensive course for teachers from Minnesota and other states.
The university also began a program that requires university students of different majors to master Chinese proficiency related to their disciplines.
The institute will offer funds for students from the United States to study in China and arrange one-on-one tutoring, Zhang said.
"The demands for Mandarin teaching and Confucius Institutes are becoming diversified. So it worth restudying our talent-development strategy, our cooperation model between Chinese and foreign universities and the cultivation of new Sinologists," Xu said.