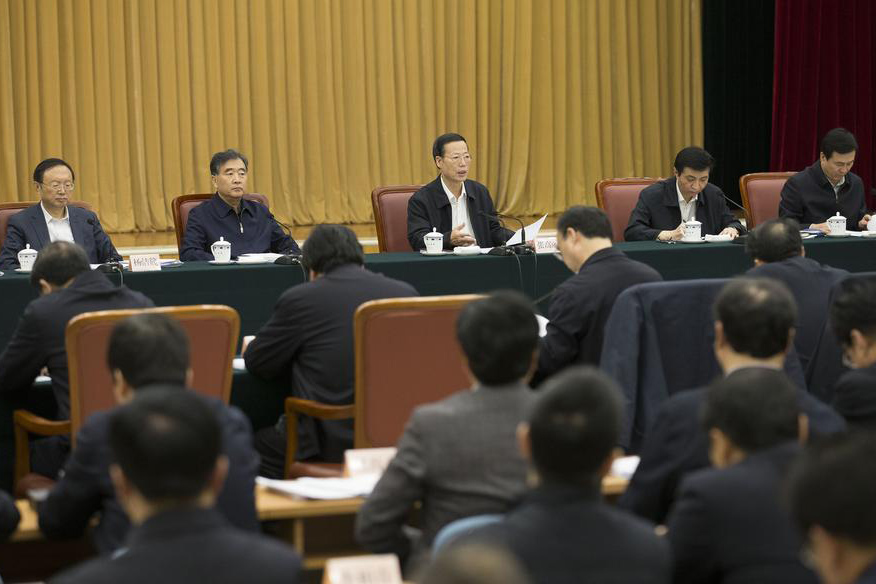 Vice-Premier Zhang Gaoli (C rear) presides over a meeting focused on the "Belt and Road" initiatives, or the building of the Silk Road Economic Belt and the 21st Century Maritime Silk Road, in Beijing, capital of China, Feb 1, 2015. [Photo/Xinhua]
BEIJING — Chinese leaders sketched out priorities for the "Belt and Road" initiatives on Feb 1, highlighting transport infrastructure building, investment and trade facilitation, financial cooperation and cultural exchange.
The initiatives are major policy decisions made by the Party and the State Council, which will be of great significance to further opening up to the outside world and promoting regional and world peace, said Vice-Premier Zhang Gaoli at a conference focused on implementing the initiatives.
The Silk Road Economic Belt is slated to be established along the ancient Silk Road trade route, which stretches northwest from China's coastal area through Central Asia, the Middle East and on to Europe, while the 21st Century Maritime Silk Road will run through the country's south to Southeast Asia.
China will join hands with countries along the Belt and Road to build a community of common interests, common responsibilities and a shared future, featuring political mutual trust, economic integration and cultural inclusiveness, Zhang said at the conference attended by other senior leaders.
Under the initiatives, more highways, railways and air routes will be built and Chinese regions will further integrate resources, policies and markets to connect with the outside world.
The initiatives were put forward by President Xi Jinping during his overseas visits in 2013.
Speaking at the conference, Zhang called for using major economic and trade industrial parks as platforms to build several international economic cooperation corridors, and rely on key port cities to jointly build secure and efficient transport corridors.
Another priority of the initiatives is to facilitate the interconnection of infrastructure along the Belt and Road.
The vice premier also stressed the importance of facilitating investment and trade, creating a favorable business environment and making more efforts to build cooperation parks along the routes.
Financial cooperation should be expanded and accelerated to provide better financing support for the construction of the Belt and the Road, said the vice premier.
People-to-people exchanges should also be enhanced along the routes, and the spirit of friendly cooperation, which can be dated back to the ancient Silk Road, should be promoted, Zhang said.
Zhang also highlighted the importance of environment protection and social responsibility in building the Belt and Road.
Countries along the routes should increase communication and consultations and give full play to multilateral, bilateral, regional and sub-regional cooperation mechanisms and platforms to seek common development and prosperity, Zhang said.