Vice-Premier Liu Yandong attended the opening ceremony of the official presentation meeting of the International Olympic Committee (IOC) Evaluation Commission on March 24 in Beijing.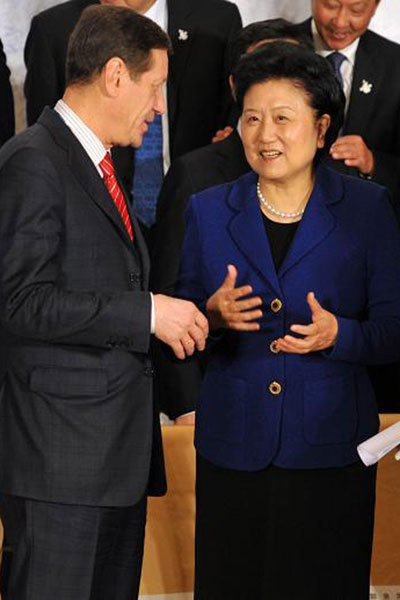 Vice-Premier Liu Yandong and Alexander Zhukov, head of the 2022 Evaluation Commission for the International Olympic Committee (IOC), attend an opening ceremony marking the launch of the Beijing 2022 Winter Olympics bid committee's presentation, in Beijing on March 24.[Photo/Xinhua]
Chaired by Russian IOC member Alexander Zhukov, the Evaluation Commission began a five-day inspection tour to Beijing and Zhangjiakou, Heibei province, to estimate proposed venues and assess their ability to jointly host the 2022 Winter Olympics.
The vice-premier expressed her confidence in the 2008 Olympic city's bid, promising an athlete-centered, economical and sustainable event.
The central government will provide full support for Beijing and Zhangjiakou's bid, said Liu during a speech delivered at the commission's opening session.
Promoting sports activities and improving people's health are important tasks to make China a more healthy country, said the vice-premier, adding that the country will fully support and participate in the Olympics.
According to Beijing's candidacy file, which was submitted to the IOC in January, the city will "fully mobilize the legacy of the 2008 Summer Olympics" by using 11 existing venues in downtown areas for most of the ice events and will upgrade skiing resorts in Chongli county, Zhangjiakou, for snow sports if the bid is successful.
Zhukov said the commission was impressed by Beijing's bid.
"We are glad to note that you have already incorporated some of the Olympic Agenda 2020 reforms into your Games concept," he said.
"You have maximized the use of existing world-class sports venues; you have taken advantage of your experience in hosting major international events; and you have identified clear legacy goals," the chairman added.