Vice-premier meets Turkmen deputy prime minister
Updated:
Apr 9,2015 9:12 PM
Xinhua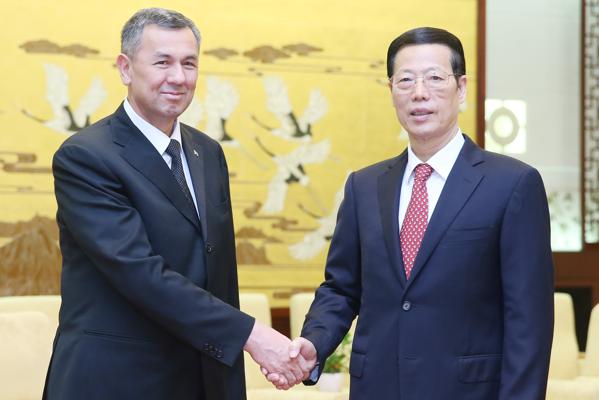 Vice-Premier Zhang Gaoli meets with Turkmen Deputy Prime Minister Baymyrat Hojamuhammedov in Beijing on April 9.[Photo/Xinhua]
Vice-Premier Zhang Gaoli met with Turkmen Deputy Prime Minister Baymyrat Hojamuhammedov in the Great Hall of the People in Beijing on April 9, with the two vowing to strengthen all-around cooperation.
Zhang said Turkmenistan is a friendly neighbor and strategic partner of China. He said over the past few years, the China-Turkmenistan strategic partnership has reached a high level under direct attention and promotion of the head of state of the two countries.
Zhang said the two countries have maintained close contact between their leaders and achieved rich results in cooperation on trade, energy, security and people-to-people exchanges.
Zhang expressed the wish that the two sides would join efforts to actively implement the consensus reached by the heads of state and advance the strategic partnership to a new stage. He said the two sides should fully utilize the bilateral cooperation committee to earnestly enhance cooperation in all areas and on various aspects.
Hojamuhammedov said the two countries shared a long-standing tradition of friendship. He said Turkmenistan treasure the fruitful development of bilateral relations and attaches priority to its relationship with China. He expressed the readiness to further deepen cooperation with China in various areas so as to bring even greater benefits to the two peoples.