CHONGQING — Vice-Premier Zhang Gaoli called on Asia and Europe to strengthen their communication, trade and financial links as he opened a Eurasian political and business forum in Southwest China's Chongqing on May 27.
Addressing the opening ceremony of the two-day Asia-Europe Meeting (ASEM) Industry Dialogue on Connectivity, Zhang said such strong relationships were "a trend of the times and a global concern".
A popular term among Asian leaders, "connectivity" has been defined by Chinese President Xi Jinping as concerning not only physical infrastructure like roads, but also people-to-people exchanges, policy coordination, trade and capital flow.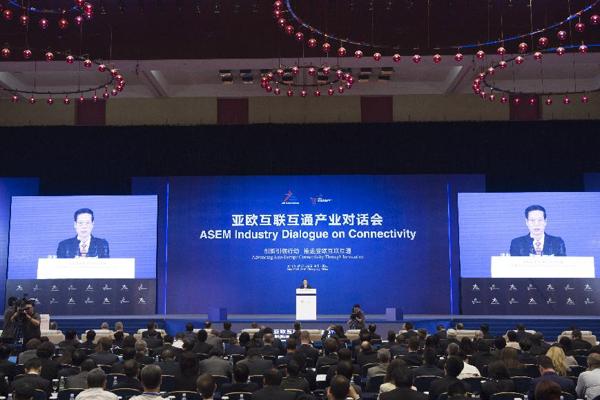 Vice-Premier Zhang Gaoli address the opening ceremony of Asia-Europe Meeting (ASEM) Industry Dialogue on Connectivity in Southwest China's Chongqing municipality, May 27, 2015.[Photo/Xinhua]
On policy coordination, Zhang said Asian and European countries should achieve consensus before integrating their development strategies.
He highlighted transportation, communication and energy as important areas for connectivity.
The vice-premier said the countries should "consolidate the social foundation for connectivity" by ensuring openness in their education, employment and tourism markets.
The China-proposed "Belt and Road Initiative" on trade and infrastructure networks have been welcomed across Asia and Europe, according to Zhang. Its success is in the interests of all the sides involved, he said.
With funding from the Asian Infrastructure Investment Bank and the Silk Road Fund, the initiative will provide a significant boost to Asia-Europe industrial cooperation, Zhang stressed.
The ASEM Industry Dialogue on Connectivity has gathered government officials and company representatives from the 53 members and international organizations grouped under the ASEM.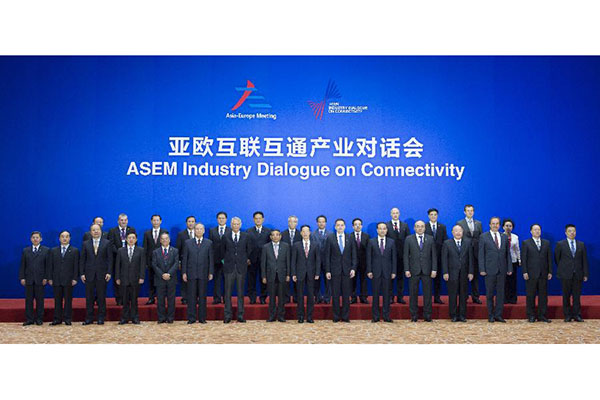 Vice-Premier Zhang Gaoli (8th R front) poses for a group picture with major foreign guests attending the opening ceremony of Asia-Europe Meeting (ASEM) Industry Dialogue on Connectivity in Southwest China's Chongqing municipality, May 27, 2015.[Photo/Xinhua]