Vice-Premier Zhang Gaoli and Russian Deputy Prime Minister Arkady Dvorkovich agreed to better energy cooperation between the two countries on Nov 16.
Vice-Premier Zhang and his counterpart Dvorkovich, co-chairing the 12th annual meeting of the China-Russia Energy Cooperation Committee, agreed that the two sides should develop a long-term plan to ensure sustainable development of energy cooperation.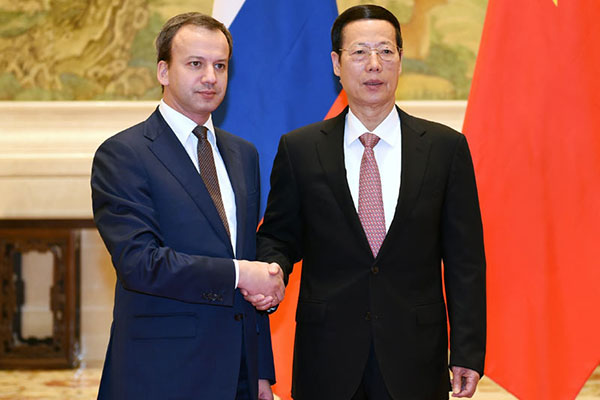 Alignment between China's Silk Road Economic Belt with Russia-initiated Eurasian Economic Union will provide new opportunities for energy cooperation, said an official news release.
The two sides will push forward the construction of the China-Russia east-route natural gas pipeline, promote the western route program and the Yamal LNG project.
Both sides will ensure smooth operation of a China-Russia crude oil pipeline, increase Russian oil exports to China, push forward construction of the dual-pipeline program in Chinese territory as well as the joint-venture refinery in north China's port city of Tianjin.
They will enhance cooperation in power, coal, nuclear energy, renewable energy and other fields and explore new projects in energy technology, local currency settlement, engineering services and other areas.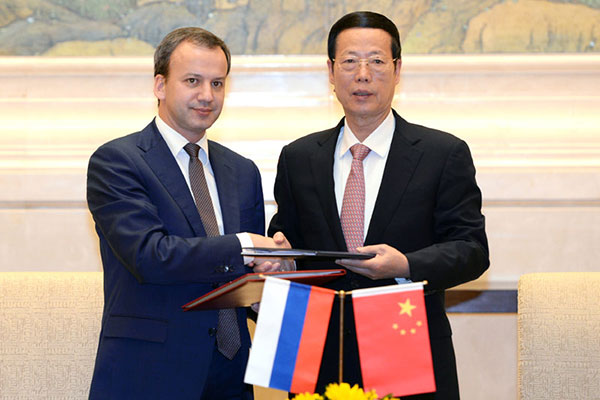 China and Russia will accelerate energy equipment cooperation and enhance standard docking in energy cooperation.
President Xi Jinping and his counterpart Vladimir Putin have charted the course of bilateral all-round cooperation including cooperation in energy, the vice-premier said at the meeting, urging the two sides to build more landmark projects.
He also called on the two sides to prepare well for the upcoming annual meeting between Chinese premier and Russian prime minister in China.