Vice-Premier Zhang Gaoli on June 7 held talks respectively with the Armenian president and prime minister, calling on the two countries to further synergize development strategies to upscale their substantial cooperation.
During his meeting with President Serzh Sargsyan, Vice-Premier Zhang hailed the sound development of bilateral relations in recent years.
The Armenian president paid a state visit to China in March last year and attended the Boao Forum for Asia, reaching an important consensus with President Xi Jinping on bilateral relations and substantial cooperation, which injected new impetus into the relationship between China and Armenia, the vice-premier said.
"China-Armenia relations, standing at a historic new starting point, are facing unprecedented opportunities," he said.
He called on both sides to continue to conduct exchanges of high-level visits, deepen political mutual trust and strengthen mutual support.
China and Armenia need to work together to promote the construction of the Silk Road Economic Belt initiative, better synergize each other's development strategies and seek areas where their interests coincide, said the vice-premier.
He suggested both countries select and nurture projects of strategic and overall importance and provide them with policy and financial support.
The Chinese government supported Chinese companies in participating in infrastructure construction in Armenia, including building roads and railways, he said.
The synergy between China's Silk Road Economic Belt initiative and Russia's Eurasian Economic Union provides a new platform for China and Armenia to expand cooperation, he said, expressing the hope that both countries could lift regional economic cooperation to a higher level.
He also encouraged both countries to deepen cooperation on local areas, culture, education, sport, tourism and media, so as to promote mutual understanding and friendship between the two peoples.
The two countries need to enhance cooperation on international and regional issues, so as to maintain international and regional peace and stability, said the vice-premier.
Calling China "an important partner of Armenia," Sargsyan said it is a priority of his country's foreign policy to forge ahead friendly ties with China.
He said Armenia will firmly adhere to the one-China policy, actively participate in the construction of the Silk Road Economic Belt initiative, and beef up cooperation with China on copper smelting, chemical industry, transportation infrastructure, trade on agricultural products, tourism and education.
Armenia welcomes more Chinese companies to invest in the country, said the president, pledging it will create a more favorable condition for investors.
After the meeting, Vice-Premier Zhang and Sargsyan attended a launching ceremony of a Chinese-language school in Armenia.
Also on Monday, he held talks with Armenian Prime Minister Hovik Abrahamyan.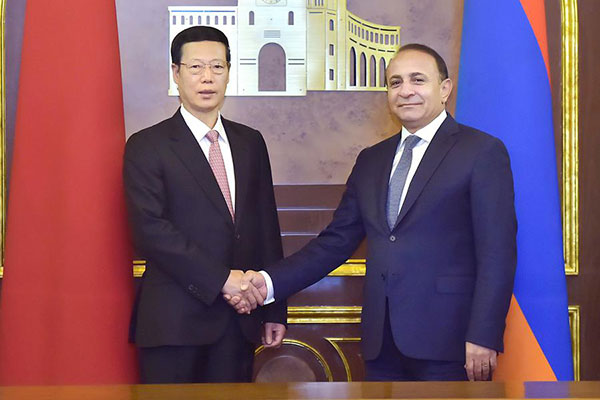 Vice-Premier Zhang Gaoli (L) meets with Armenian Prime Minister Hovik Abrahamyan in Yerevan, June 7, 2016. [Photo/Xinhua]
He suggested both countries make keen research on each other's mid-term and long-term development plans and list new areas of growth to expand cooperation.
He called on both sides to focus on making iconic projects in the hope of improving the scale and quality of bilateral cooperation.
Abrahamyan, for his part, spoke highly of China's economic development, calling it "a paragon for the rest of the world." He said Armenia is ready to work with China to implement the consensus reached by their leaders to further advance bilateral relations.
Vice-Premier Zhang and Abrahamyan witnessed the signing of bilateral documents after the talks.
Yerevan is the last leg of Zhang's four-nation tour which started on May 30. Prior to Armenia, the nine-day tour also took him to Sochi of Russia, Azerbaijan and Georgia.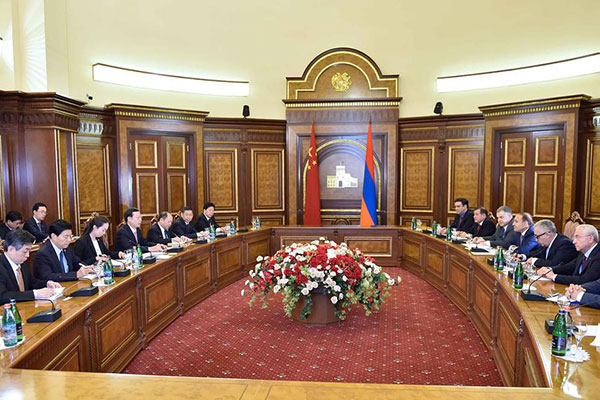 Vice-Premier Zhang Gaoli meets with Armenian Prime Minister Hovik Abrahamyan in Yerevan, June 7, 2016. [Photo/Xinhua]