Vice-Premier Zhang Gaoli is pledging a successful Winter Olympic Games ahead of Beijing 2022.
He made the remarks while meeting with visiting International Olympic Committee (IOC) President Thomas Bach in Beijing on June 12.
During their meeting at the Zhongnanhai leadership compound in central Beijing, Zhang expressed gratitude to Bach and the IOC for giving the nod to Beijing and Zhangjiakou as hosts of the 2022 Winter Olympic Games.
Zhang added that Bach's visit to the Chinese capital, which included his taking part in an inauguration ceremony for the Beijing Olympic Tower, would further boost the development of the Olympic Movement in China.
"The Chinese government attaches great importance to the preparations of the 2022 Winter Olympic Games. President Xi Jinping has given many important instructions on the organizing of the Games," said Zhang.
Zhang also said that work is being done "efficiently in accordance to the requirements of the IOC in preparation for the 2022 Winter Games." He promises adherence to the "principle of hosting a 'green, shared, open and uncorrupted' Games" and to "make sure the 2022 Beijing Winter Games are fantastic, extraordinary and excellent."
Bach said that the Chinese government has always been working hard to promote the development of the Olympic Movement and he praised the Beijing Organizing Committee for focusing on sustainability and long-term legacy in the preparations for Beijing 2022.
He also thanked Beijing for showcasing the spirit of Olympic Agenda 2020.
"I believe the 2022 Beijing Winter Olympic Games will be a huge success," he said.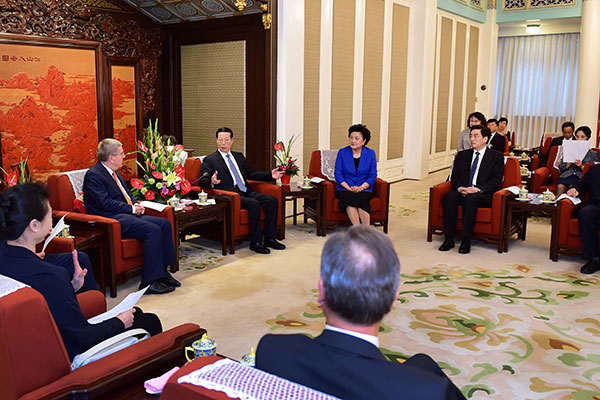 Vice-Premier Zhang Gaoli (Gesturing), also a member of the Standing Committee of the Political Bureau of the Communist Party of China (CPC) Central Committee, meets with Thomas Bach (2nd L), International Olympic Committee (IOC) President, in Beijing, capital of China, June 12, 2016. [Photo/Xinhua]