BEIJING — Vice-Premier Zhang Gaoli on June 25 stressed conducting extensive cooperation surrounding the Asian Infrastructure Investment Bank (AIIB) and forging a new type of partnership that are "comprehensive and strong."
"The AIIB belongs to all its members, and aims to promote regional and worldwide common development," Zhang said during his speech at the opening ceremony of the first Annual Meeting of the Board of Governors of the AIIB, which began on the morning of June 25 in Beijing and will last until June 26.
The new type of partnership requires the AIIB to deepen collaboration among all members, strengthen ties with other bilateral and multilateral development banks and policy-based financial institutions, and promote cooperation with the private sector, according to the vice-premier.
The AIIB allows emerging markets and developing countries to have more say in global economic governance, Zhang said.
It also highlights China's constructive role in the international community as a provider of international public goods.
China, which is at a critical stage in its aim to "build a moderately prosperous society in all aspects," welcomes international financial institutions including the World Bank (WB), the Asian Development Bank (ADB), the AIIB and BRICS New Development Bank to support the country's reform, opening and modernization drive and benefit from China's development, the vice-premier said.
AIIB president Jin Liqun and Finance Minister Lou Jiwei, among others, also addressed the opening ceremony of the meeting.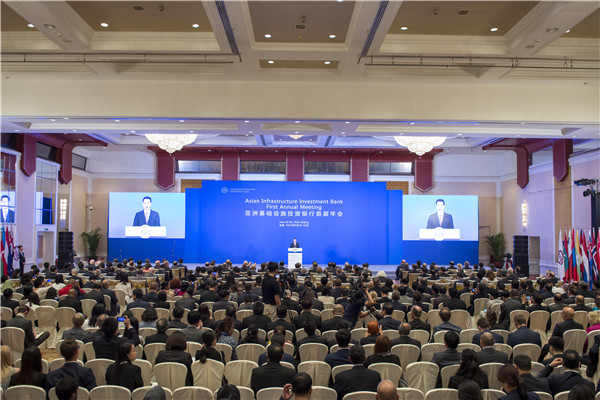 Vice-Premier Zhang Gaoli addresses the opening ceremony of the first annual meeting of the Asian Infrastructure Investment Bank (AIIB), which is held in Beijing, capital of China, June 25, 2016. [Photo/Xinhua]