Vice-Premier Liu Yandong congratulated 19 foreign experts who were honored at the 10th Special Book Award of China in the Great Hall of the People in Beijing on Aug 23.
Attending the ceremony, Liu said the experts have made long-term commitments to writing, translating and publishing books about China and are playing an important role in introducing China to the world. The Chinese government always supports exchanges among different civilizations, said Liu.
She also expressed hope that foreign experts would further study the essence of Chinese civilization, and translate and introduce to outside world China's excellent achievements with the aim to tell China's story, build bridges of understanding between different cultures, and present a comprehensive and true picture of China.
In total, 88 writers, translators and publishers from more than 40 countries have won Special Book Award of China.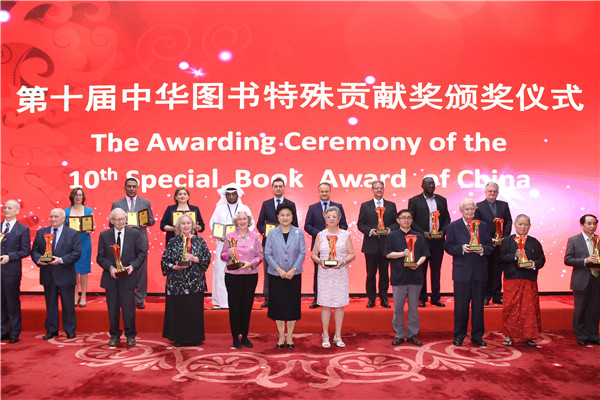 Vice-Premier Liu Yandong (central, front) poses for a group photo with 19 foreign experts who won the 10th Special Book Award of China in Beijing on Aug 23. [Photo/Xinhua]