Vice-premier urges deepened China-Africa economic cooperation
Updated:
Sep 7,2016 8:21 PM
Xinhua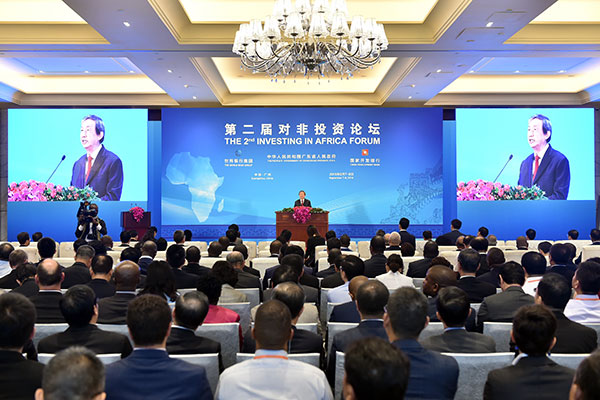 Vice-Premier Ma Kai addresses the opening ceremony of the 2nd Investment in Africa Forum in the southern Chinese city of Guangzhou, on Sept 7, 2016.[Photo/Xinhua]
GUANGZHOU — Vice-Premier Ma Kai on Sept 7 called for deeper China-Africa cooperation in investment and trade to boost common development.
Addressing an opening ceremony of a forum on Chinese investment in Africa in the southern Chinese city of Guangzhou, Ma noted that China and Africa are highly complementary and the forum will inject new impetus into investment.
More than 300 representatives including South African President Jacob Zuma, Beninese President Patrice Talon and World Bank President Jim Yong Kim attended the ceremony.
The forum was jointly organized by the People's Government of Guangdong province, China Development Bank and the World Bank.