ASTANA — Kazakh President Nursultan Nazarbayev said on April 18 that he looks forward to attending the Belt and Road Forum to be held in Beijing on May 14-15 and having in-depth discussions with China on the integration of development strategies.
Nazarbayev made the remarks when meeting with visiting Chinese Vice-Premier Zhang Gaoli on April 18 in Astana, capital of the Central Asian country.
Nazarbayev said he was very glad to be invited by President Xi Jinping to attend the Belt and Road Forum in Beijing and that he will discuss with President Xi detailed plans to integrate Kazakhstan's development strategies with China.
President Xi will attend the opening ceremony of the forum and host a round-table leaders' summit, Foreign Minister Wang Yi said on April 18 in Beijing at a news conference.
At least 28 heads of state and government confirmed attendance at the forum, said Wang, the highest-profile international meeting on the Belt and Road since Xi put forward the initiative in 2013 during a speech in Astana.
The initiative aims to build a trade and infrastructure network connecting Asia with Europe and Africa along the ancient Silk Road trading routes, leading to mutually beneficial economic outcomes for every nation it reaches.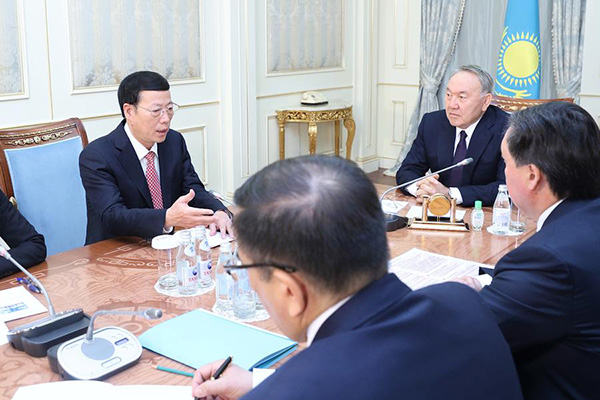 Vice-Premier Zhang Gaoli meets with Kazakh President Nursultan Nazarbayev in Astana, Kazakhstan, April 18, 2017.[Photo/Xinhua]
Zhang, who arrived in Astana on April 17 for a three-day visit, said that his visit is aimed to forge ahead the implementation of the previous consensus reached by both presidents, and prepare for the meetings between President Xi and Nazarbayev in 2017.
Hailing the fruitful achievements scored by both countries under the Belt and Road Initiative in recent years, Zhang said both the cooperation scale and quality have reached a new level.
He suggested the two countries to further enhance integration of development strategies, deepen cooperation in major areas and expand new areas so as to ensure more achievements in the future.
China welcomes Nazarbayev's attendance at the forum in May, Zhang said, expressing the hope that the two countries can further promote cooperation via the occasion.
The year marks the 25th anniversary of the establishment of diplomatic relations between China and Kazakhstan.
Speaking highly of the sound development of the relationship, Nazarbayev said the achievements Kazakhstan scored in recent years cannot realize without China's strong support.
Kazakhstan firmly supports China's domestic and international policy and the Belt and Road Initiative, he said.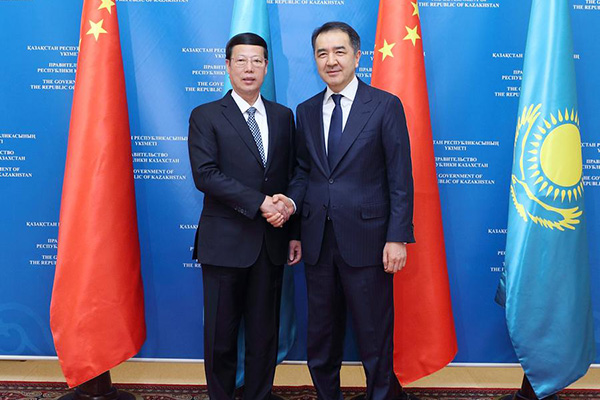 Vice-Premier Zhang Gaoli meets with Kazakh Prime Minister Bakytzhan Sagintayev in Astana, Kazakhstan, April 18, 2017.[Photo/Xinhua]
During his meeting with Kazakh Prime Minister Bakytzhan Sagintayev on April 18, Zhang called on both sides to give full play of the role of the dialogue on production capacity and investment, enhance information communication and policy coordination, and expand economic and trade cooperation.
He encouraged the two sides to forge ahead the signing of the new version of investment protection treaty and strengthen cooperation in areas including financing, agriculture, animal husbandry, connectivity and customs.
The two sides need to cement energy cooperation, managing well the China-Kazakhstan crude oil pipeline and natural gas pipeline, Zhang said.
Zhang also called for a consensus at an early date on the detailed plan of hosting the Chinese Year of Tourism in Kazakhstan this year.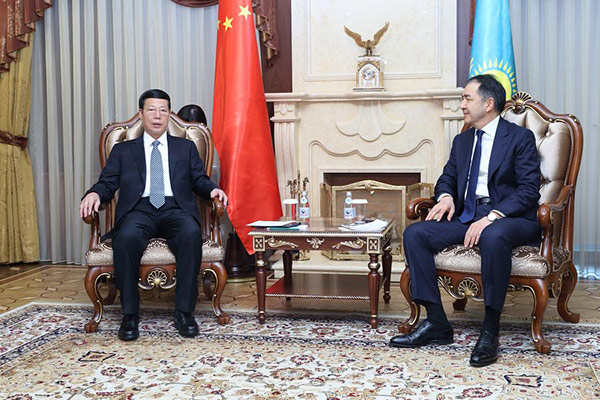 Vice-Premier Zhang Gaoli meets with Kazakh Prime Minister Bakytzhan Sagintayev in Astana, Kazakhstan, April 18, 2017. [Photo/Xinhua]
Sagintayev said Kazakhstan attaches great importance to bilateral ties with China, calling on both sides to enhance innovation cooperation in order to realize a two-way trade volume of $40 billion in 2020.
According to the Ministry of Commerce, up till the end of 2016, China is the second largest export market and the first largest import source of Kazakhstan.
Meanwhile, Kazakhstan is China's biggest trade partner in Central Asia and China's biggest investment destination in the Eurasia region.
Also on April 18, Zhang co-chaired the eighth meeting of the China-Kazakhstan Cooperation Committee with Kazakhstan First Deputy Prime Minister Askar Mamin.
The two witnessed via video link the rolling-off of the final assembly line of Chinese Ankai coaches, a model project of bilateral production capacity here in Kazakhstan.
Kazakhstan is the last leg of Zhang's nine-day Eurasia visit starting from April 11. The trip also took him to Russia, Estonia, Slovenia and Albania.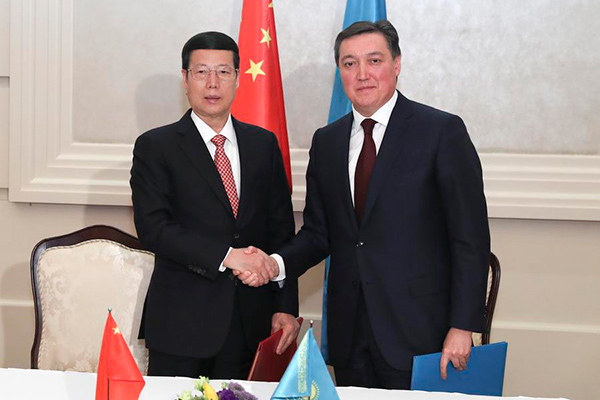 Vice-Premier Zhang Gaoli shakes hands with Kazakhstan First Deputy Prime Minister Askar Mamin after the eighth meeting of China-Kazakhstan Cooperation Committee in Astana, Kazakhstan, April 18, 2017. [Photo/Xinhua]