"If we concentrate our minds, we are able to move Taishan Mountain," Vice-Premier Zhang Gaoli quoted this Chinese saying to demonstrate China's commitment to the Belt and Road Initiative as he addressed a high-level plenary meeting of the Belt and Road Forum in Beijing on May 14.
"Following the Silk Road spirit of peace and cooperation, openness and inclusiveness, mutual learning and mutual benefit, we countries are working together to renew this important Silk Road spirit," noted Zhang.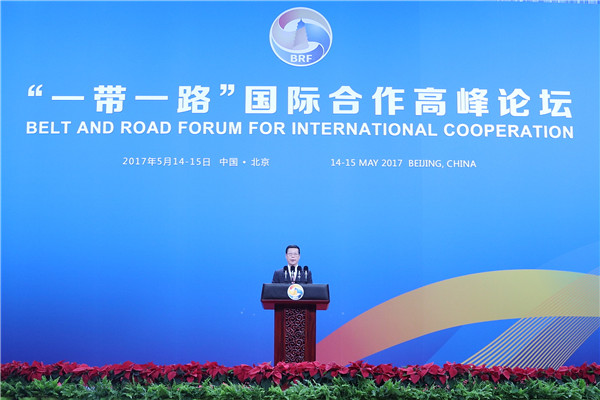 Vice-Premier Zhang Gaoli addresses a high-level plenary meeting of the Belt and Road Forum in Beijing on May 14, 2017.[Photo/Xinhua]
"We are inspired to pursue common prosperity and development with expanded friendship, greater confidence and enhanced cooperation," he added.
President Xi Jinping proposed the Belt and Road Initiative in 2013, and in the past four years, more than 100 countries and international organizations have come to support and participate in the project, turning the Belt and Road vision into reality.
Noting that policy, infrastructure, trade, finance, and people-to-people connectivity were key components of the Initiative, Zhang called on all countries to focus on connectivity in these five areas to build new platforms for cooperation, so that the Belt and Road Initiative can deliver greater benefits to each country and its people.
"Infrastructure connectivity has become a highlight in the building of the Belt and Road Initiative," noted Zhang.
Landmark projects like the China-Laos railway, the Jakarta-Bandung high-speed rail, and the Hungary-Serbia Railway are making progress; construction is under way on ports in Gwadar, Pakistan and Piraeus, Greece; and the China Railway express has reached 29 cities in 11 European countries, including Russia, Germany, Poland, and Spain, he pointed out.
Zhang urged countries along Belt and Road routes — with their large populations, huge market potential, and high economic complementarity — to further strengthen trade connectivity.
Chinese businesses have set up 56 economic and cooperation zones in over 20 countries and in 2016, Chinese investment in countries along the Belt and Road reached $14.5 billion, according to Zhang.
He also called for continuous improvements to the diversified investment and financing system.
President Xi announced earlier that China would contribute an additional 100 billion yuan ($14.5 billion) to the Silk Road Fund. In addition, Zhang announced that in the next five years China will import $8 trillion of goods and attract $600 billion of investment, adding that China welcomes all countries to participate in these opportunities.