Innovation cooperation between China and the United States has provided great opportunities for the people of both nations, Vice-Premier Liu Yandong said on Sept 25.
Liu's first stop on her visit to the US was the 2017 China-US Young Maker Summit and China-US Youth Innovation Center inauguration ceremony on Sept 25 at New York University. The event was part of the China-US Social and People-to-People Dialogue.
Liu visited the work exhibited at the China-US Young Maker Competition from NYU and Chinese universities, accompanied by NYU President Andrew Hamilton.
"Innovation cooperation is one of the most dynamic and the most highlighted components of people-to-people exchanges between China and the US," Liu said.
"Both Chinese and American people are all very creative," Liu said. "The US has been the center of global technological innovation, and today's China has put innovation as the primary driving force, implementing the strategy of innovation-driven development."
She added, "I hope the young people in both China and the US would be the main driver of innovation development and the vanguard of China-US cultural exchanges, injecting positive energy into the development of China-US relations."
Liu watched a China-US youth basketball friendship game, accompanied by basketball Hall of Famer Yao Ming at Nike's New York headquarters on Sept 25.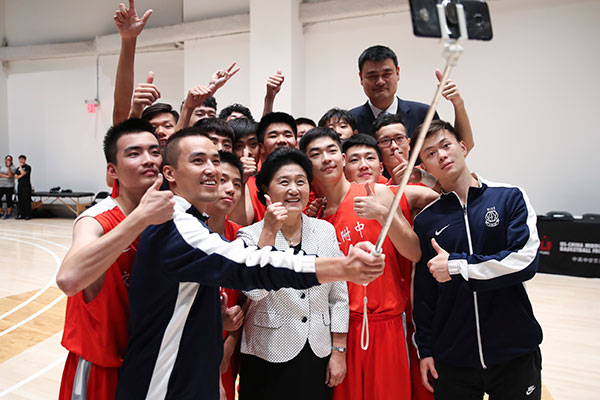 Vice-Premier Liu Yandong (C, front) and former NBA star Yao Ming (1st R, rear) who is now president of the Chinese Basketball Association, pose for photos with Chinese basketball players prior to a friendship game between Chinese and US middle school boys at the basketball court of Nike's headquarters in New York City, the United States, Sept 25, 2017. [Photo/Xinhua]
"Basketball is a favorite sport for both Chinese and American people," Liu said. "And it's also an important vehicle for people-to-people exchanges."
She added, "The US is a sports power, and more importantly a basketball power. So this kind of basketball exchange between China and the US can also help students become good friends, improve their basketball skills and deepen the understanding between the two nations."
Liu was awarded the NYU Medal of Honor on Sept 25. The university's highest honor was bestowed by Hamilton at a ceremony at the university.
On Sept 25, Liu also visited the IBM Watson Center in New York. She noted that it was the 39th anniversary of China's reform and opening-up and IBM was one of the first foreign companies to enter the Chinese market
Liu said her visit to the US was based on the consensus reached by President Xi Jinping and US President Donald Trump during their meeting in April at Trump's Mar-a-Lago resort in Florida.
At that meeting, the two sides agreed to establish high-level dialogue mechanisms, including a diplomatic and security dialogue, a comprehensive economic dialogue, a law enforcement and cybersecurity dialogue and a social and people-to-people dialogue.
Liu and US Secretary of State Rex Tillerson will co-chair the social and people-to-people dialogue on Sept 28 in Washington.