WASHINGTON — China and the United States held the first round of the bilateral Social and People-to-People Dialogue in the US capital on Sept 28.
The dialogue was co-chaired by Chinese Vice-Premier Liu Yandong and US Secretary of State Rex Tillerson.
Since 2010, the China-US high-level people-to-people exchange mechanism has achieved fruitful results, playing a unique role in promoting the development of bilateral ties, said Liu.
Under new circumstances, strengthening people-to-people exchanges is vital to the sound and stable development of bilateral relations, Liu added.
The dialogue is one of the four high-level dialogues established during the Mar-a-Lago meeting between President Xi Jinping and US President Donald Trump in Florida in April.
The two sides should implement the consensus reached by Xi and Trump, raising the people-to-people exchanges and cooperation to a new level, so as to lay a firm social foundation for the development of bilateral relations, Liu said.
To ensure stable and long-term people-to-people exchanges, Liu proposed that the two sides focus on the development of their relations in the next 50 years.
Liu said they should also respect each other's development path and social system, as well as each other's sovereignty and security and development interests, promote cooperation and properly manage and control differences.
Meanwhile, Liu called for mass participation under the guidance of the two governments, which should provide policy support and platforms for bilateral people-to-people exchanges.
Liu also stressed the need for both countries to give full play to the advantages of each side and expand pragmatic cooperation, so as to benefit the two peoples and provide the international community with more public products.
In addition, Liu urged both sides to fully implement the outcomes of the dialogue.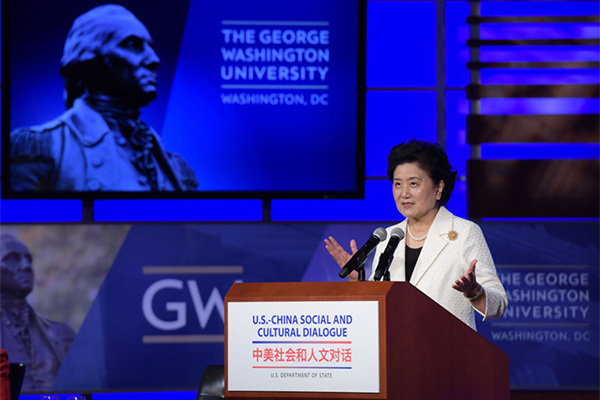 Vice-Premier Liu Yandong delivers a speech at George Washington University in Washington, Sept 28, 2017. [Photo/Xinhua]
For his part, Tillerson said the close US-China people-to-people exchanges in recent years have been fruitful, and the United States is willing to strengthen the role of people-to-people exchanges and fully implement the outcomes of the bilateral dialogue along with China.
The United States is eager to expand exchanges and cooperation with China in various social and cultural areas which are significant to US-China ties, Tillerson added.
The first round of the China-US Social and People-to-People Dialogue resulted in a joint statement and an action plan which includes more than 130 outcomes.
During the day, Liu, accompanied by US Transportation Secretary Elaine Chao and Education Secretary Betsy DeVos, also attended a dialogue between youth delegates of the two countries.