HARBIN — Vice-Premier Wang Yang addressed the opening ceremony of the years of China-Russia local cooperation and exchange in Harbin, capital of Northeast China's Heilongjiang province, together with Russian Deputy Prime Minister Yury Trutnev, also presidential envoy to the Far Eastern Federal District of Russia.
They also hosted the meeting of the Intergovernmental Commission for Cooperation of the Northeast China and the Far East and Baikal Region of Russia.
Wang hailed the progress of China-Russia local cooperation, citing rapid growth of trade between China and Russia's Far East, as well as enhanced investment cooperation and cultural exchanges, and progress in interconnectivity projects.
China appreciates Russia's new measures to promote development in the Far East and facilitate people-to-people exchanges, and expects these measures to have good outcomes, Wang said.
Calling China one of Russia's most important political and economic partners, Trutnev said Russia hopes to work closely with China to speed up infrastructure building, and boost local cooperation.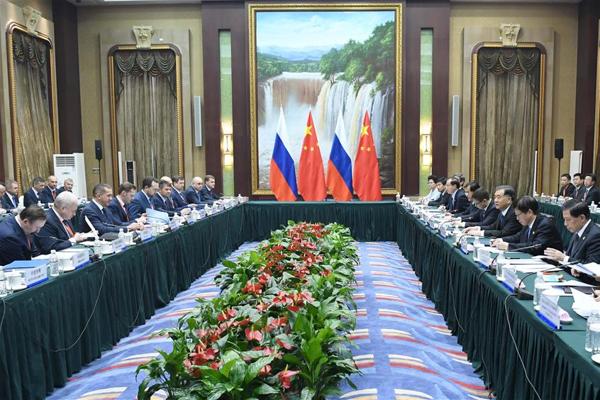 Vice-Premier Wang Yang, also a member of the Standing Committee of the Political Bureau of the Communist Party of China (CPC) Central Committee, and Russian Deputy Prime Minister Yury Trutnev, also presidential envoy to the Far Eastern Federal District of Russia, attend a meeting of the Intergovernmental Commission for Cooperation of the Northeast China and the Far East and Baikal Region of Russia, in Harbin, capital of Northeast China's Heilongjiang province, Feb 7, 2018. [Photo/Xinhua]