Vice-premier joins panel discussion with deputies from Sichuan
Updated:
Mar 6,2018 8:48 AM
Xinhua/english.gov.cn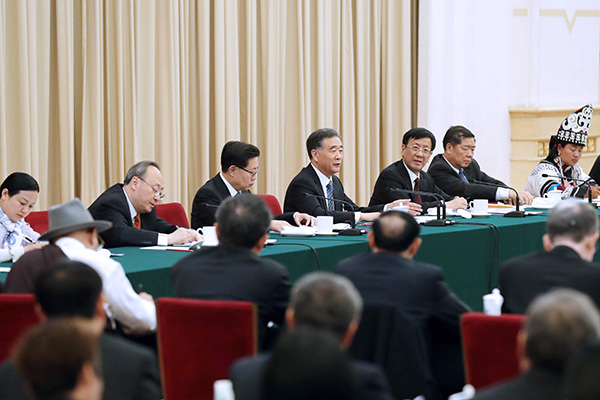 Wang Yang, a member of the Standing Committee of the Political Bureau of the Communist Party of China (CPC) Central Committee, joins a panel discussion with the deputies from Sichuan province at the first session of the 13th National People's Congress in Beijing, March 5, 2018. [Photo/Xinhua]
Senior Chinese leaders on March 5 joined deputies to the 13th National People's Congress (NPC), the national legislature, in their panel discussions at the 13th NPC's first session, highlighting the core status of Xi Jinping.
Joining deputies from Sichuan province, Vice-Premier Wang Yang heard their speeches on implementing the Government Work Report, boosting Sichuan's economic and social development and promoting poverty alleviation campaign.
The vice-premier highlighted the firm leadership that the CPC Central Committee with Xi at the core exercised in achieving historic changes in the causes of the Party and country, urging efforts to safeguard its authority and centralized, unified leadership and fully implement its decisions and policies.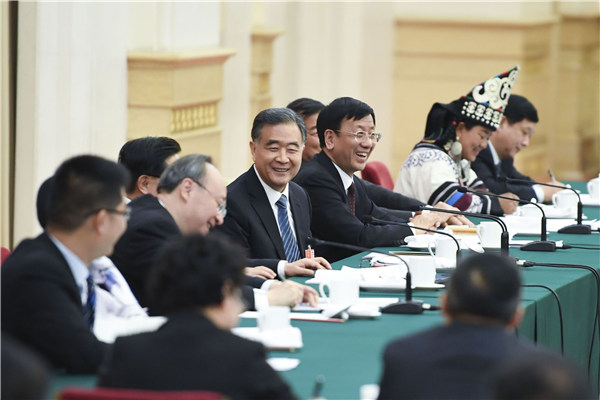 Wang Yang, a member of the Standing Committee of the Political Bureau of the Communist Party of China (CPC) Central Committee, joins a panel discussion with the deputies from Sichuan province at the first session of the 13th National People's Congress in Beijing, March 5, 2018. [Photo/Xinhua]