CHENGDU — Twenty-three giant panda cubs posed for a Chinese New Year greeting on Jan 20 at a breeding base in Chengdu city in southwest China's Sichuan province.
The 23 panda cubs were all born in Chengdu Research Base of Giant Panda Breeding in 2016.
The cubs, each held by their own keeper, posed in front of cameras to send to the world their greetings for the lunar Chinese New Year.
According to Wu Kongju, head of the management department of the breeding base, the panda cubs were born between May and August last year. They all grew fast and the weight of the heaviest is 12 kilograms.
"They are all in very good health condition," Wu said.
This year marks the 30th anniversary of the breeding base. Since its founding, it has bred 243 giant panda cubs, with 176 surviving.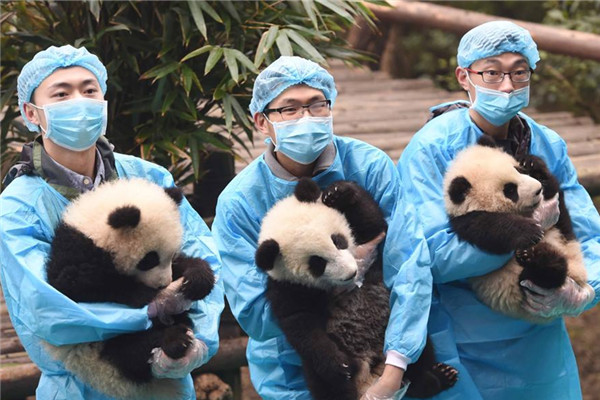 Giant panda cubs and their keepers attend an event to celebrate upcoming Chinese New Year in Chengdu Research Base of Giant Panda Breeding in Chengdu, capital city of southwest China's Sichuan province, Jan 20, 2017. [Photo/Xinhua]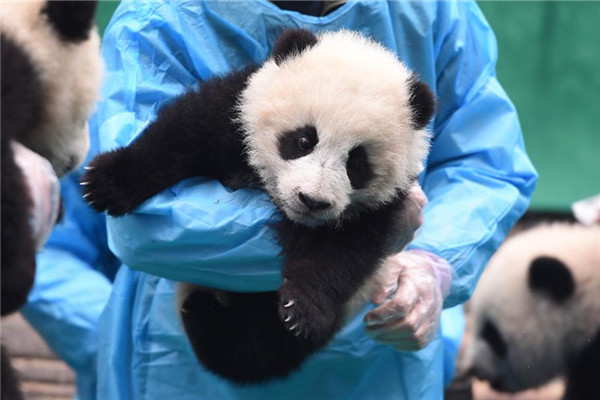 A giant panda cub carried by its keeper attends an event to celebrate upcoming Chinese New Year in Chengdu Research Base of Giant Panda Breeding in Chengdu, capital city of southwest China's Sichuan province, Jan 20, 2017. [Photo/Xinhua]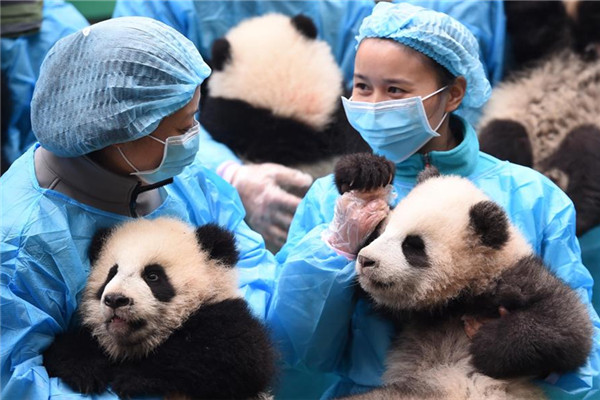 Giant panda cubs and their keepers attend an event to celebrate upcoming Chinese New Year in Chengdu Research Base of Giant Panda Breeding in Chengdu, capital city of southwest China's Sichuan province, Jan 20, 2017. [Photo/Xinhua]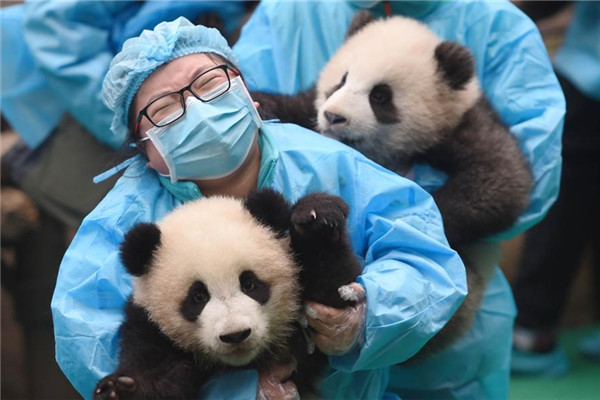 Giant panda cubs carried by their keepers attend an event to celebrate upcoming Chinese New Year in Chengdu Research Base of Giant Panda Breeding in Chengdu, capital city of southwest China's Sichuan province, Jan 20, 2017. [Photo/Xinhua]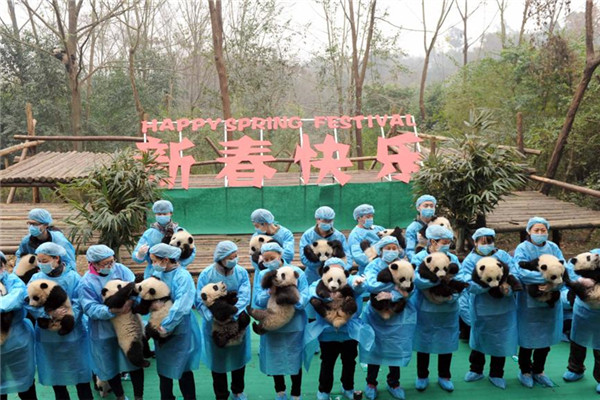 Giant panda cubs and their keepers attend an event to celebrate upcoming Chinese New Year in Chengdu Research Base of Giant Panda Breeding in Chengdu, capital city of southwest China's Sichuan province, Jan 20, 2017. [Photo/Xinhua]