Cutting-edge technology developers are gearing up for the day when appliances in Chinese homes will interact with the Internet, Satarupa Bhattacharjya and Sun Yuanqing report.
A refrigerator that can tell fresh food from stale, and a light bulb that switches off on cue from other energy-saving bulbs in a housing community, are elements of an era awaiting China. In the coming years, new home appliances are expected to sprout that will "think" for themselves, prompted by devices on an integrated wireless platform. The resulting "smart home" will make people's lives smoother, its promoters say.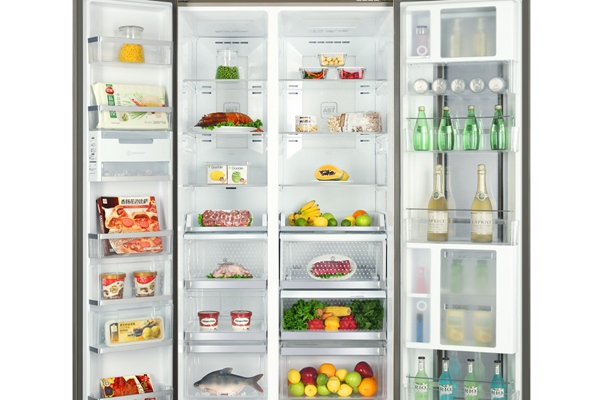 Haier's smart refrigerator, and part of the company's smart home system is displayed at an exhibition center in Shanghai.[Photo/China Daily]
Some companies expect a smartphone and a router to be all it will take to remotely control homes—whether securing the doors or guarding against pollution—even from locations outside the country, with the exception of space, perhaps.
Although still a concept in China, accounts of experts in its technology-driven industries suggest smart homes will likely define the future.
Thomas Tang, 36, project director of Xiaomi Router, for instance, knows when his wife surfs the Internet at home, while he is at work in Beijing's Haidan district, some distance away. "I know if she has turned off the computer when she leaves the house," he says, adding jokingly that he doesn't know what she is viewing.
Updating Tang on what's going on in his house is a wireless router, with a 1TB (terabyte) hard disk and cloud computing ability, that Xiaomi chairman Lei Jun described to his colleagues as their "new toy".
It was released for sale in April following months of testing. Priced at 699 yuan ($114; online only), the router is accessed on cellphones through the "Router Quick Connect", an application tool. At present, the router can run up to 5G-speed but is evolving, Tang says.
The young Chinese company that has created a buzz with its smartphones and a "stay calm" attitude—literally inscribed on the walls of its offices—has patented the router, wishing to make it the "data heart" of a smart home.
Its desire is partly fueled by predictions that many of China's more than 1 billion cellphone users will own smartphones in the future.
'Talking' refrigerator
China's leading maker of home appliances, Haier, has developed a refrigerator that recognizes foods by their RFID (radio-frequency identification) tags. The refrigerator can text its owner via a smartphone app when it is running low on eggs or other items, to prompt new purchases.
The rice grain-sized RFID marking is currently found on consumer products in a handful of countries but not in Chinese superstores, where bar codes are used.
The smart refrigerator would function optimally today only if it scans every object's bar code, in a cumbersome process that is unlikely to be popular, according to Li Li, the general manager of Haier U+ Smart Home System.
The country's industry chain is not ready yet, she told reporters in May at a briefing in Qingdao, the company's headquarters. "We'll have to wait until such a time when things come with RFID tags."
But the prospects of smart homes struck Haier in 1999. "We've invested a lot of resources in research since then," Li tells China Daily in an e-mail.
She likens the development of the company's software-enabled architecture for smart-home goods to building an equivalent of the Internet. Customers, Li says, can design and download their own phone apps depending on their lifestyle.
Xiaomi, meanwhile, aspires to link all electronic gadgets connected by Wi-Fi.
"After you turn on a device, say a camera, the router app on your phone will automatically start searching for the camera (in your house)," Tang says. Chinese couples may find it easier to monitor children and the elderly from offices, at costs relatively lower than Western-made products, he adds.
China Household Electrical Appliances Association, an industry nonprofit, estimates the market for smart household appliances in China will touch 1 trillion yuan ($162 billion) by 2020. Its value was about 100 billion yuan in 2013.
Smarter cities
As homes get smarter, cities will too.
With China poised to become the world's most urbanized country by 2030, as a McKinsey Global Institute research report forecasts, that journey may have already begun.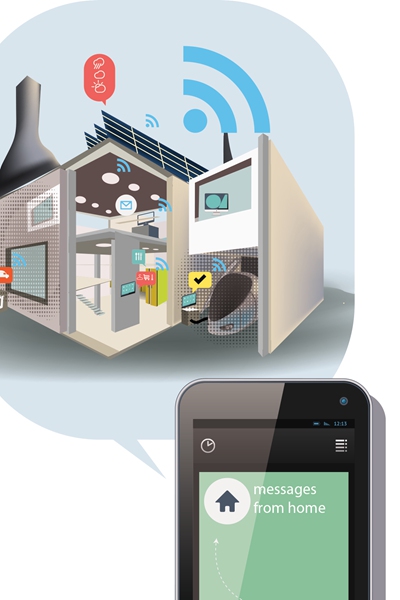 [Photo/China Daily]
Haier is participating in a series of "smart city" initiatives in the northwestern Xinjiang Uygur autonomous region, and in the eastern coastal provinces of Jiangsu, Shandong and Fujian. The projects got off the ground last year, according to sources in the company who declined to be identified.
Xiaomi isn't in the real estate business, but it is looking to sprinkle smart cities with millions of its routers to create webs of data and devices.
Chinese-American James Jao, 57, who heads the Beijing-based Jao Design International, a private consultancy on urban planning, recommends a "built-to-last" approach to make smart cities sustainable and clutter-free.
"Whatever you do, put people first. They are the end users," he urges, in the face of the fast and furious style of some of China's property developers.