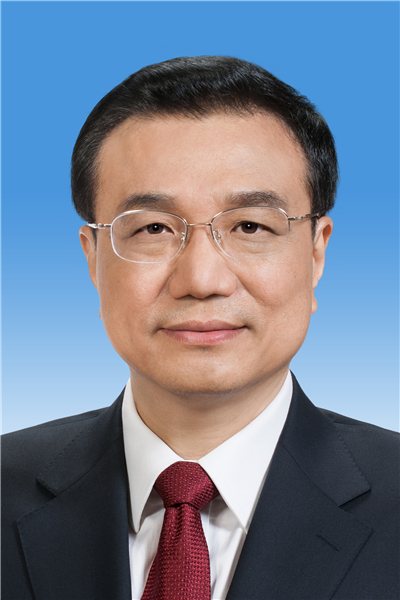 Li Keqiang is endorsed as Chinese premier at the ongoing first session of the 13th National People's Congress in Beijing, capital of China, March 18, 2018. [Photo/Xinhua]
The following is the biographical sketch of Li Keqiang:
Li Keqiang, male, Han ethnicity, was born in July 1955 and is from Dingyuan, Anhui province. He began his first job in March 1974 and joined the Communist Party of China (CPC) in May 1976. Li is a graduate of Peking University's Law Department where he earned a Bachelor of Law degree, and of the university's School of Economics where he completed an in-service graduate program in economics and was awarded a Doctor of Economics degree.
Li is currently a member of the Standing Committee of the 19th CPC Central Committee Political Bureau, Premier of the State Council, and Secretary of its Leading Party Members Group.
2013- Member, Standing Committee of the CPC Central Committee Political Bureau
Premier, State Council
Secretary, Leading Party Members Group of the State Council
2008-2013 Member, Standing Committee of the CPC Central Committee Political Bureau
Vice-Premier, State Council
Deputy Secretary, Leading Party Members Group of the State Council
2007-2008 Member, Standing Committee of the CPC Central Committee Political Bureau
2005-2007 Secretary, CPC Liaoning Provincial Committee
Chairman, Standing Committee of the Liaoning Provincial People's Congress
2004-2005 Secretary, CPC Liaoning Provincial Committee
2003-2004 Secretary, CPC Henan Provincial Committee
Chairman, Standing Committee of the Henan Provincial People's Congress
2002-2003 Secretary, CPC Henan Provincial Committee
Governor, Henan province
1999-2002 Deputy Secretary, CPC Henan Provincial Committee
Governor, Henan province
1998-1999 Deputy Secretary, CPC Henan Provincial Committee
Acting Governor, Henan province
1993-1998 First Member, Secretariat, Central Committee of the Communist Youth League (CYL)
President, China Youth University of Political Studies (concurrently)
Attended an in-service graduate program in economics at School of Economics, Peking University and was awarded Master of Economics and Doctor of Economics degrees (1988-1994)
1985-1993 Member, Secretariat, CYL Central Committee
Vice-Chairman, All-China Youth Federation (concurrently)
Took a continuing studies course for provincial- and ministerial-level officials at the Central Party School (Sept-Nov 1991)
1983-1985 Alternate member, Secretariat, CYL Central Committee
1983 Director, Schools Department, CYL Central Committee
Secretary-General, All-China Students' Federation (concurrently)
1982-1983 Secretary, CYL Committee of Peking University
Member, Standing Committee of the CYL Central Committee
1978-1982 Student, Law Department, Peking University
Leader, Students' Union, Peking University
1976-1978 Party branch secretary, Damiao Brigade, Damiao Commune, Fengyang county, Anhui province
1974-1976 Educated youth, Dongling Brigade, Damiao Commune, Fengyang county, Anhui province
Member, 15th through 19th CPC Central Committees
Member, Political Bureau and its Standing Committee, 17th through 19th CPC Central Committees
Member, Standing Committee, 8th NPC