Chinese investment in Greek infrastructure could lead to host of opportunities
COSCO has become a household name in Athens.
Ask any taxi driver to take you there, and he'll know right away to go to the container port at Piraeus, just over 10 km from the center of the Greek capital.
In less than five years, the name of the Chinese shipping, logistics, shipbuilding and repair giant has become synonymous here with success.
In that relatively short time, its subsidiary Piraeus Container Terminal has built its monthly handling ability to around 200 cargo vessels, up from 40-50 vessels when it first started operations there in 2009.
On top of that four-fold increase in handling capacity, it has created around 1,200 jobs, apart from the countless indirect job opportunities as part of the shipping chain.
All this has been achieved amid a backdrop of arguably the worst economic conditions ever to hit Greece in modern times.
It is little wonder then that COSCO's success has been applauded by politicians and business leaders alike, culminating in the visit to the terminals by visiting Premier Li Keqiang on June 20.
Li is expected to pay close attention to the lessons learned by officials at state-owned COSCO, as the organization looks to expand its involvement in the soon-to-be privatized Greek port.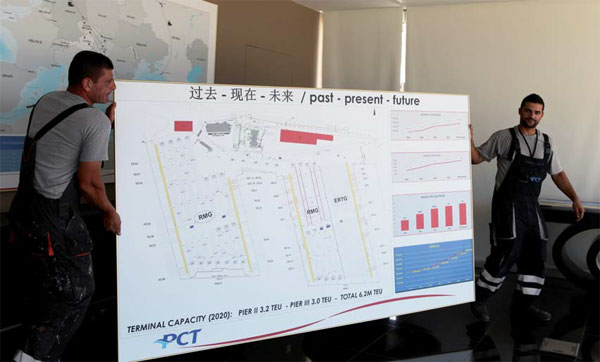 Workers put into place a display board showing the past, present and future of Piraeus Port, where China's shipping giant COSCO operates two piers. [Photo by Fu Jing / China Daily]
Yet despite the impressive growth figures, Captain Fu Chengqiu, managing director of the COSCO subsidiary, remains sober in his assessment of the past five years' work.
Sitting at his desk in the main COSCO office at the port - with the flags of China, Greece and the EU behind him - Fu is clearly a man who expects high standards.
"Our operations in Piraeus have become stable and mature, but I do not think it could be labeled as a success quite yet," he insists, focusing instead on what he describes as the win-win situation for all the sides involved.
Fu says Piraeus has provided a good gateway to transport and sell goods to central, eastern and southern Europe, and North Africa.
For the still-struggling Greek government, Piraeus, meanwhile, represents a steady stream of international business, from which could be created economic zones in future, which could in turn be used to host Chinese assembly plants, the plans of which are already in the pipeline, he adds.
In the past fortnight - with Premier Li's visit firmly on the horizon - Greece's privatization agency HRADF shortlisted COSCO alongside four others as qualified bidders to take a 67 percent stake in Piraeus Port as a whole.
Also in the mix are Ports America Holding Inc, the largest port operator in the United States, and other leading companies from across the world, including those from the United Kingdom and the Netherlands.
It is expected that the bidders will soon be invited to submit detailed final due diligence, with a decision due from the Greek government by the end of the year.
"We are actively preparing the bid document to increase our strategic presence in Piraeus and if successful, this will ensure more win-win outcomes here," says Fu, without elaborating.
The port project is among dozens of privatization plans by the Greek government, as it seeks to raise money from selling national infrastructure including railways, energy facilities, public utilities and real estate to balance its financial books.
If COSCO succeeds in its bid, it would mark a significant milestone for the company after it sealed a first deal five years ago to run and upgrade two of the state-owned Piraeus Port's piers for 35 years.
"We are in the middle of our efforts to turn Piraeus Port into a regional hub, which can generate more jobs and help lead a recovery of the local economy" says Fu.
"But clearly our longer-term plans are based on winning the bid."
Piraeus is one of the largest seaports in the Mediterranean and among the top 10 container ports in Europe.
It has more than 1,500 employees and provides various services to more than 24,000 ships a year.
According to Containerization International magazine, it was the world's fastest growing container port in both 2011 and 2012, and among the world's top 100 container ports, of which Shanghai ranks at the top, and Rotterdam leads Europe, by volume.
It expects its total handling throughput will reach 3 million TEUs (or twenty-foot equivalent units, the standard industry measurement for container traffic) this year, from just 685,000 in 2010.
Fu emphasizes the strong localization strategy at COSCO's operations at the port - where it operates piers II and III - focuses heavily on incentive measures for local management and the rest of the workforce, in order to increase efficiency and productivity.
The company has just completed the first-phase reconstruction of the east side of pier III and when the second phase is completed in 2016, handling capacity will be increased by 1.1 million TEUs.
Pier II already has a 3.2 million TEU capacity, while pier I is run by the Piraeus Port Authority.
COSCO and the Greek government have agreed - pending Parliamentary approval - that the Chinese company will invest another 230 million euros ($312 million) in developing the western side of pier III to increase the terminal's capacity to 6.2 million TEUs annually.
As far as COSCO is concerned, its plans would make Piraeus a key Mediterranean transit hub and the major distribution center for central, east and southeast Europe, including the Black Sea region.
Fu says his team has the ability to attract the likes of giant retail exporters such as HP, Huawei, ZTE and Samsung to use the port as their main regional distribution center.
He already has plans in place to connect its sea terminals with air and railway links, offering more flexible options for customers, while expanding the terminals' capacities.
"Our sea-railway system, especially, has transformed traditional, historic shipping patterns, which marks a really significant shift," says Fu.
In late April, the first container train left Piraeus terminal, arriving two days later in Gyor in northwest Hungary.
Within two months, there are now seven container train services running between Greece and countries in central and eastern Europe.
Traditionally, goods from the Far East docked in Rotterdam, Hamburg or Antwerp before being transported to central or eastern Europe by road or rail.
"But our sea-rail strategy will shorten that traditional transportation cycle by seven to 10 days on average," says Fu, "and that means a huge cost saving for our customers."
Greek responses
Greek business leaders and politicians say they are eagerly awaiting Li Keqiang's endorsement of China's business and trade activities in Greece.
Simos Kedikoglou, a Parliament member, confirms Li and his Greek counterpart Antonis Samaras will be discussing Chinese participation in the privatization schemes of Piraeus and the Athens airport.
"The two leaders will be discussing these projects, while sorting out how to make it easier for Chinese to do business in Greece," says Kedikoglou, adding that the two countries are "ideal partners" historically, especially amid the recently toughening global geopolitical and financial situation.
"We hope we can attract not only the big companies such as COSCO, but also medium-sized investors to our country."
Kedikoglou says that while he has no "clear picture" on the exact details of what agreements will be signed by the leaders during the visit, the two governments will be looking to boost business that is mutually beneficial to both sides.
Without elaborating, Kedikoglou adds that COSCO's potential bid for the 67 percent stake in Piraeus port is going well.
There is also believed to be strong Chinese interest in the potential leasing of Greece's 37 state-owned airports, currently supervised by the Hellenic Civil Aviation Authority.
Analysts suggest the airports represent significant hidden value stemming from the possible better use of airport infrastructure and other commercial development activities that are currently underdeveloped or underutilized.
They add that upgrades could enhance Greece as a tourist destination.
A Chinese consortium, involving Friedmann Pacific Asset Management Ltd and Shenzhen Airport (Group) Co, has already announced its interest in becoming the principal shareholders of Athens International Airport, and in taking over its management.
Kedikoglou recognizes the strength of the Chinese offer, but underlined the result will not be announced during Li's visit, though the two leaders will be discussing the deal.
In addition, Kedikoglou says his government is encouraging Chinese investment in tourism, agriculture and energy in Greece, which he says are essential to provide jobs in a country still suffering historically high levels of unemployment.
He adds that preparations for Li's arrival have been given top importance, and a return visit to China is expected.
Samaras was among the first group of foreign leaders who visited China after Li was endorsed as premier in 2013.
Christos Vlach's, the managing partner at Athens-based Silky Finance, an independent financial adviser who works at assisting companies in restructuring or raising finance, says the Greek government - with the help of the European Union, International Monetary Fund and European Central Bank - has managed to restore "some order back into the system", but that despite the business climate changing for the better, "a lot still needs to be done" for full Greek economic recovery.
"Our politicians are not spending money as they used to, and the sentiment toward Greece overseas has also improved," he says, adding that the planned privatization schemes will be crucial to the country's recovery.
He says COSCO's involvement in Piraeus is a shining light of what benefits further privatization could bring.
"COSCO's success has been in turning a slow-moving and money-losing port into a suddenly busy terminal with a lot of jobs.
"This can be copied in other sectors through privatization schemes."
Vlach's says Greeks and Chinese understand each other so well because both share similar values, such as in hospitality, business mentality and family.
"Our prime minister's understanding of the importance of China is far greater than that of his predecessors," he says.
He welcomes the involvement of Chinese state-owned enterprises in Greece's infrastructure and financial sectors, particularly.
Theodoros Fessas, the president of the Federation of Greek Enterprises, agrees there are strong signs that the country's business climate is improving and that overseas investors are starting to look once again at which opportunities the country offers, tempted by the solidity of its membership in the eurozone and the EU.
"Another major factor is that currently nearly all of Greece's assets are attractively priced and once the recession bottoms out, prices will pick up, and investors will get a return."
Fessas forecasts that China will soon become the world's largest economy, and that Greece represents a perfect import/export hub, linking it to the rest of European market.
"China's entrance into Europe needs a key multi-functional hub, and Greece can be one of the strongest options," he adds, noting that Chinese investors will certainly be eying investment opportunities in Greek ports and airports.
During Li's visit, Fessas says he expects the leaders to encourage more multinationals from China to invest in Greece and set up their European headquarters in Athens.
George Gratsos, president of the Hellenic Chamber of Shipping, has also been a strong supporter of COSCO's investment in Piraeus.
"We are extremity happy that COSCO's investment is growing and working so well," he says.
He adds that Li's visit underlines a strong friendship between two countries that has lasted for "many, many, many years".
Greece's proximity, he says, to south, east and central Europe, and its strong rail links, makes the port an ideal distribution center for goods, and he urged the Greek authorities to cooperate further with a major port operator, preferably from the Far East.
"COSCO's operation has been a wonderful success, and we support its expanded presence in Piraeus."
Using Greece as its gateway to Europe is also good for China, and made-in-China products, given that Chinese exporters could avoid paying EU import duties by using the port, he says.
"Athens has the ability to become the next Hong Kong if both sides share their vision to boost it as a global shipping and commercial center."