Premier Li Keqiang's story with Germany goes back much further than his 19 months as premier.
Public records show a personal connection with the German people that goes back at least 24 years and highlights Li's huge interest in the German automobile industry.
Behind the premier's decades-long story is "a huge and lasting impetus from the two economies who have valued each other" and worked hard on public diplomacy, veteran diplomats and witnesses of the history told China Daily.
Li paid a visit to Germany in 1990 as the head of a Chinese youth delegation. Rainer Dold, then a youth league leader in the German city of Stuttgart, accompanied Li and his colleagues during that visit.
At the time, Li was a member of the Secretariat of the Communist Youth League of the Communist Party of China Central Committee.
Li was most concerned with young people's employment at that time as well as other social issues in the then-recently reunified Germany, Dold told Xinhua in a previous interview.
As a sign of lasting friendship, Dold, now 62 and president of the German-Chinese Friendship Association of Baden-Wuerttembergat, met the Chinese premier twice last year-once in Potsdam, Germany, and once in Beijing.
Mei Zhaorong, former Chinese ambassador to Germany, said, "A strong supporting hand from a Chinese leader to bilateral cooperation is something irreplaceable and incomparable."
The leaders' gestures "directly and effectively contribute to a facilitating atmosphere" for more low-level contacts, Mei said.
There is "a growing priority placed by top officials of China on public diplomacy" when they are creating personal connections and factoring personal friendships into diplomatic agendas, said Gao Fei, a professor at China Foreign Affairs University.
In January 2007, Li also impressed Norbert Reithofer, the then-chairman of the BMW board, when Li served as secretary of the CPC Liaoning Provincial Committee.
At that time, the province was increasing its support of the automobile industry there and trying to make automobile production a pillar of the province's industry, Li told Reithofer.
Reithofer told Chinese media after that meeting that Li had told him he would pay a visit to BMW Group if he were to make an official visit to the country in the future.
Four years later, Li visited BMW in the capacity of Chinese vice-premier.
At the conclusion of the BMW tour, Li showed his sense of humor by saying: "Next year marks the Chinese lunar Year of the Rabbit, and I believe you will be running faster."
Mei said Li is an expert in economics, and so naturally his personal interest has been piqued by lessons from the German economy over the past 24 years.
"The deep-seated impetus is that Germany is a strong economy, and the two countries have a huge complementarity between them, which has led to the huge possibility of exploring a cooperative agenda in economy," the veteran diplomat said.
Premier's ties with German hosts
January 2007, Li, then Party chief of Liaoning province, meets Norbert Reithofer, chairman of BMW Group, telling him that he will visit the company if he goes to Germany.
Jan 6, 2011, Li, then vice-premier, arrives in Berlin on the second stop of his three-nation European trip. Li meets German Chancellor Angela Merkel and German President Christian Wulff on Jan 7.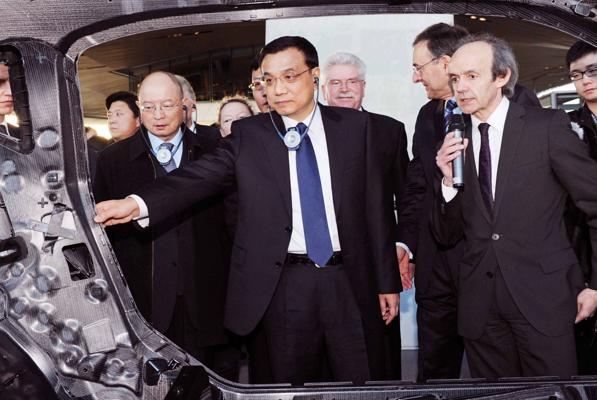 Jan 8, 2011, Li visits the BMW new energy vehicle project in Munich.[Photo/China Daily]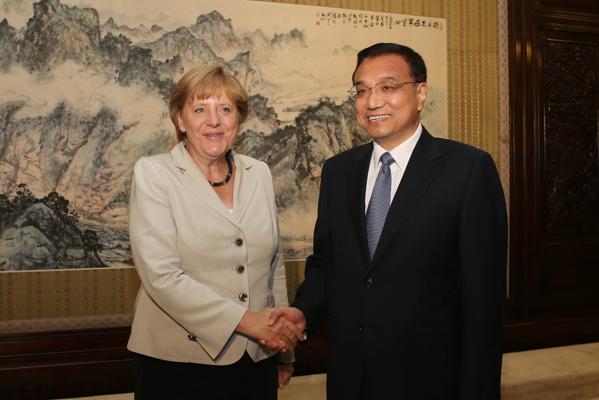 Aug 30, 2012, Li meets Merkel during her visit to China.[Photo/China Daily]
March 15, 2013, Li, now premier, holds a telephone conversation with Merkel, the first foreign leader to talk to Li after he took over the premiership.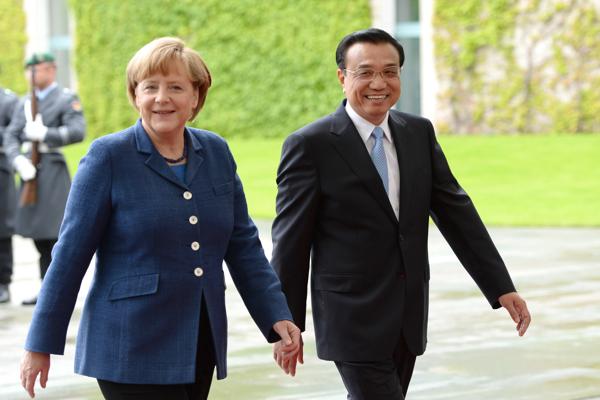 May 25, 2013, Li arrives in Berlin for a visit to Germany, the first EU country the premier visited after taking office.[Photo/CHINA DAILY]
Sept 23, 2013, Li holds telephone talks with Merkel, offering his congratulations for the victory of Merkel's Christian Democratic Union in the federal election.
Dec 17, 2013, Li sends a congratulatory message to Merkel on her re-election.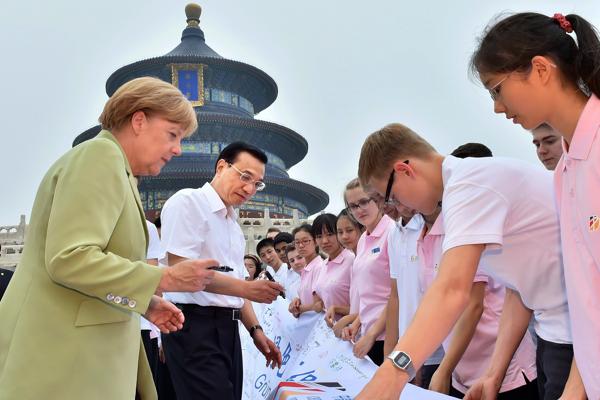 July 7, 2014, Li holds talks with Merkel during her trip to China from July 6 to 8. After their talks, Li and Merkel meet the media, attend the closing ceremony of the "Year of Languages" event and meet delegates of the Sino-German Advisory Committee.[Photo/CHINA DAILY]
Aug 4, 2014, Merkel expresses her condolences in a telegram to Li over the earthquake in China's southwestern Yunnan province.