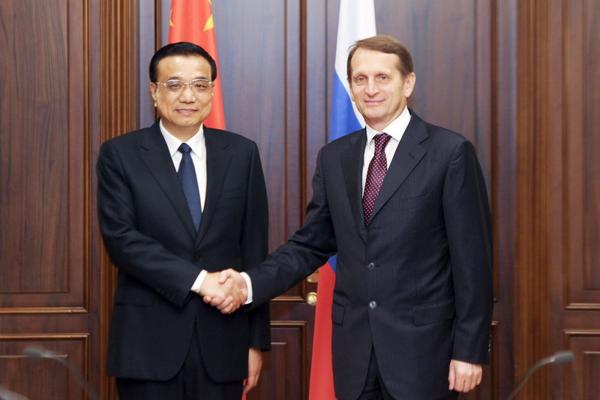 Premier Li Keqiang (L) meets with Sergei Naryshkin, chairman of the Russian State Duma, in Moscow Oct. 13, 2014. [Photo by Zhang Duo/Xinhua]
Moscow -- China is willing to further materialize all-round and in-depth exchange and cooperation with Russia, visiting Premier Li Keqiang said on Oct 13.
China and Russia are each other's biggest neighbors, with profound traditional friendship, Li said at a meeting with Sergei Naryshkin, speaker of the Russian State Duma, or the lower house of parliament.
Noting that President Xi Jinping and his Russian counterpart, Vladimir Putin, have held several successful meetings since last year, Li said the China-Russia comprehensive strategic partnership of coordination manifests itself not only in the high-level mutual political trust, but in the increasingly broad and deep economic and trade cooperation as well as cultural and people-to-people exchanges.
China, Li said, supports the two countries' legislatures expanding exchanges and cooperation, promoting China-Russia friendship, and actively boosting bilateral practical cooperation, so as to lay a solid foundation of public opinion for the long-term development of both nations.
For his part, Naryshkin noted that Russia and China firmly support each other on issues concerning national independence, sovereignty and territorial integrity.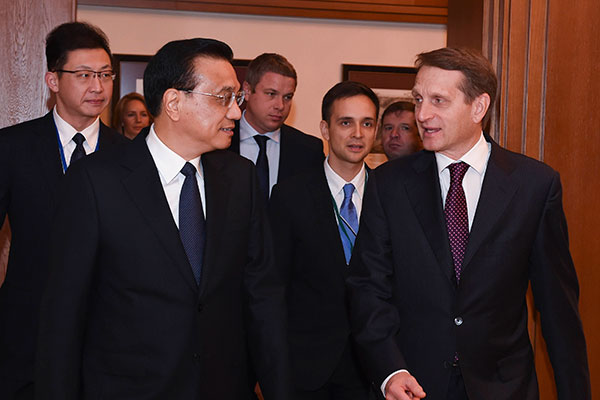 [Photo/Xinhua]
The two sides closely coordinate with each other on international affairs to steadfastly safeguard global peace, stability and development, he said.
The Russia-China relationship is the most important priority in Moscow's foreign policy, Naryshkin said, adding that Russia is willing to further deepen the comprehensive strategic partnership of coordination between the two countries.
The State Duma, he said, is ready to enhance exchanges and cooperation with the National People's Congress, China's national legislature, and play an active role in promoting the development of bilateral relations.
Li arrived on Oct 12 for an official visit to Russia, the second leg of his three-nation tour, which has taken him to Germany and will also take him to Italy.