MOSCOW -- China and Russia on Oct 13 inked a host of cooperation deals ranging from finance and investment to energy and high-speed railways.
Visiting Premier Li Keqiang and his Russian counterpart, Dmitry Medvedev, witnessed the signing of the about 40 agreements after holding the 19th China-Russia Prime Ministers' Regular Meeting.
The documents, including governmental accords and business contracts, also cover trade, people-to-people exchanges, advanced technology, satellite navigation, currency swap and customs.
A local currency swap deal worth 150 billion yuan ($24.4 billion) between the central banks of China and Russia was among the documents signed, according to a statement issued by the People's Bank of China.
The three-year agreement, extendable on mutual consent, is expected to facilitate bilateral trade and direct investment between the two countries.
The frequent meetings between the two countries' leaders fully indicate that the relations between China and Russia are strategic, stable and for the long run, Li said in the talks with Medvedev.
Further strengthening bilateral cooperation, he added, will benefit both the two major emerging economies themselves and world peace and development at large.
China stands ready to work with Russia to translate their comprehensive strategic partnership of coordination into more fruits of practical cooperation, said the premier.
China, he added, would like to enhance cooperation with Russia on major investment projects in such areas as mining, chemical industry, agriculture and infrastructure construction.
On the trade front, China has been Russia's largest partner for the past four consecutive years. Two-way trade reached $89.2 billion last year and plans are afoot to raise the volume to $100 billion by 2015.
China is also ready to advance the establishment of a Eurasian high-speed transport corridor linking Beijing and Moscow, Li said, adding that the current priority should be the high-speed railway between Moscow and Kazan.
Regarding energy cooperation, the Premier said Beijing will deepen cooperation with Moscow in nuclear power and energy in an integrated way that covers upstream, midstream and downstream industries.
Since its establishment 65 years ago, the diplomatic relationship between the two neighboring giants has now reached an "all-time high point," with frequent high-level visits, surging trade and investment and an increasing number of large-scale projects.
Li also encouraged the two sides to further enhance people-to-people exchanges and jointly mark the 70th anniversary of the end of World War II next year.
For his part, Medvedev said Russia is willing to promote two-way large-scale investment and advance cooperation with China in areas including transportation infrastructure and aviation.
Russia and China are close friends and partners, he said.
A joint communique issued after the pair's meeting said the two countries agree to open their markets wider to each other and stand against trade protectionism.
In the document, China and Russia pledge to continue to firmly support each other on issues concerning their core interests, and call for reform of the international economic and financial system to meet the needs of the real economy.
They will also expand cooperation in such areas as civil aviation, aircraft manufacturing and peaceful use of nuclear power, said the communique.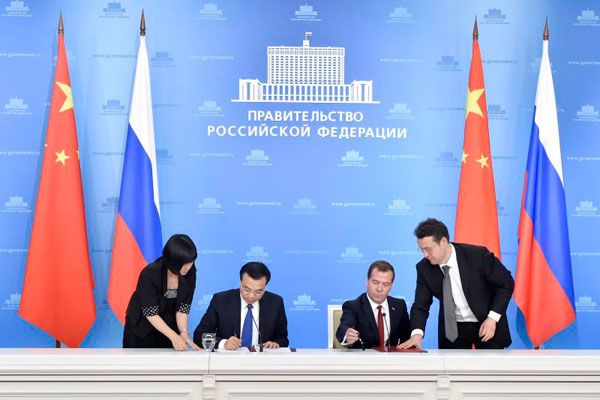 Premier Li Keqiang (L) and Russian Prime Minister Dmitry Medvedev sign a joint statement following the 19th China-Russia Prime Ministers' Regular Meeting in Moscow on Oct 13, 2014. [Photo/Xinhua]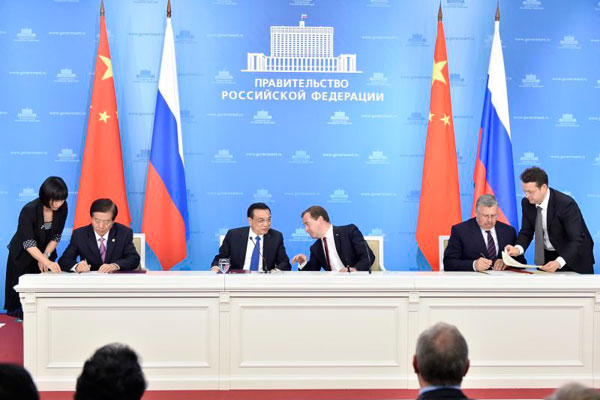 Premier Li Keqiang (L) and Russian Prime Minister Dmitry Medvedev chat with each other as they witness signing of agreements following the 19th China-Russia Prime Ministers' Regular Meeting in Moscow on Oct 13, 2014. [Photo/english.gov.cn]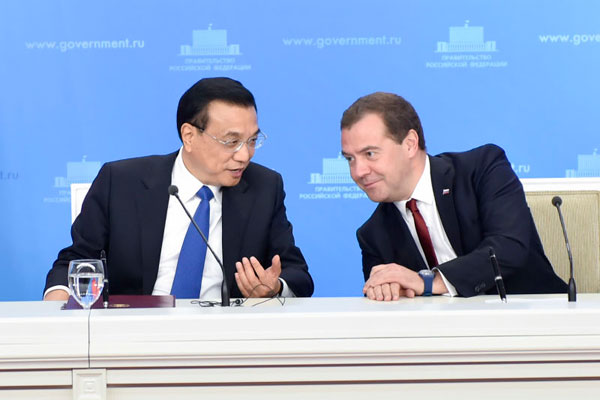 Premier Li Keqiang (L) talks with Russian Prime Minister Dmitry Medvedev as they witness signing of agreements following the 19th China-Russia Prime Ministers' Regular Meeting in Moscow on Oct 13, 2014. [Photo/english.gov.cn]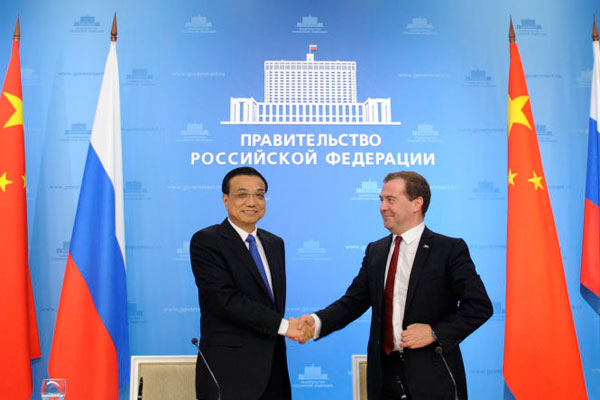 Premier Li Keqiang (L) shakes hands with Russian Prime Minister Dmitry Medvedev after they sign a joint statement following the 19th China-Russia Prime Ministers' Regular Meeting in Moscow on Oct 13, 2014. [Photo/english.gov.cn]