MOSCOW — The China-Russia partnership has entered a new development phase and boasts bright prospects, visiting Premier Li Keqiang said in Moscow on Oct 13.
Cooperation between China and Russia, respectively the most populous and the largest country in the world, is strategic, stable and for the long run in nature, he told a joint press conference with his counterpart, Dmitry Medvedev, after the 19th China-Russia Prime Ministers' Regular Meeting.
The win-win bilateral cooperation serves the interests and needs of both countries, he said, adding that it benefits not only the two peoples but global peace and prosperity.
China and Russia should further open their markets to each other, lift the level of trade and expand two-way investment, Li suggested.
The two sides, he added, should also focus on advancing cooperation in major strategic programs and promoting innovation and upgrading of bilateral practical cooperation.
Noting that bilateral people-to-people cooperation is promising, the premier proposed that the two countries strengthen cooperation in running schools, developing cultural and educational industries, implementing the China-Russia Youth Friendly Exchange Year program and commemorating the 70th anniversary of the end of World War II.
Through those measures, he said, the two sides will cement mutual understanding and friendship between their peoples and inject more vitality into bilateral all-round cooperation.
Medvedev, for his part, said Russia and China are truly strategic partners of coordination and further enhancing bilateral cooperation benefits not only the two nations but also the whole world.
Noting that his talks with Li are fruitful, Medvedev said Russia is willing to further expand economic and trade cooperation with China toward the goal of raising two-way trade to $100 billion by 2015.
Russia is also ready to deepen bilateral cooperation with China in such areas as advanced technology, investment, agriculture, finance and people-to-people exchanges, he said.
Li arrived in Moscow on Oct 12 for an official visit to Russia, his first since he took office last year. His ongoing three-nation trip has taken him to Germany and will conclude in Italy.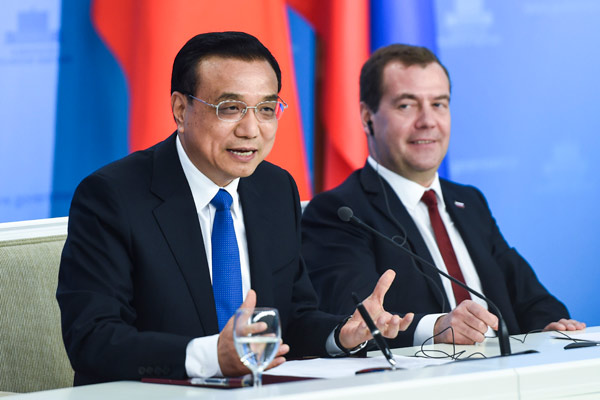 Premier Li Keqiang (L) speaks as Russian Prime Minister Dmitry Medvedev looks on when they meet the press after witnessing the signing of a host of deals in Moscow on Oct 13, 2014. [english.gov.cn]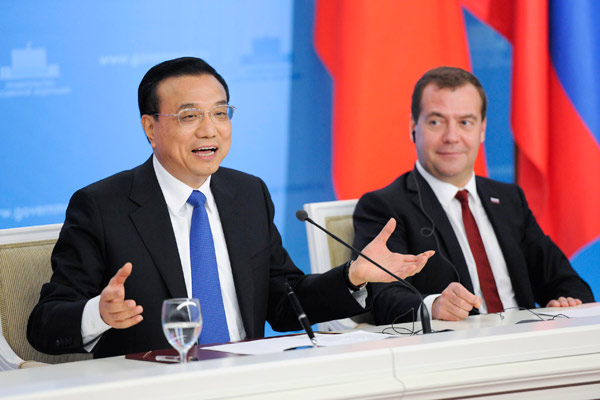 Premier Li Keqiang (L) speaks as Russian Prime Minister Dmitry Medvedev looks on when they meet the press after witnessing the signing of a host of deals in Moscow on Oct 13, 2014. [english.gov.cn]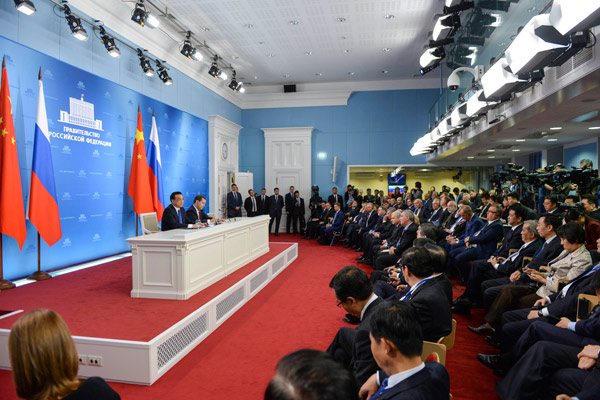 Premier Li Keqiang and Russian Prime Minister Dmitry Medvedev meet the press after witnessing the signing of a host of deals in Moscow on Oct 13, 2014. [english.gov.cn]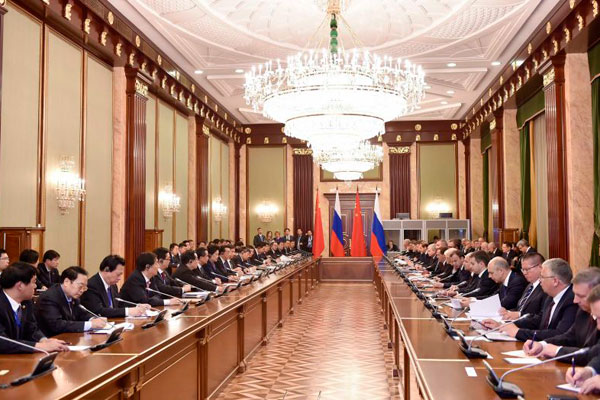 Premier Li Keqiang and Russian Prime Minister Dmitry Medvedev hold the 19th China-Russia Prime Ministers' Regular Meeting in Moscow on Oct 13, 2014. [Photo/english.gov.cn]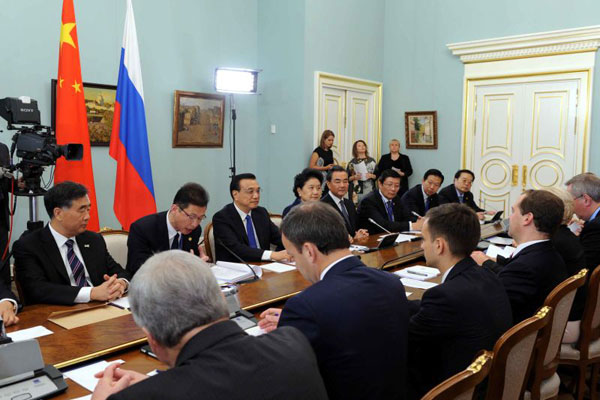 Premier Li Keqiang (3rd L) and Russian Prime Minister Dmitry Medvedev (4th R) hold the 19th China-Russia Prime Ministers' Regular Meeting in Moscow on Oct 13, 2014. [Photo/english.gov.cn]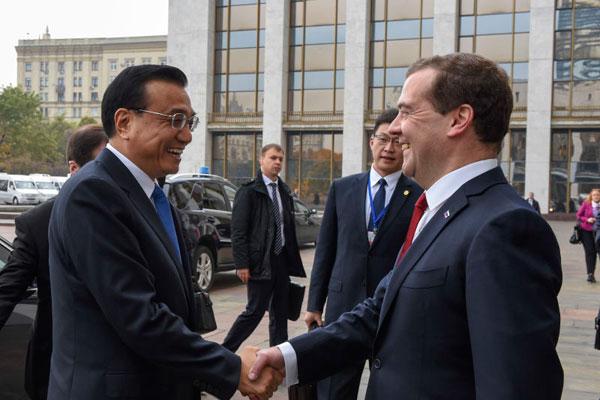 Premier Li Keqiang (L) shakes hands with Russian Prime Minister Dmitry Medvedev before formal meeting in Moscow, capital of Russia on Oct 13, 2014. [Photo/english.gov.cn]