China and Russia mull building a high-speed Eurasian railway between Beijing and Moscow, according to a memo of cooperation signed on Oct 13.
The memo was signed by the National Development and Reform Commission, China Railway Corporation with Russian Ministry of Transport and JSC Russian Railways.
According to the memo, priority will be given to a railway that connects Moscow and Kazan, the capital and largest city of the Russian republic of Tatarstan.
Premier Li Keqiang and Russian Prime Minister Dmitry Medvedev were present at the signing ceremony.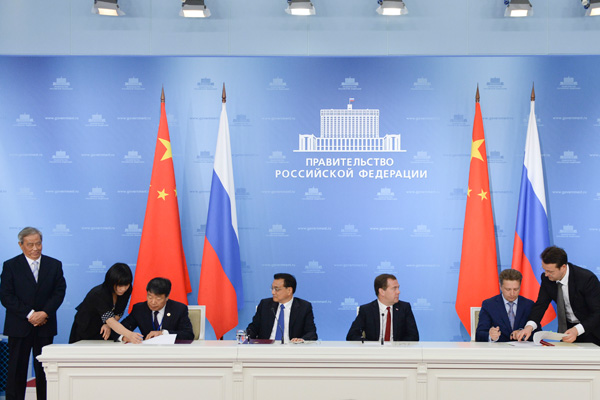 Premier Li Keqiang (L) and Russian Prime Minister Dmitry Medvedev chats with each other as they witness signing of agreements following the 19th China-Russia Prime Ministers' Regular Meeting in Moscow on Oct 13, 2014. [Photo/english.gov.cn]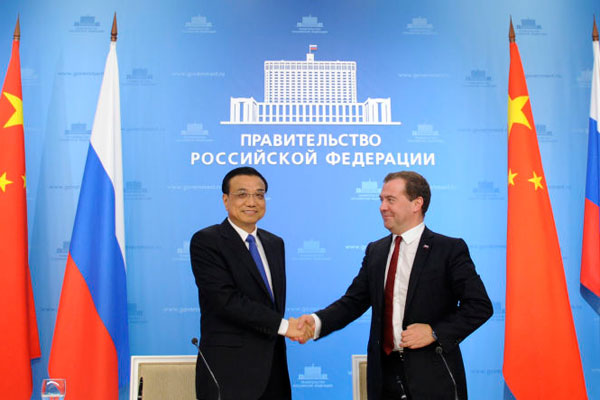 Premier Li Keqiang (L) shakes hands with Russian Prime Minister Dmitry Medvedev after they sign a joint statement following the 19th China-Russia Prime Ministers' Regular Meeting in Moscow on Oct 13, 2014. [Photo/english.gov.cn]